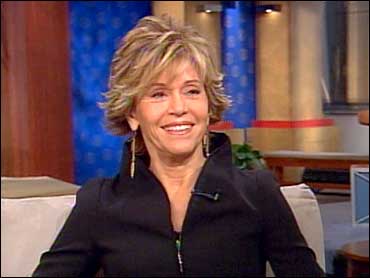 Jane Fonda's Run-In With Lindsay Lohan
Jane Fonda was out of movies for 15 years before she reappeared in the 2005 hit comedy "Monster-in-Law."
Now, the two-time Oscar-winner is back in theaters in "Georgia Rule."
Fonda plays a tough matriarch. Felicity Huffman portrays her daughter and Lindsay Lohan plays her granddaughter, who's been sent to spend the summer with Fonda's character.
"Small Mormon town in Idaho," Fonda told to co-anchor Hannah Storm on The Early Show Friday, "and I got my rules, and everything is kind of under control, then Lindsay gets dropped on my doorstep by my dysfunctional daughter, and I'm supposed to, like, take care of it all. Can you imagine, small Mormon town, Lindsay hits town? Things are not quite the same after that!"
---

To see photos from the premiere of "Georgia Rule," click here.

---
The movie has some funny moments, but also deals with serious issues, such as alcoholism, as Fonda seeks to straighten Lohan out.

In real life, Fonda said, she has some similarities with the woman she plays in "Georgia Rule."

"I also believe in rules, like being on time." And that, Fonda says, led to something of a confrontation with Lohan at one point.

During production, the head of the film's production company sent Lohan a letter, calling her behind-the-scenes behavior unprofessional.

Fonda told Storm: "I didn't read the memo until afterwards. Hey, when she showed up on the set, she was always great. She breaks my heart in the movie. She is so brilliant in this movie. The girl is really talented. And she just - I loved working with her. I love her. Loved Felicity. It was a joy to work with them. And Garry Marshall, the director is - you know, he's a real mensch - it was great. Whatever happened outside of the film, I have no idea. I go to bed early, get up early. I don't know."

But Fonda confirmed that she had to pay a visit to Lohan's trailer.

"She was late one day," Fonda recalled, "and I got mad, and went in and said, 'Get your (blank) out here!' I raised my voice, and she said to her makeup person, 'Barbarella, she just yelled at me!' "

Lohan was referring to the 1968 movie in which Fonda had the leading role.
---

To see photos from Fonda's career," click here.

---
Fonda says "Georgia Rule" reminds her of the 1981 classic "On Golden Pond," in which her real-life father, Henry Fonda, played her on-screen one.

That, she says, is "because 'On Golden Pond' dealt with very universal, kind of tough family issues, but it was also very funny. 'Georgia Rule' - very funny, but it deals with some pretty universal issues. But 'Golden Pond' - you wanted to call your father. 'Georgia Rule,' you want to reconnect with your mother. It's about mothers and daughters."

Asked if she intends to make more movies, Fonda said: "I don't know. I'm going to be - Hollywood doesn't exactly bang on the doors of older women. But I hope I've got - I know that I've got more stuff inside me that I'd like to bring to the screen. I'm also writing three books.

"You know, I've got - what's really important for an actor - and I said this to Lindsay - you gotta have more than celebrity. You gotta have stuff in your life that has nothing to do with the celebrity part. Otherwise, it can get pretty empty. You're never No. 1 forever. It just doesn't last. And I just feel lucky that I've always had more in my life.

"So, I would like to make more movies.

"One of the things I wanna do is make a movie that shows that you can be erotic and sexual later in life. Because it's - the culture is like, after 40 or 50 it's over, right? WRONG!"

Fonda said she wants to change Hollywood's obsession with youth: "It's my new cause."

---

Jane Fonda On 71 As The New 71

---
Thanks for reading CBS NEWS.
Create your free account or log in
for more features.