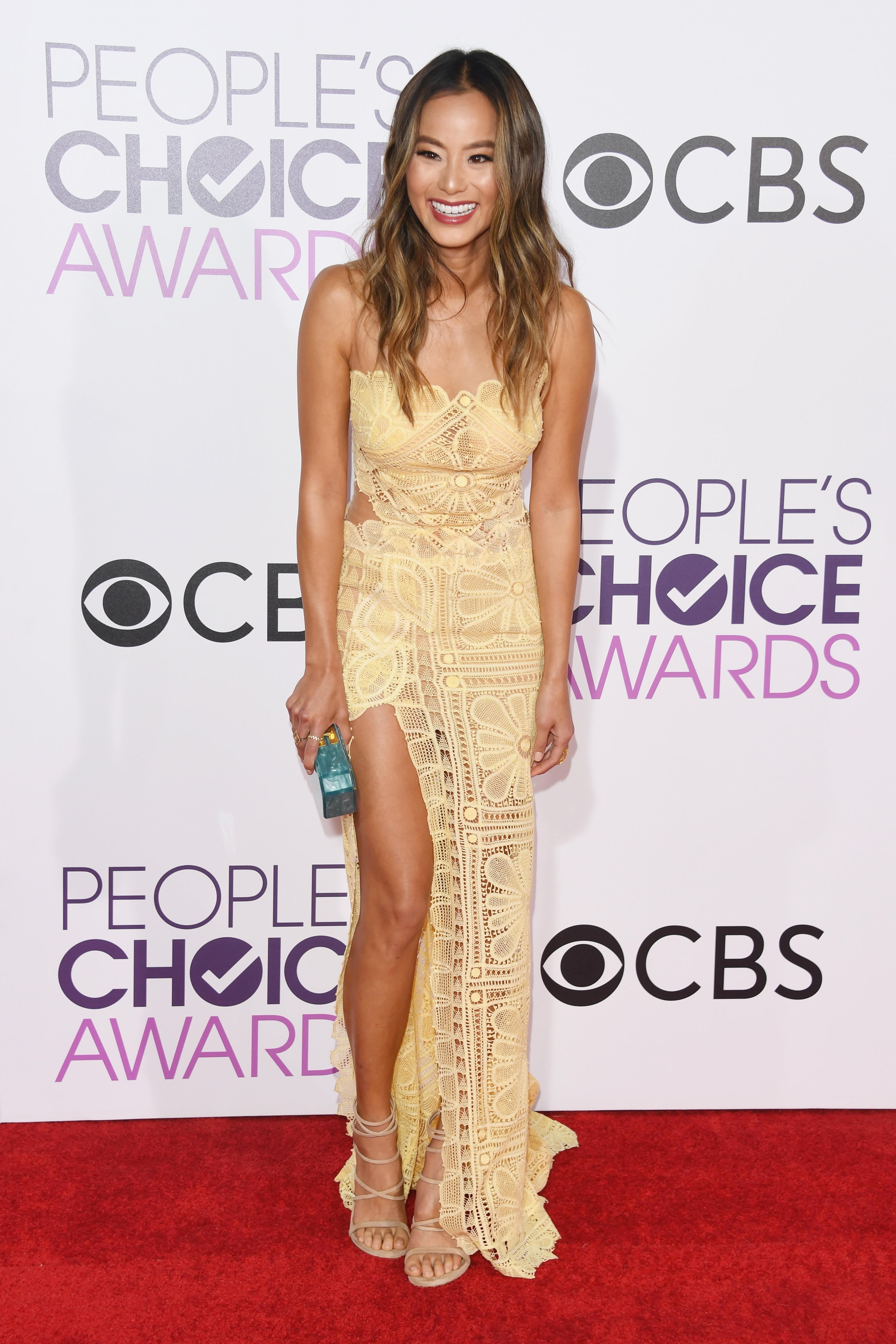 Jamie Chung on the "double-edged sword" of being a minority in Hollywood
Jamie Chung is perhaps just as well-known for her style and fashion blog as she is for her butt-kicking roles in action movies and TV shows like "Sucker Punch" and "Sin City: A Dame to Kill For." Now, Chung is looking forward to her "X-Men" TV pilot.
She talked to CBS News about the pilot and her partnership with Transitions Lenses. Chung also voiced her frustrations about diversity in casting and the challenges of being a Korean-American actress in Hollywood.
Tell me about your partnership with Transitions Lenses. I always thought they were kind of a nerdy '90s thing.
Everyone says that! The company's been around for over 20 years, and I had family members with Transitions Lenses and they always stayed one color but there's new technology. The glasses I have are from the signature line and they literally go clear indoors and when you're outdoors they're cool sunglasses. You can put them in any cool frames you want and fit them into any custom frame. I have a variety because it's one of my favorite accessories -- Tom Ford, Miu Miu glasses. They fit into anything, so fashion-sense it made sense.
It's so important to protect your eyes from harmful UV rays -- you use SPF every morning but you need to protect your eyes, too.
Tell me more about your upcoming "X-Men" TV pilot.
Yeah, it's still a pilot so it may not get picked up but I just wrapped in Dallas and we have the wonderful Bryan Singer to direct the pilot, which is pretty incredible considering his schedule. Matt Nix is the executive producer and creator. It tells a beautiful story of two different kinds of families -- a mutant family of outcasts living on the cusp of society and also another family with four teenage kids who are just starting to get their powers. So the father is played by Stephen Moyer, a prosecutor who puts mutants in jail, and it's an interesting relationship because now they need help from the mutants. They're two families who need each other to survive.
Do you enjoy action roles?
I played Mulan in "Once Upon a Time," "Sin City, "Sucker Punch" -- I feel like the list goes on in terms of physically demanding roles, but it's always about balance. I'm doing an indie called "1985" -- you can watch the short online. It won all these awards and it's a beautiful story about one man during the AIDS epidemic and how he deals with his family.
What's your workout routine? You post a lot about working out on Instagram.
You know, it varies. That's why I have ClassPass, because I need to change up my workout or I get bored and it feels stale or stagnant. You need to challenge your body in different ways, but I think the best way is to go for a run and stretch out your body. There's cross-training and yoga, too. Yeah, it's the first thing you need to do or else you -- or at least I -- never get to it at the end of the day. We were shooting footage for Transitions in Austin -- which is one of my favorite cities in the world -- and they have the nicest running paths near Lady Bird Lake. I feel that's the best way to get to know the city.
You've made a big name for yourself as a fashion blogger as well. How do you find that versus working in Hollywood.
I feel there's more freedom. I started the blog for a creative outlet because I was in between jobs and it was slow but it keeps me going and busy and it's bringing great opportunities. It's gotten me on cool vacations and great places, and it's a great way to share with my readers when I'm not on set. I hope it doesn't peter out, but it's certainly demanding of my time.
There's been a lot of talk lately about Asian roles getting whitewashed, like Scarlett Johansson's casting in "Ghost in the Shell" and Matt Damon in "Great Wall." As one of Hollywood's most prominent Asian-American actresses, how does it feel to see these roles filled by non-Asians?
Well, it's unfortunate but it's the reality of movie stars. They're Chinese-backed production companies that are asking to put Damon in "Great Wall." It is what it is. It's all about money and capitalism. It's unfortunate because roles are seldom as they come already.
Also, there's more consciousness now of putting Asian actors in specific roles. They want someone ethnically Chinese to play Mulan, which I appreciate, but it's cutting into my roles as well. You have actors who can play Australian, British, Irish, but Asian, it's very specific. It's a double-edged sword. I really, really wanted a role in "Crazy Rich Asians," but they wanted someone who's ethnically Chinese. I love Jon [Chu, director of "Crazy Rich Asians"], but I get they wanted Chinese actors.
That's strange because the star [Henry Golding] is half-white.
What? Does he look Asian?
I think to white people he looks Asian, but to Asian people he looks half-white.
What? Are you serious?
It sounds like I made you mad.
OK. I'm going to say it. That is some bulls**t. Where do you draw the line to be ethnically conscious? But there's so many loopholes so I kind of get screwed. I don't mean to sound jaded. There are plenty of roles for me. Originally Blink was Clarice Ferguson in comic books, but she's a mutant so she can be whatever she wants to be. It can be to my advantage sometimes, but it's so frustrating. I can talk on and on.
Thanks for reading CBS NEWS.
Create your free account or log in
for more features.