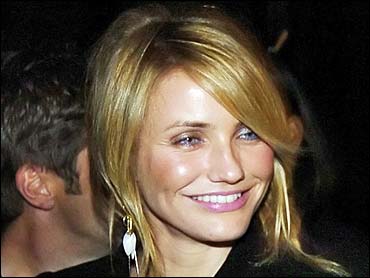 Jail For Cameron Diaz Photographer
The photographer who sought $3.5 million from Cameron Diaz for the topless photos he took of her before she became a movie star has been sentenced to nearly four years in prison for forgery, attempted grand theft and perjury.
Superior Court Judge Michael E. Pastor, who ordered John Rutter to prison Thursday, was not persuaded by the photographer's insistence that the Diaz affair was a "misunderstanding."
Rutter, who was convicted in July, was ordered to serve three years and eight months.
Diaz was a 19-year-old aspiring model when Rutter photographed her in 1992 in leather boots and fishnet stockings. At one point she held a chain attached to a male model's neck.
She wore a top and black vest in some of the photos, which were published in European magazines at the time.
Rutter testified during his two-week trial that he did indeed give Diaz two days to pay him $3.5 million for the photos before he shopped them to prospective buyers for a campaign timed to coincide with the 2003 release of her film "Charlie's Angels: Full Throttle." But he said he was only offering her first right of refusal, not trying to blackmail her.
He acknowledged Diaz's signature appeared to be forged on a model release form he showed the actress, but insisted he wasn't the one who committed the forgery.
Diaz, who did not attend Thursday's sentencing hearing, testified during the trial that Rutter told her his prospective buyers were "going to use this against you" by portraying her as a "bad angel" in a huge magazine spread and bus and billboard ad campaign. When he wouldn't identify the purported buyers, she contacted authorities.
The topless photos have never been published, and a judge has prohibited Rutter from releasing either them or a video of the shoot.
Thanks for reading CBS NEWS.
Create your free account or log in
for more features.