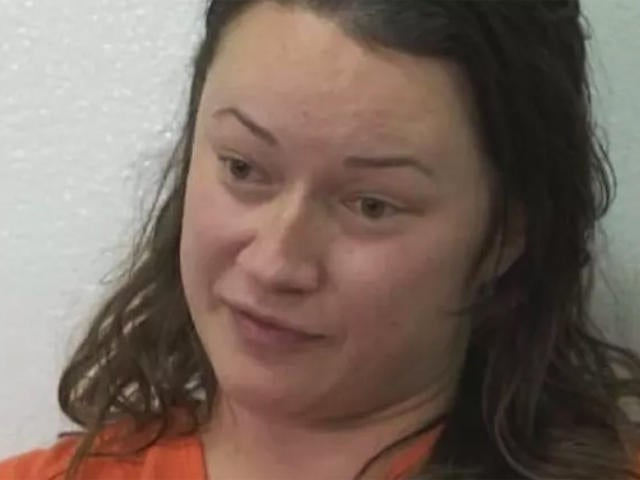 Accused stalker speaks out from jail about sending 65,000 texts
PHOENIX -- A woman accused of sending a Paradise Valley, Arizona man 65,000 text messages tried to explain her actions in a jailhouse news conference, reports CBS Phoenix affiliate KPHO-TV. "I love him," she said Thursday.
Thirty-one-year-old Jacqueline Claire Ades, of Phoenix, told reporters she met the victim through an online dating service and went out on three dates with him. Police say after the first one, she began sending him thousands of texts, breaking into his home, and showing up at his workplace claiming to be his wife.
"I felt like I met my soulmate and I thought we would just do what everybody else did and we would get married and everything would be fine," Ades said.
She didn't deny the number of texts, but wouldn't get into specifics.
Ades did admit she regrets the nature of some of the messages.
"When you're finding love, not everything is perfect. This was a journey, and I want to apologize because nobody could never be more sorry."
Ades said she never intended to hurt or scare the victim and she doesn't blame him for her incarceration.
"No! I love him!" she exclaimed.
Why did she send so many texts?
"Because it made me find out all my information," she said. "Loving him selflessly brought me his information. Because everybody just wants to take. But if you just give and you don't stop giving, you will all of a sudden receive a lot."
Police say some of the messages Ades sent the victim were threatening.
Among them:
"Don't ever try to leave me... I'll kill you... I don't wanna be a murderer!"
"I hope you die... you rotten filthy Jew."
"I'm like the new Hitler... man was a genius."
"I'd wear your fascia 'n the top of your skull 'n your hands 'n feet."
"Oh, what I would do w/your blood... I'd wanna bathe in it."
During the interview, Ades would answer a question or two, then deflect the next one.
She veered from topic to topic, rambling about Einstein, the Dead Sea, the birth chart of Jesus and the symbolism of the markings on a dollar bill.
At one point, she told a reporter, "I don't want to talk about that. You have negative energy."
Ades was asked directly, "Are you crazy?"
"No," she replied. "I am the person that [sic] discovered love."
When told 65,000 text messages seemed more threatening than loving, she replied, "When you find love, everything is not perfect. I love him."
She was asked if she would now leave the victim alone.
"If he wants me to," she said. If [the victim] wants me to go to jail, I should go to jail."
She then said, "He's the meanest person I've ever met. " But in the next breath, she said, "He's my soulmate."
When asked why she decided to speak to reporters, Ades said, "I have to share the message of love. Everybody has to love each other."
Ades was arrested Tuesday.
She was booked into the Fourth Avenue Jail on charges of threatening, stalking, harassment and failure to appear.
Ades is scheduled to appear in court May 15. She is being held without bond.
Thanks for reading CBS NEWS.
Create your free account or log in
for more features.