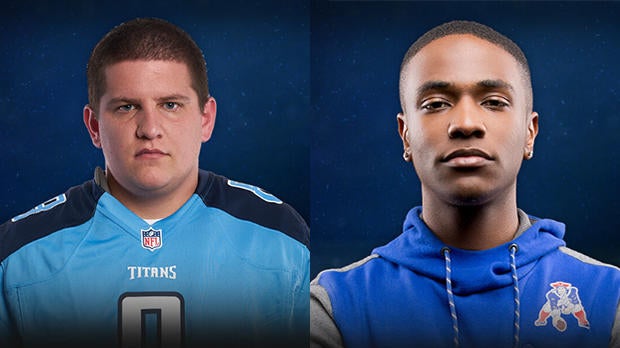 Jacksonville shooting victims identified as father, ex-high school football player
The two victims killed at a "Madden NFL 19" tournament have been identified as the winner of last year's Madden Classic competition and a former high school football player who won tens of thousands of dollars playing his favorite video game. Taylor Robertson, a 27-year-old from Giles, West Virginia, and Eli Clayton, a 22-year-old from Woodland Hills, California, were both shot and killed by a gunman in Jacksonville, Florida, at a Madden NFL 19 qualifier event.
Robertson was identified by Dot City Gaming, the professional esports team of which he was a member. The team mourned both victims of Sunday's shooting.
"They were great competitors and well-loved members of the Madden community," the team tweeted. "Our thoughts and deepest sympathies go out to their families, loved ones, and all of those affected by this tragedy."
Robertson, known by his gaming handle "SpotMePlzzz," won $80,500 over the course of his professional gaming career, according to his EASports.com profile. He took home the Madden Classic championship in 2016.
In a YouTube video posted by EA Sports, Robertson said he had played Madden NFL since he was 10 and started playing competitively a few years ago.
Derek Jones, a fellow gamer who lost to Robertson in 2016, said his onetime rival was "one of the nicest people I ever met."
"There's no way that guy did anything to deserve to get shot," Jones said, who went to the Florida tournament from Santa Fe, New Mexico. "He's got a family at home, and he just came out here to try to win some money for this family."
Shay Kivlen is another gamer friend who had known Robertson for about five years and had seen him about six times a year at various gaming tournaments.
"He was one of the kindest people, most genuine guys I've ever met," Kivlen said. "He was super real, and that's what I loved about him. If he was happy, you knew he was happy. He wore his emotions on his sleeve."
Kivlen had left the tournament Sunday to take a nap at his hotel about 20 minutes before the attack. He was watching a live stream of the tournament online when the gunfire erupted.
Clayton was a former high school football player who was known as "one of the perennial top competitors in the scene," according to his profile on EASports.com. He won $51,000 in tournaments in his gaming career.
Clayton, who played under the name "TrueBoy," graduated from Calabasas High School in 2014. In a statement, the school said the "entire community is shocked and saddened by this loss."
His former high football team, the Calabasas Coyotes, mourned him on Twitter. "We send our love, condolences, and deepest sense of sorrow to Elijah's Family and Friends," the team said.
Clayton's parents and other relatives gathered outside police headquarters Monday in Jacksonville to give a brief statement. A cousin, Brandi Pettijohn, said the family was "devastated by yet another senseless act of gun violence." She said Clayton was a good, peaceful man who never had a fistfight.
"He loved football, and out of all the videogames he could play, he settled on and mastered 'Madden,'" she said. "He made a good living gaming, and he saved his earnings so he could afford to go to college to continue his education."
The suspected gunman was identified as David Katz, 24, of Baltimore, Maryland. Katz used a single handgun to carry out the shooting and died from a self-inflicted gunshot wound at the scene, Jacksonville Sheriff Mike Williams said. Before the shooting, he had been defeated in the tournament.
Kivlen and Jones said they barely knew Katz, who seemed to avoid conversation with fellow players during tournaments. Katz's gameplay was often erratic, Kivlen said.
"He would do kind of weird stuff online that other people wouldn't do. He would catch a ball and just start jumping out of bounds and stuff when he could have gotten more yards, just hurting himself," Kivlen said. "I don't know what he was doing."
Nine others were wounded by gunfire and two others were injured as they fled the shooting, police said. Players were competing for a chance to play in this year's Madden Classic in Las Vegas.
"It just doesn't make sense why he would do it," Kivlen said. "In 'Madden,' you never get so mad at a loss that you would want to do that."
When the shots first rang out, witnesses said they thought it was a firecracker or balloons popping. Then panic set in and people were trampled rushing for the exits.
"If you would have told me that I was going to get shot playing a video game, I would have called you a liar," Tony Montagnino, who competed in the event, told "CBS This Morning."
EA Sports, the makers of the Madden video game series, expressed condolences and called the shooting "a senseless act of violence that we strongly condemn." The NFL said it is "shocked and deeply saddened." All nine of those wounded in the shooting are in stable condition.
Thanks for reading CBS NEWS.
Create your free account or log in
for more features.