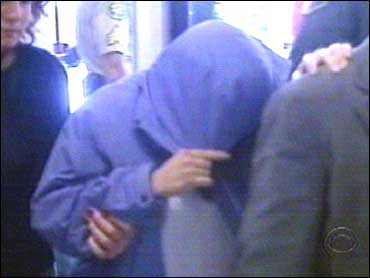 Jackson Accuser's Mom Admits Lies
Michael Jackson's lead attorney tried to prove the mother of Jackson's accuser was a con artist after the singer's money, getting her to admit under biting cross-examination that she had lied under oath in a previous case.
Attorney Thomas Mesereau Jr.'s long and sarcastic questions and the witnesses' long-winded answers prompted Judge Rodney S. Melville to admonish them both.
Mesereau, trying to show the woman's family has a history of giving false testimony to make money, focused on the woman's lawsuit against a department store. The family received a settlement of more than $150,000 in 2001 after alleging they were roughed up by JC Penney security guards.
Mesereau noted that in a sworn statement, the woman said she had never been abused by her husband at the time — an important issue, because her alleged injuries may have been caused by such violence.
"You were not telling the truth under oath when you made those statements," Mesereau said.
The woman eventually responded, "This is correct," but explained that she lied because she was embarrassed about the abuse.
She also said she was untruthful when she said in the lawsuit that her
husband was honest.
"It's as nasty and contentious and theatrical a cross examination as you will ever see, pitting a bulldog defense attorney and a whacky witness fighting over key issues in a criminal case," reports CBS News Legal Analyst Andrew Cohen. "If it weren't happening for real, and if you saw it on television or heard it on the radio, you would swear that Hollywood had overdone it."
"We know that jurors tend to believe witnesses more when they like them. And it's hard to see a scenario here where these jurors like this witness," reports Cohen. "She's playing to them in a way that is so obvious and dramatic and contrived that they may be tuning her out.
"That's doesn't guarantee an acquittal for Jackson, but it certainly doesn't hurt."
The witness implied that she made the false statements under duress, testifying that she was beaten throughout her marriage and felt "liberated" after her husband's arrest in 2001. She said she then asked her attorneys in the department store lawsuit to correct the record, and that she considered them "liars" because they never did.
Earlier, the witness testified that she gave a poor performance on a videotaped interview in which she praised Jackson, saying she is a "bad actress." Mesereau fired back: "I think you're a good one."
The judge chastised Mesereau for the remark and told the woman to refrain from delivering long answers unrelated to Mesereau's questions, telling her, "It's as much your fault."
Jackson, 46, is accused of molesting a 13-year-old former cancer patient, plying the boy with alcohol, and holding his family captive at his Neverland ranch and elsewhere in February and March 2003 to get them to help rebut a damaging documentary.
Jackson's lawyers have suggested that the child-molestation charges were concocted by the boy's mother in an attempt to shake down Jackson for money. She testified Thursday that she has no plans to sue him.
The mother said Jackson associates gave her a precise script to follow in the rebuttal video but later told her she had strayed too far from it, leading to the comments on her acting skills.
The woman testified that almost everything on the video — even breaks where the boy complains about his seat and the family laughs at jokes — was scripted by Jackson aides. She said the only departure from the script was when she discussed God, cancer and child welfare workers.
The woman suggested that she met with one of Jackson's associates 10 times at Neverland to discuss what she would say on the video. Mesereau noted that she had never said this before in interviews with police or prosecutors, and suggested she was trying to enhance her story.
Asked about a report she made against her ex-husband accusing him of molesting her daughter, the woman refused to answer the question directly and instead turned to the jury and said, "No, he's wrong." But ultimately, she agreed she had made such a report.
In one of many moments when the woman strayed from Mesereau's questions to make accusations against Jackson, the woman said, "Now I know that Neverland is all about booze, pornography and sex with boys." The remark was struck from the record.
The judge struck so many remarks Friday that at one point he interrupted the proceedings to explain to jurors that they could not consider remarks he struck, and that such remarks would not appear in court transcripts.
Earlier in the day, prosecutors concluded their questioning of the woman by showing jurors videotapes found in a private investigator's office to demonstrate that Jackson associates had closely monitored the boy's family while he, his mother and siblings were allegedly being held captive by Jackson at Neverland.
The tapes included footage taken outside the home of the accuser's grandparents and in the parking garage of the mother's then-boyfriend, whom she later married. The woman has said Jackson's people kept her in line by threatening her parents and boyfriend.

Thanks for reading CBS NEWS.
Create your free account or log in
for more features.