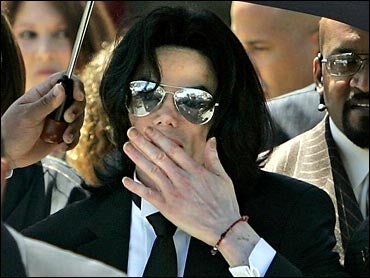 Jackson A Free Man After Acquittal
A jury acquitted Michael Jackson on Monday of molesting a 13-year-old cancer survivor at his Neverland ranch - exonerating the pop star who insisted he was the victim of mother-and-son con artists and a prosecutor with a vendetta.
Jurors also acquitted Jackson of getting the boy drunk and of conspiring to imprison his accuser and the boy's family at the estate - a total legal victory. Jackson had faced nearly 20 years in prison.
Jackson looked straight ahead as the verdicts were read and showed no visible reaction as he was found not guilty of all counts.
"Jackson looked absolutely leveled" by the reading of the not guilty counts. "He seemed like he was crying a little bit," reports Jackson biographer and CBS Consultant J. Randy Taraborelli.
Jackson's attorneys "seemed a little dazed," too, Taraborelli says.
One of his lawyers burst into tears as the first verdicts were announced, and Jackson later stood and was embraced by his chief lawyer, Thomas Mesereau Jr. Some of the women in the jury also wept and passed around a box of tissues.
As he left court, Jackson, looking drawn, held his hand to his heart and blew kisses to the screaming crowd. He was escorted by his aides into a black SUV, and made no immediate public statement. Jackson later arrived at Neverland, where he was greeted by more fans.
Hours after the verdict, Mesereau posted a statement on the star's Web site, saying "Justice is done. The man's innocent. He always was."
"I would never have married a pedophile. And the system works," Jackson's ex-wife Debbie Rowe said in a statement given to "Entertainment Tonight."
Screams of joy rang out among a throng of fans outside the courthouse. Fans jumped up and down, hugged each other and threw confetti in celebration of the news. A woman in the crowed released one white dove as each acquittal was announced.
Santa Barbara County District Attorney Tom Sneddon sat with his head in his hands.
"Obviously, we're disappointed in the verdict ... but we believe in the system of justice," Sneddon told reporters. He said he had not yet spoken to the accuser's family about the outcome.
After the verdicts were announced, the judge read a statement from the jury: "We the jury feel the weight of the world's eyes upon us." They asked to be allowed to return to "our private lives as anonymously as we came."
The jurors remained guarded about details of their 30 hours of deliberations over seven days but offered some insight during a news conference, saying they were irritated by the testimony of the accuser's mother, who at one point snapped her fingers at them.
"I disliked it intensely when she snapped her fingers at us," said one juror, a woman. She said she thought to herself, "Don't snap your fingers at me, lady." The jurors were not identified.
The verdict — reached after about 30 hours of deliberations over seven days — ended a star-studded, four-month trial that offered a global audience a lurid look into the weird world of Michael Jackson and presented jurors with vastly different portraits of him: a creepy pervert who preyed on little boys, or the victim of a frame-up by mother-and-son shakedown artists.
"It ought to tell you something about how weak this case was" that a local jury would so totally reject the local prosecutor's arguments, reports CBS News Legal Analyst Andrew Cohen.
"This is one of the worst criminal cases I've ever seen" from a prosecutorial viewpoint, Cohen says.
During the trial, defense lawyers described Jackson as a humanitarian who wanted to protect kids and give them the life he never had while growing up as a child star. The boy had asked to meet the star when he thought he was dying of cancer.
The defense said the family exploited the boy's illness to shake down celebrities, then concocted the charges after realizing Jackson was cutting them off from a jet-set lifestyle that included limo rides and stays at luxurious resorts.
Prosecutors who had been pursuing Jackson for years branded him a deviant who used his playland as the ultimate pervert's lair, plying boys with booze and porn before molesting them.
The acquittals marked a stinging defeat for Sneddon, who displayed open hostility for Jackson and eagerly tried him — an opportunity denied him in 1993 when the star settled another threatened molestation case with a boy for $15 million to $20 million. Later, Jackson derided Sneddon in song as "a cold man."
Jackson was cleared of 10 charges in all, including four counts that he molested the boy in early 2003. Jackson also was charged with providing the boy with wine — "Jesus juice," the pop star allegedly called it — and conspiring with members of his inner circle to hold the accuser and his family captive to get them to rebut a damaging documentary.
In the "Living with Michael Jackson" documentary made by a British journalist, Jackson held hands with the boy and acknowledged sharing his bed with children, a practice he described as sweet and not at all sexual.
Jackson agreed to take part in the documentary because he hoped it would help his image after years of eccentric behavior that included transforming his face through plastic surgery.
But the airing of the program in February 2003 triggered intense media scrutiny of Jackson's relationship with the boy, as well as calls for investigations. Authorities interviewed the boy and Jackson was charged before year's end. At the trial, prosecutors would allege that Jackson molested the boy in the weeks after the family helped Jackson record a rebuttal video.
The boy, now 15, testified that Jackson twice masturbated him while they were under the covers in the singer's bedroom. The boy's brother testified he twice witnessed Jackson fondle the boy as he slept.
Prosecutors hauled out bag after bag of adult magazines found in Jackson's home and projected explicit images onto a large screen, saying Jackson showed boys the material to arouse them. Prosecution witnesses described other bizarre behavior by Jackson: They said he licked his accuser's head, simulated a sex act with a mannequin, kept dolls in bondage outfits on his desk.
Prosecutors said kids were allowed the run of Neverland — a fantasy land of amusement park rides, golf carts and exotic animals about 110 miles northwest of Los Angeles — before being molested in Jackson's bedroom.
"They rode rides, went to the zoo, ate whatever they wanted — candy, ice cream, soda pop," prosecutor Ron Zonen said in closing arguments. "And at night they entered into the world of the forbidden."
Under an unusual California law, prosecutors were allowed to introduce evidence of other instances of molestation on Jackson's part that never resulted in any charges, to prove that the alleged crimes were part of a pattern of behavior.
A parade of servants and other Neverland staff members described seeing Jackson grope or otherwise molest boys, with a one-time security guard saying he saw the singer shower with and perform oral sex on a boy who later received a settlement with Jackson. The defense systematically portrayed the household help as disgruntled employees who were angry about being fired and peddled gossip about the pop star to the supermarket tabloids.
The defense also relentlessly attacked the credibility of the accuser and his family, namely by focusing on a $152,000 settlement they received from J.C. Penney after the mother accused store security guards of roughing up the family and groping her.
Jackson's lawyers said it was a trumped-up lawsuit and suggested that the woman's injuries were actually caused by her abusive then-husband. The defense also portrayed the mother as a welfare cheat for obtaining benefits after winning the settlement.
Witnesses for the defense testified that during the weeks the boy and his family were supposedly being held against their will by Jackson's associates, they were taken on shopping sprees, the mother went to a spa for a body wax, and the children had an orthodontist appointment — all paid for by Jackson.
In his closing argument, Mesereau called the family a pack of scam artists trying to pull off the "the biggest con of their careers."
Jackson never took the stand, but spoke on several videos played in court.
"In the end, the case boiled down to the credibility of the teen accuser and his family," reports CBS News Correspondent Vince Gonzales. "On the stand, the accuser seemed surly and evasive."
The case unfolded at times like a circus. After his arraignment, Jackson jumped atop an SUV and danced for cheering fans. He failed to show up for court one morning and was nearly jailed before he shuffled in wearing pajama bottoms, suffering from what aides said was a back injury. Often, he came to court in dark jackets and a rainbow of vests and matching arm bands.
The jury got a look at the strange world of Michael Jackson when the documentary was played in court. Jackson said he would often hug or play with his chimp Bubbles to relax after a hard day's work. He also said he once considered having a celebrity animal party for Bubbles.
Several celebrities testified for Jackson, including Macaulay Culkin and comedians Jay Leno and Chris Tucker. Tucker said he felt used by the family and warned Jackson to beware. Culkin said he slept in Jackson's bed as a child but nothing improper ever happened, contradicting testmony that Jackson put his hands up the "Home Alone" actor's shorts.
In jumbled and tearful testimony, the accuser's mother claimed that Jackson's associates held her against her will, warning her that killers were after the family and that they might somehow disappear from Neverland in a hot-air balloon.
"Please don't judge me!" the mother implored jurors, holding out her arms. "He's wrong!" she said, pointing at Mesereau, an aggressive defense attorney with a mane of pure white hair and the build of a prize fighter.
The trial seemed to wear Jackson down. He lost weight, and the artist known for his electric, moonwalking performances was rendered motionless, seemingly frozen in his courtroom chair as his private world became utterly public.
Prosecutors portrayed Jackson as being in dire financial straits because of heavy spending. Jackson's "Thriller" album from 1982 is one of the best-selling albums of all time, but his dominance of pop music eroded around the time molestation allegations began to arise in the 1990s.
Although Jackson did not take the stand, the defense used a powerful tape of him shot by his own video cameraman. The jury saw nearly three hours of introspection during which the star talked about his troubled childhood.
"I haven't been betrayed or deceived by children," he said. "Adults have let me down."
Thanks for reading CBS NEWS.
Create your free account or log in
for more features.