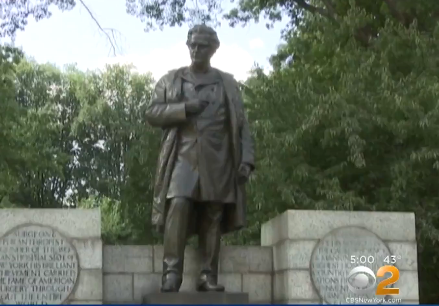 Statue of J. Marion Sims being removed from NYC's Central Park
NEW YORK -- The Parks Department is removing a controversial statue Tuesday from Central Park. After 84 years in Central Park, the statue of Dr. J. Marion Sims will be brought to its new home. The move is part of the decision by Mayor Bill de Blasio with input from the city's Monument Commission, CBS New York reports.
Sims, who has been referred to as "the father of gynecology," performed surgical experiments on female slaves without anesthesia.
His statue will now be moved to Green-Wood Cemetery in Brooklyn, where he is buried.
Of all the controversial city statues considered by the commission in their review, Sims' statue is the only one that will be moved.
"We are just excited by the decision of the commission and also the decision by the mayor," the commission's John Calvelli said in January.
After intense public debate, which included the Theodore Roosevelt statue in front of the Museum of Natural History being defaced as well as a smaller statue of Christopher Columbus, de Blasio decided the Columbus statue in Columbus Circle will remain. But historical markers will be erected in the circle to explain what detractors say was his insensitivity to Native Americans.
The mayor also chose to leave the plaque to Henri Philippe Petain where it is in the Canyon of Heroes. He was a World War I hero who later collaborated with the Nazis.
The decision was a huge letdown for Brooklyn Assemblyman Dov Hikind.
"I am incredibly disappointed," he said.
The commission said Petain and another Nazi collaborator, Pierre Laaval, should stay because to remove them would mean all 206 people honored in the Canyon of Heroes would have to go.
Thanks for reading CBS NEWS.
Create your free account or log in
for more features.