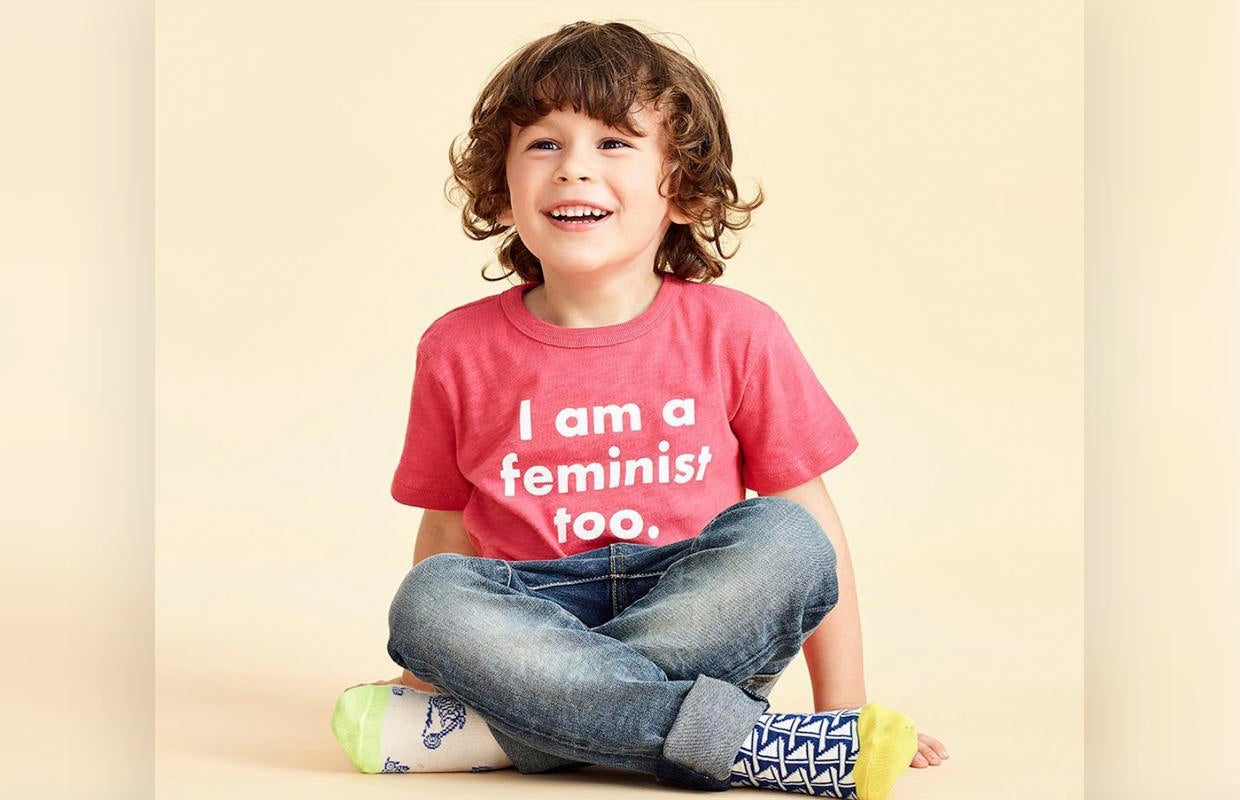 J.Crew's feminist T-shirt for boys sparks fiery debate on Instagram
Popular clothing retailer J.Crew sparked some debate after posting a photo of a young boy wearing a T-shirt with the saying "I am a feminist too" on it.
The shirt is part of J.Crew's latest collaboration with the company prinkshop, which describes itself as a "cause-centric community that create clothes and accessories that people want to wear and carry, that give them a voice and help them to create change in the world around them," according to its website.
"We value freedom of speech and freedom of commerce. We want to create change and create jobs," Prinkshop's creators say on their site. "Our bold, text-based graphic products feature issues ranging from women's reproductive rights and push for equality to education and gun control."
J.Crew created several limited-edition T-shirts with prinkshop, and for every shirt sold, the company is donating 10 percent of the retail price to Girl Up, an organization that helps girls achieve their dreams, the company says on its site.
The "I am a feminist too" shirt, which was marketed online as "Boy's prinkshop for crewcuts 'feminist' T-shirt," has sold out on the J.Crew online store. Its price is no longer listed, but a similar prinkshop T-shirt for girls with the message, "You see a girl, I see the future," retails for $29.50.
Both J. Crew and prinkshop posted an image of a boy wearing the "feminist" shirt on Instagram Saturday. In three days, J.Crew's Instagram post got 16,401 likes, and a barrage of both supportive and disparaging comments.
"Liberalism is a disease," one commenter wrote. "Unfollowing! You don't have my business anymore," another said.
Other people, however, defended the shirt. "I say this conservative married woman raising one girl and two boys — you have no idea what you're talking about," one Instagram user replied to someone who had posted a negative comment on the post. "Our boys will be real men; real men are respectful to women. Messages like 'chick magnet,' 'boys will be boys,' 'fathers, lock up your daughters,' and 'ladies' man' cultivate and perpetuate an attitude of disrespect toward and objectification of women. It's not ok. And you don't have to 'teach' boys to like girls and girls to like boys — it's our nature and without the need for stupid message t-shirts," the message continued.
"Yes! My boys are proud feminists!" another commenter wrote.
"Praise the company that supports the child, that all children...and adults are treated #equally. Grateful to stand with J Crew!" said another.
On their Instagram post, prinkshop also received their fair share of both disapproval and support.
"This is child abuse, kids should not be billboards for political thought," one commenter wrote, while another pleaded, "Please get more of these in stock! I would like to buy one for my nephew. If you made them in mens size, my husband would buy one too!"
J.Crew did not immediately respond to CBS News' request for comment.
Thanks for reading CBS NEWS.
Create your free account or log in
for more features.