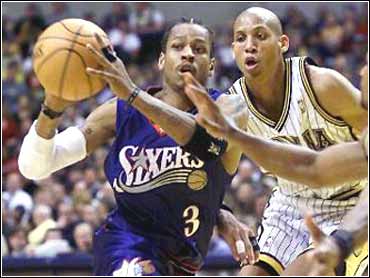 Iverson's Answer Results In Fine
Allen Iverson was fined $5,000 by the NBA on Friday for shouting a derogatory remark about gays toward taunting fans.
The Philadelphia 76ers guard said he was responding to a barrage of insults and racial slurs from the crowd last Sunday in Indianapolis. Iverson's comments were recorded by NBC.
Iverson said he was called a "monkey" and another racial epithet.
"That's the worst I've heard it in my career," he told The Philadelphia Inquirer on Tuesday.
"They called me jailbird ... waving their middle finger at me. Everything. Screaming behind the bench the whole time, and nothing was done about it. They weren't even thrown out," he said.
The fine, announced by NBA executive Stu Jackson, cited Iverson for "directing profanity towards fans."
"Sunday was as bad as it's ever been in my career, but I don't think I handled it the right way," Iverson said in a statement issued by the team Friday. "I accept the penalty from the NBA, but I hope that neither myself or any other player is ever put into a situation like that again."
Pacers spokesman David Benner said Thursday his team "found no evidence that a racial slur was used" during Philadelphia's 86-81 victory.
Iverson was criticized by NBA commissioner David Stern in October for lyrics on the player's rap album that were deemed offensive to women and gays.
©2001 The Associated Press. All Rights Reserved. This material may not be published, broadcast, rewritten, or redistributed
Thanks for reading CBS NEWS.
Create your free account or log in
for more features.