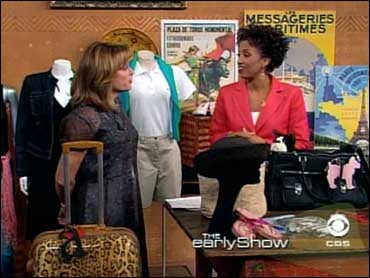 Items To Make Travel Easier
Preparing to travel is just as important as what you do once you get to your destination.
So The Early Show fashion maven Christy Ferer has culled a host of "travel must haves" designed to make the entire experience easier.
Some items are purely about the look. Others are great because they are multi-functional and compact.
Travel Luggage
Leopard Trolley Suitcase
This is a stylish way to travel. It has an ABS shell for added protection and smooth magnetic locks. Four "silent moving" wheels and a "top spin" allow for tilt pull. 19x26x10.
Available at flight001.com
Price: $325.00
Clever Carriage Company Luggage Tags
Leather luggage tags that come in the shape of dogs, hearts and letters to personalize your bags and make them stand out on the carousel.
Available at 212.268.1117 or clevercarriagecompany.com
Price: Ranging from $7.50 - $17.00
Raffia Hat And Bag
Helen Kaminski created her first hat out of raffia to protect her children's heads from the searing Australian sun. The finest raffia in the world is grown on Madagascar, an island off Africa. In Madagascar, the raffia is ecologically harvested and only the highest grade is used. Like most natural fibers, raffia can "breath" and has a natural resilience.
A Helen Kaminski raffia hat or bag will last many years of wear and tear and can be returned to its original shape again and again after wetting or steaming, reshaping by hand and drying in the sun.
Hats and sacs available at helenkaminski.com
Price: Raffia hat with a slight rim retails at $158.00; Ambato bag retails at $170.00
Some dogs in this country do more traveling than people so they too should navigate the globe in style:
Kwigy-Bo Emily Bag Dog Carrier
Britney Spears and Halle Barry dress their dogs in Kwigy-bo and wear the bag. It's FAA approved so it's perfect for traveling. It holds up to a 15-pound dog and you can use it for yourself once you reach your destination.
Available at kwigy-bo.com
Price: $225.00
When juggling cash, credit cards, plane tickets and passports it may be best to find a carry-all that works well day or night
Tampa Travel Envelope Clutch With Wristlet
Clutches and plane ticket holders are very functional. They can be used for organizing airline tickets, passports and then as a purse once you reach your destination. They come in a variety of colors with contrasting accents.
Available at tusk.com and flight001.com
Price: Ranging from $20 to $100.
Travel Apparel
The key is to choose items that are versatile, travel friendly, colorful, light-weight, yet warm.
Convertible Jewelry
A string of pearls is simple and elegant; you can wear it as a necklace or a bracelet. Great for day or evening.
From Diana Kane, $120, freshwater pearl with 18K gold clasp.
Convertable Hoop
The gold hoops work well alone for daytime. Add one of the charms and the hook is transformed and ready for elegant eveningwear.
From Diana Kane, 14K hoop: $75; pearls charm: $40; crystal charm: $30.
Urban Outfitters - Daytime
Macrame lurex scarf $16
Damsel Supima tank (in black) $24
Rebecca Beeson Racer tank $24
Lux jeans $64
All available at urbanoutfitters.com
Reebok Classic Zenswa LTD
Perfect for travel because they're light weight, flexible and stylish. For the girl on the go.
Available at select boutiques
Price: $70.00
BCBG - Day to evening
Metallic pink high-heeled strappy sandals from the Fall 2004 runway collection.
Ruched Jersey Dress
Jersey is perfect for throwing in a suitcase. The ruching makes it fit really well, and gives the dress more structure and shape than you would expect from a jersey dress.
Price: $240
Indigo Jean jacket
By Calvin Klein; available at Macy's
Price: $89.00
Ferer says never leave home without at least one pair of khaki shorts. They can be dressed down with a polo shirt or sported up by adding a cashmere sweater.
Liz Claiborne Carefree Twill Sport Shorts - Sport/Recreation
Get Sporty: This warm-weather classic comes in a cotton twill and a selection of colors. Stain resistant fabric can be dressed up or down.
Available at lizclaiborne.com
Price: $36.00
Vineyard Vines
White polo shirt,
Available at: vineyardvines.com
Price: $62.00
MAI-NYC
Espadrille Thongs in Pink can be dressed up or down. Perfect for vacations on the beach.
Price: $24.00
One of kind sarongs that can be worn as a skirt, a dress, a scarf. Light-weight and colorful.
Price: $88.00 each
Cashmere Crewneck T-shirt in turquoise - Price: $295.00
Cashmere Crewneck Tank in canary yellow - Price: $176.00
Cashmere can be worn year round and these from Mai-NYC are handmade in Mongolia for added softness.
Available at mai-nyc.com
A walk along the beach or time under the sun all deserve the right mix of post-water wear, shade devices and a little communication with the outside world.
INCA GIRL
India Beaded Poncho in brown. Great from going from the beach to the bar.
Available at incabag.com
Price: $185.00.
Calvin Klein Eyewear
Really make a statement in white - a stylishly sophisticated look.
Also available at Marchon
Price: $100.00.
Apple iPod
The fourth generation of Apple iPods is here.
It has a new navigation wheel, smaller design, new capabilities and Mac and PC ready. You can download over 5,000 books, songs, games and more. You can also connect it to most digital cameras and download your images. The battery life has now doubled to 12 hours; you can save on-the-go play lists and more.
The 20 MG sells for $299.00 while the 40MG sells for $399.00. They are now available online at apple.com/ipod and at Apple stores nationwide.
Altec Lansing travel speakers
Great for travel so you can share your favorite songs with your pals and read books aloud together.
Available at apple.com
Price: $149.99
Finally, the following items are essential to help you consolidate, refresh, heal, and spruce up.
Ziploc Baggies
The storage bags are best for carrying shampoo and conditioner so they don't leak on your clothes. Not only are they inexpensive, but they're handy and very useful for any traveler.
Available at grocery and drug stores nationwide.
Downy Wrinkle Releaser
Designed for improving how fabrics look by removing wrinkles anytime and anywhere without ironing. Just spray, tug and smooth away wrinkles. Let it dry and you're ready to go. It relaxes and smoothes fabrics to remove wrinkles without an iron with special fiber relaxants. Works on virtually all garments, including linen, khakis, polo shirts, knit separates, T-shirts, jeans, and children's clothes.
Available in two sizes at most major mass merchant and grocery chains: 500 mL size (16.9 fl oz) and a 1L size (33.8 fl oz).
Suggested retail prices are $3.99 for the 500mL and $6.99 for the 1L size.
Clorox Disinfecting Wipes
They're quick and easy and can be used anytime anywhere. They kill 99.9 percent of bacteria such as staph, which is common on planes, hotel rooms and public restrooms. They're pre-moistened one-step cleaning and disinfecting wipes that you can throw in your bag for easy use. Comes with nine wet wipes. Available widely at Target, Wal-Mart, Kmart, drug stores and grocery stores nationwide.
Price: $.99.
Bourjois Secret D'initiees Dual Ended Lipstick
Lipsticks and liner in one - a double-sided lip pencil with each end in the same shade: one thick for coating the lips and one fine for lining the lips.
Available at Sephora and Sephora.com
Price: $14.00 each.
DDF
Cellular Renewal Kit contains Cellular Cleansing Complex, EPF Moisturizer C3 SPF 15, Clarifying Enzyme Complex, Cellular Revitalization Age Renewal; Glossy Lip Therapy. All are half doses, which are perfect for travel and on-the-go skin care.
Body Therapy Includes Refining Body Treatment
Strawberry Almond Body Polish, Pedi-Cream, Restorative Hand Treatment, Glossy Lip Therapy. All are half doses, which are perfect for travel and on-the-go skin care.
Both are available at ddfskincare.com
Price: $25.00 each.
Band-Aid Brand Advanced Healing Blister
Creates protective and healing environment for irritating blisters. Generates a gel cushion that provides superior protection and comfort and causes less pain and less re-injury upon removal. Designed to stay on for several days. Seals out water, dirt and germs that can cause infection. 100 percent waterproof. Flexes and bends as you move, and slim and discreet. Hypoallergenic.
Available drug, mass merchandise and grocery store outlets nationwide.
Price: six bandages at $3.99
Schick Intuition Razor
Lathers and shaves in one step. Comes in different fragrances such as cucumber melon with aloe, cocoa butter and vitamin E. Comes with 1 razor handle, 1 cal for travel, 1 shower hanger, 2 all-in-one cartridges.
Available at drug stores nationwide or at schickintuition.com
Price: $7.99.
Sonicare Elite 7500 Power Toothbrush
Since it's rechargeable, the Sonicare Elite remains charged for up to two weeks. No need to worry about converters or heavy chargers. It also comes with a compact travel case. Sonicare Elite guarantees naturally whiter teeth and healthier gums in 28 days and is personally used by more dental professionals than any other brand.
Available at drug, department, specialty stores and mass merchandisers and many dental offices.
Price: $139.99.

Thanks for reading CBS NEWS.
Create your free account or log in
for more features.