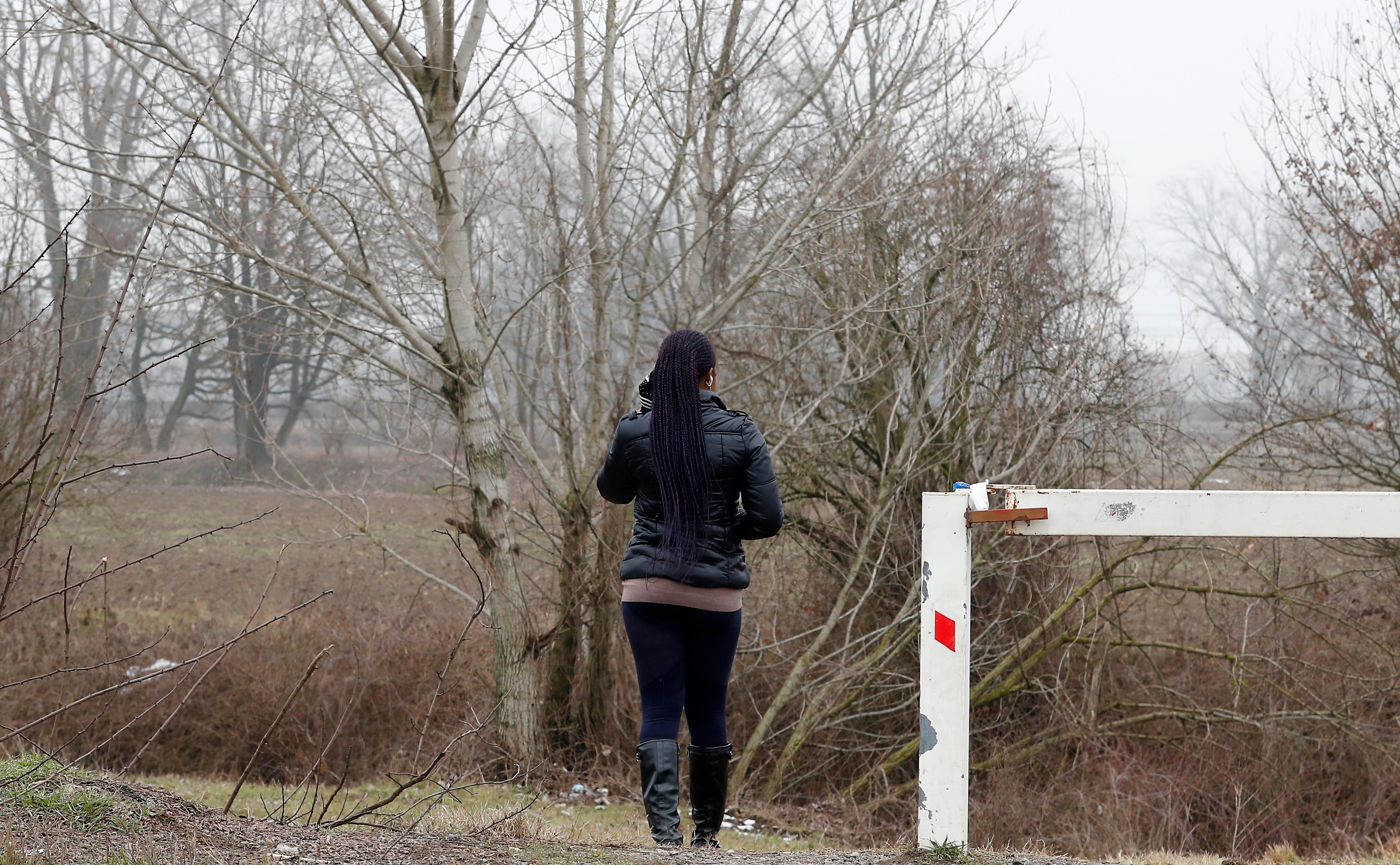 Italy struggles to help thousands trafficked as sex slaves
ROME -- Precious survived a trip across North Africa and two sinking boats before making it to Italy, only to be confronted with the reality facing young Nigerian migrants like her: A "madam" gave her condoms, pantyhose and a G-string, and put her to work.
"I had a mattress. It was in the bush," Precious told The Associated Press recently, her face hidden to hide her identity. "If a white man came who said he wasn't going to have sex inside his car, I would take him to my bed."
Nigerian teenagers and young women selling sex is a common sight for motorists in Italy. Working along roadsides and secondary highways in cities big and small, they are a haunting reminder that while Italy has been successful in curbing immigration from Libya, it has largely failed to help a fraction of the migrants trafficked as sex slaves.
Between 10,000 and 30,000 Nigerian prostitutes are estimated to be walking Italian streets, often to pay off the debts they incurred to get there. Government figures show 1,172 trafficked people were rescued and given special protection in 2016, about 700 of them Nigerian women and girls. More than 100 were minors, like Precious.
She was 17 years old when she was found off Libya's coast with a boatload of other migrants and brought to Italy. After Nigerian traffickers put Precious on a train to Turin, the Nigerian "madam" who met her in the northern city sat the girl down and explained her new life:
"You don't have any choice. This is what is going on, this is how it is going to be," Precious, a nickname she uses, recalled. "You need to prostitute."
The reason? She had to pay off the 20,000-euro debt her traffickers said she had acquired, one customer at a time.
The Italian government has tripled its funding to help trafficked girls get off the streets, from 8 million euros in 2015 to 22.5 million in 2017. The government's equal opportunities office says most of the money has gone to providing more beds in safe houses for trafficked women and girls who want to escape life on the streets.
But advocates say there is no coordinated response or strategy, and not enough beds to go around. The rescued women can't be housed in regular migrant shelters because their pimps will come for them. In fact, many girls still on the streets actually live in migrant shelters, where their traffickers can operate with impunity, said David Mancini, assistant prosecutor in l'Aquila.
"The traffickers work inside the centers, recruiting and running their business," he said. "The girls leave in the morning and come back at night. It's a pressing issue and we don't have any way to prevent this exploitation."
Increasingly, the Nigerian migrants being forced into prostitution are minors, some as young as 13, according to the International Organization for Migration's 2017 report on human trafficking.
"Their young age doesn't allow them to understand the true risk that they are facing," said Oliviero Forti, migrant policy director for the Caritas Catholic charity, which is among dozens of groups providing a patchwork of help for trafficked women and girls.
Recent arrivals to Italy are coerced into prostitution "under threats, violence, abuses perpetrated by the traffickers, a form of true slavery," Forti said.
Some threats take the form of a ritual voodoo ceremony called "juju," performed in Nigeria before women depart north: they are told they are under a spell and will be curse, if they don't pay off their debts.
Queensy, 22, recalled being taken to a shaman before she left Nigeria. He gave her a piece of a rooster's heart to eat and took samples of her pubic hair and nails. The shaman warned that if she didn't repay what she owed, harm would come to her family, she would be unable to bear children and she could die.
What no one told her was that she would need to sell sex to satisfy that debt. Instead, Queensy - a nickname she uses - was told she could work as a maid or nanny.
"When I get to the street and was there, I was very, very angry and I am crying because I don't know, I am very small," Queensy told the AP. "What will I tell my parents? What will I tell my mother?"
She said her "madam" told her that if she refused to work the streets, she would be taken to the police, who would deport her back to Nigeria.
Deputy Police Chief Mariapia Marinelli, the Italian national police's trafficking expert, said the girls believe the threats, though many would actually qualify for legal protection in Italy, especially if they are minors.
"These voodoo rites create a sort of essential link to those who then traffic them," Marinelli told the AP.
Police work to try to break up what they consider to be a "transnational criminal organization" that includes cells of Nigerians in Italy, but with limited success.
In some parts of the country, including around Naples, Nigerian criminals have sought protection from the Italian mafia to be able to conduct their business on mob-run territory. Italy's National Anti-Mafia Investigative Group reported in 2017 that Nigerian gangs reach agreements with Sicilian criminal groups to "obtain protection or at least approval to carry out their exploitation in the form of prostitution."
In the case of Precious, police picked her up on the street near Turin in the spring of last year. She had spent about seven months working, servicing as many as 10 men a day. She was afraid of being sent back to Nigeria, but at that point "going back to Nigeria is even better than prostituting every day."
Eventually, Precious was placed in the care of an aid group that places trafficked Nigerian girls and women in protective shelters. She lives now in a safe house near Rome and works with elderly people in a paid internship.
"I can say I am free now. I am free," Precious said.
But she is one of the lucky few.
On a cold February morning, Julia was at work along a road near Rome. The 25-year-old Nigerian woman said she gets 10 euros for each sex act she performs, but clients have been less frequent lately.
"Just three a day. Thirty euros is not enough," she said. Julia said she wants to escape but doesn't know how.
The Italian government says the number of callers to a hotline for trafficked women has gone up dramatically during the past two years.
The number, though, can't accept calls from cellphones on the Nigerian Lycamobile mobile network. That's the phone service most Nigerian women in Italy use.
"I thought I would be a babysitter or waitress," Julia said from her plastic chair on the roadside. "How can I change this?"
Thanks for reading CBS NEWS.
Create your free account or log in
for more features.