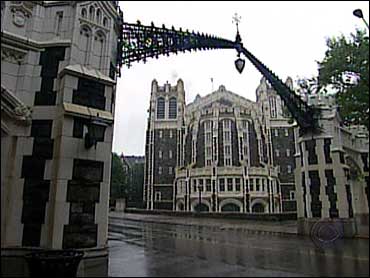 Is Rangel's 'Monument to Me' Worth It?
Millions of your tax dollars are going for a new program at The City College of New York in the heart of Harlem. The mission is to get more minority and poor students into politics.
"This is an effort to make sure that America's government looks like America," says City College spokeswoman Mary Lou Edmondson.
Nobody's taking issue with that. What they are griping about is that one member of Congress funneled $2 million in tax dollars into the project through a special "earmark" and the whole thing is named after him.
As CBS News correspondent Sharyl Attkisson reports, that member of Congress is Rep. Charles Rangel - one of the most powerful Democrats on Capitol Hill.
"I cannot think of anything I am more proud of," said Rangel, D-N.Y.
According to promotional brochures, the soon-to-be refurbished building will house the new "Charles B. Rangel Center for Public Service," the "Rangel Conference Center," "a well-furnished office for Charles Rangel" and the "Charles Rangel Library" for his papers and memorabilia. It's kind of like a presidential library, but without a president. In fact, the brochure says Rangel's library will be as important as the Clinton and Carter libraries.
Republican Congressman John Campbell of California says it's downright unseemly.
"We call it the 'Monument to Me,' because you're creating, or the person - in this case Congressman Rangel - is creating a monument to himself," he said.
In a debate on the House floor on July 19, Campbell, who's only in his second year in Congress, challenged Rangel, who's been there for 36 years.
"You don't agree with me or see any problem with us, as members, sending taxpayer funds in the creation of things named after ourselves while we're still here?" Campbell said.
"I would have a problem if you did it, because I don't think that you've been around long enough that having your name on something to inspire a building like this in a school," responded Rangel.
But the inspiration for Rangel's library and the idea to give it federal funding came from Rangel, not the college, according to Edmondson.
"Was it his requirement that his name be on the center?" asks Attkisson.
"I don't think we would ever think of not having his name on the center if we had his papers," says Edmondson.
"So he wanted his name on the center?"
Edmondson was at a loss for words in response.
Rangel wouldn't agree to an interview, but told Attkisson on the phone he's proud of the idea and has always tried to put as much money into schools as possible.
And he says education is what the Rangel Library is all about ... brought to you by Charles Rangel and your tax dollars.
Thanks for reading CBS NEWS.
Create your free account or log in
for more features.