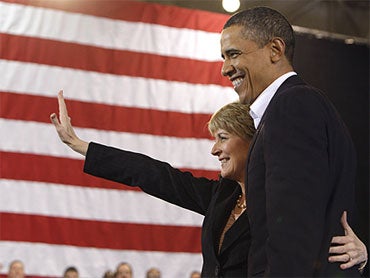 Is Obama Falling Short as Party Chief?
Barack Obama built a powerful campaign organization and got himself to the White House. Now, as head of the Democratic Party, he's expected to get other Democrats into office, too. But, judging by his one-year track record, he's not getting it done.
The list of White House failures is growing: It hasn't galvanized the legions of 2008 Obama backers in three major statewide losses. It hasn't prevented primary challenges for at least two vulnerable Senate Democrats even though Obama endorsed them. And it hasn't recruited strong candidates for Senate seats once held by Vice President Joe Biden and the president himself.
"I get the sense that it's all about them ... and that if they do get involved, it should be magic. But, in my experience, it hasn't been," said Democratic Rep. Marion Berry of Arkansas.
Based on roughly two dozen interviews with lawmakers, party leaders and political operatives nationwide, it's clear that many Democrats feel Obama hasn't fully embraced his role as party chief. It has them questioning the strength of his political muscle and faulting his advisers for paying too little attention to the fast-approaching 2010 midterm contests.
Some of these Democrats complained on the record. Others asked for anonymity to avoid angering Obama and his team. Altogether, they described an ineffective political operation. They suggested Obama's team is overly focused on his likely 2012 re-election bid. And they blamed the White House for a muddled message about what he's trying and accomplishing as president.
"The political operation is good, but it needs to be better," said Pennsylvania Gov. Ed Rendell. He faulted the White House for trouble communicating its accomplishments and said "the biggest chink in the armor" was Obama's inability to turn out his 2008 backers. Added Rendell: "The president has been reluctant to sort of roll up his sleeves and fight for the things we believe in because he's been trying hard for bipartisan results."
Full Coverage: Obama's 2010 State of the Union
"Anytime a president's party loses, the president, because he is the head of the party, has to take some blame and responsibility," said Don Fowler of South Carolina, a former Democratic National Committee chairman.
On the subject of Obama's message, he said: "The multiple focuses they are taking are not doing their political operation any good." On mechanics, he called Obama's decision to keep his political arm, Organizing for America, separate from the Democratic Party "a major mistake" because it divides resources, focus and control.
"Massachusetts was a catastrophe," Fowler said. "The White House has to bear some blame for that."
Republican Scott Brown's victory over Democrat Martha Coakley in the special election to fill the late Sen. Edward M. Kennedy's Senate seat in the Democratic bastion prompted top Democrats in Congress to call on Obama to more forcefully make the party's case against Republicans.
"There's no doubt that the White House, which has a big megaphone, needs to make sure that the contrasts are very clear to the public," Rep. Chris Van Hollen of Maryland, chairman of the House Democrats' campaign committee, said the day after that election. His message was echoed by Sen. Robert Menendez of New Jersey, the head of the Senate Democrats' election effort.
Berry, a moderate Democrat who announced his retirement this week, said Obama's policies are hampering Democrats. "There's certainly not anybody in my district saying 'I'd just wish you'd stay with President Obama more. I really think he knows what he's doing,"' Berry said.
Democratic Rep. John Tierney of Massachusetts said Obama hasn't done enough to remind people that George W. Bush's administration engineered the Wall Street bailouts, the source of so much voter anger. "The more he explains things, it makes it look like he did it," Tierney said, though Obama and congressional Democrats supported the rescue effort.
Obama himself has owned up to a failure to communicate, telling ABC News: "We lost some of that sense of speaking directly to the American people about what their core values are and why we have to make sure those institutions are matching up with those values." But he didn't lay out any new roadmaps in his State of the Union speech Wednesday night.
The party has had some electoral successes: winning five House special elections last year, including one seat in upstate New York that Republicans had held for more than a century. The White House and its political arm played some role in at least some of those contests.
And, White House officials say, Obama or senior advisers were involved in personally courting Denver Mayor John Hickenlooper to run for Colorado governor, Milwaukee Mayor Tom Barrett to run for Wisconsin governor and Connecticut Attorney General Richard Blumenthal to run for the Senate.
"Over the course of the year, the White House is proud to have helped good Democrats win some tough races in a turbulent political environment," White House Press Secretary Robert Gibbs said. He said the White House is "strongly supportive" of candidates such as Barrett and Hickenlooper, who are competing in swing states, because "the president shares their commitment to policies that place the interests of middle class families ahead of partisanship and special interests."
But Democrats are 0-3 in major statewide races on Obama's watch. In Massachusetts and gubernatorial races in Virginia and New Jersey, independents broke heavily toward Republicans a year after favoring Obama, and many Democrats who backed Obama in 2008 didn't vote - even though the president campaigned on Democrats' behalf. The White House blamed the defeats on a poor environment, flawed candidates and shoddy campaigns.
Democrats also are in danger of losing Obama's old Senate seat in Illinois and Biden's in Delaware after the White House failed to persuade its preferred candidates to run.
Obama himself tried to convince Illinois Attorney General Lisa Madigan to run but she declined, setting up a four-way Democratic primary on Tuesday. Republican Mark Kirk is all but certain to prevail in the GOP primary. A competitive general election is certain.
In Delaware, the vice president's son, Beau, announced this week that he would run for re-election as the state attorney general to finish prosecuting a child molestation case. He eschewed a run for the Senate seat his father had held for 36 years. That means that Republican Rep. Mike Castle, a popular former governor, is favored to win the Democratic-held seat.
Elsewhere, vulnerable Democratic incumbent Sens. Arlen Specter in Pennsylvania and Michael Bennet in Colorado face fierce primary challenges that could leave them broke and bloody for the general election - even though Obama endorsed them early and promised to help them get elected. The president's weight wasn't enough to scare off Joe Sestak in Pennsylvania or Andrew Romanoff in Colorado.
New York Sen. Kirsten Gillibrand may draw a Democratic opponent in former Tennessee Rep. Harold Ford despite a White House effort to clear the field for her months ago. Obama and his team were heavily involved in persuading potential threats, including Rep. Steve Israel, to stand down.
Obama certainly doesn't bear all the blame for the woes.
Candidate quality, local issues, and a dreary environment marked by a tumultuous economy and voters' anti-Washington anger all were factors in the statewide losses. And, while the White House is the country's most powerful political organization, a president can't dictate the outcome of elections or the decisions of individual candidates to run or not. Obama also been governing through a recession and two wars while trying to win passage of his domestic agenda.
Still, in the wake of Massachusetts and in an acknowledgment of the troubles, Obama has turned to former campaign manager David Plouffe to help keep tabs on races ahead of the midterms - even though the White House is staffed with seasoned campaign operatives. Among them: Chief of Staff Rahm Emanuel, who headed the House Democrats' campaign effort in victorious 2006 elections, and senior adviser David Axelrod, who was Obama's chief strategist in his 2008 campaign.
Thanks for reading CBS NEWS.
Create your free account or log in
for more features.