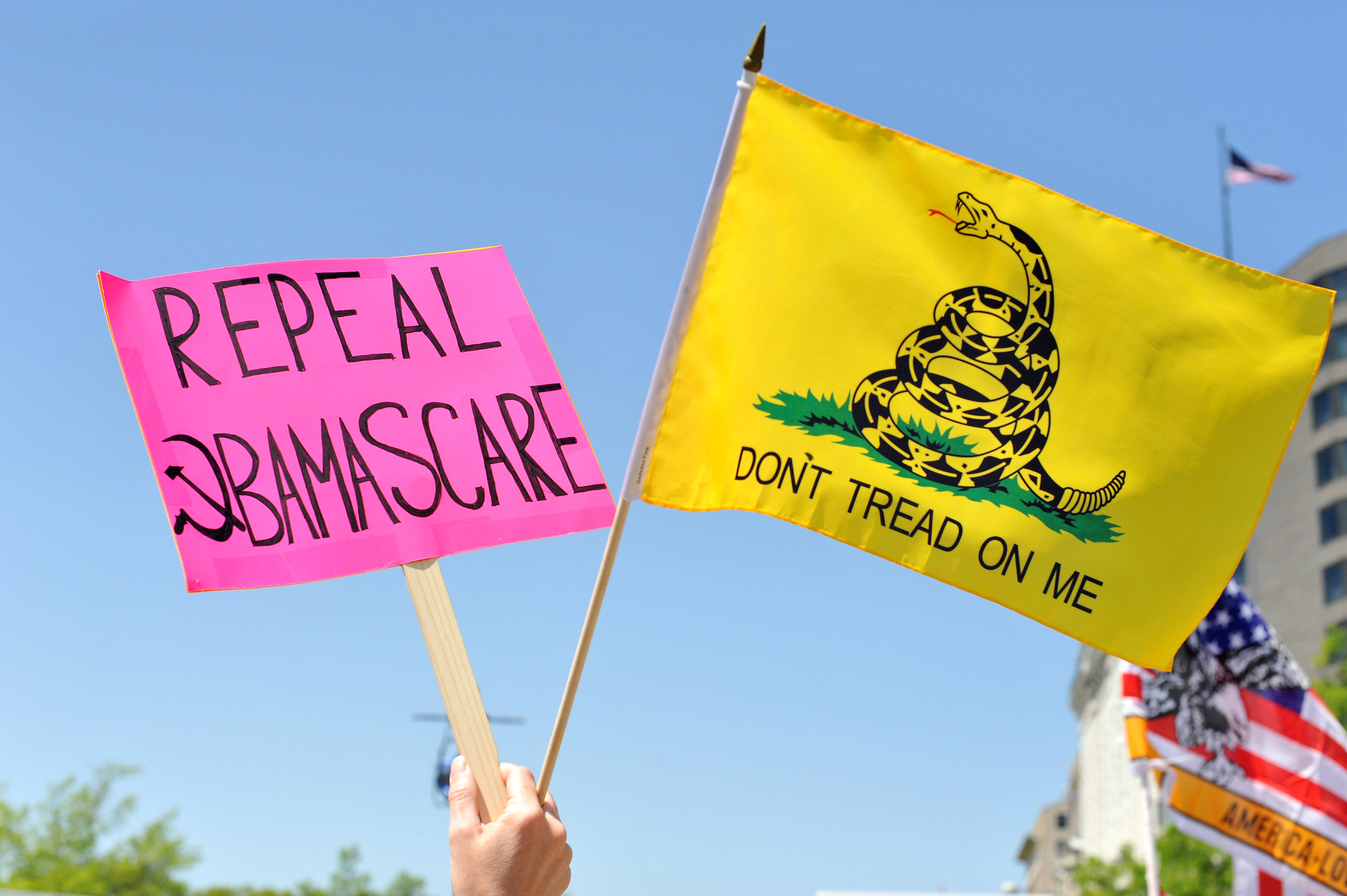 IRS official apologizes to tea party groups for "incorrect" scrutiny during 2012 election
This post was updated at 4:36 p.m. ET
An IRS official apologized on Friday to tea party organizations and other conservative groups for inappropriately targeting them during the 2012 election, the Associated Press reports.
The groups, which enjoyed tax-exempt status under the internal revenue code, were singled out for additional scrutiny of their tax exemption if their names included the words "tea party" or "patriot." In several cases, the groups were asked to provide a list of donors for review, usually a violation of IRS policy.
"That was wrong. That was absolutely incorrect, it was insensitive, and it was inappropriate. That's not how we go about selecting cases," said Lois Lerner, the head of the IRS division that oversees tax-exempt groups. "The IRS would like to apologize for that."
Lerner said the additional scrutiny was initiated by lower-level employees working out of Cincinnati, and that the practice was not a product of political bias. She told the Associated Press that high-level officials were not informed of the practice. On a conference call on Friday, IRS officials said they did not know whether any administration officials at the White House or Treasury Department were aware of the practice.
During the election, several conservative groups cried foul over what they saw as undue pressure justify their tax-exempt status, accusing the IRS of sending arduous questionnaires seeking information about their members' political activities.
Many of the groups' tax exemption fell under section 501(c)4 of the internal revenue code, which regulates "social welfare" organizations. Such groups are permitted fairly broad freedom of movement in the political sphere, including lobbying, issue advocacy, and attacking or defending candidates for public office, so long as such political engineering is not their "primary activity," according to the IRS website. No precise rubric exists for assessing what constitutes a "primary" activity, but 501(c)4 groups are generally advised to spend no more than 40 percent of their budget on political activities.
After complaints from conservative organizations, a dozen Republican senators, including Senate Minority Leader Mitch McConnell, R-Ky., wrote to the IRS in March of 2012, expressing concern about the agency's "excessive" oversight of conservative groups.
"It is critical that the public have confidence that federal tax compliance efforts are pursued in a fair, even-handed, and transparent manner - without regard to politics of any kind," they wrote. "To that end, we write today to seek your assurance that this recent string of inquiries has a sound basis in law and is consistent with the IRS's treatment of tax-exempt organizations across the spectrum."
"It is imperative that organizations applying for tax-exempt status are able to rely on a consistent and foreseeable review structure from the IRS," they continued.
Also in March of 2012, IRS Commissioner Douglas Shulman, a Bush-era appointee, told Congress, "There's absolutely no targeting. This is the kind of back-and-forth" that's involved in applying for tax-exempt status, he said.
Later that year, McConnell decried the "speech police" for targeting "groups on the right that the Obama administration regards as a threat to its campaign" during a June speech at a conservative think tank in Washington.
"No individual or group in this country should have to face harassment or intimidation, or incur crippling expenses, defending themselves against their own government, simply because that government doesn't like the message they're advocating," he said.
The proliferation of 501(c)4 groups, which are permitted to raise unlimited sums of money and are not required to disclose their donors, marked a major feature of the 2012 election, with super PACs and other independent expenditure outfits pouring unprecedented amounts of outside money into the election. The Supreme Court case that opened the door to this new reality, Citizens United v. United States, has been criticized by campaign finance reformers on both sides of the aisle for its role in accelerating the influence of outside groups and "soft money" in American elections.
In a statement released after Lerner's comments, the IRS explained that the number of applications for 501(c)4 status doubled between 2010 and 2012. "As a result," they explained, "local career employees in Cincinnati sought to centralize work and assign cases to designated employees in an effort to promote consistency and quality."
"While centralizing cases for consistency made sense, the way we initially centralized them did not," the statement continued. "Mistakes were made initially, but they were in no way due to any political or partisan rationale."
The agency also highlighted the implementation of new procedures last year "to ensure that these mistakes won't be made in the future."
The apology was met with a mixed reaction by tea party groups. Jay Sekulow, a lawyer with the American Center for Law and Justice, which has represented several conservative groups in their complaint against the government, hailed the apology as a "significant victory for free speech and freedom of association." But Jenny Beth Martin, of the Tea Party Patriots, scorned the apology. "The IRS has demonstrated the most disturbing, illegal and outrageous abuse of government power," she said in a statement. "We reject a simple apology that does nothing to alleviate the danger of this happening again," she added, demanding a congressional investigation, an apology directly from President Obama, and the immediate resignation of any IRS employees involved in the scandal.
McConnell, in a statement, called on the administration "to conduct a transparent, government-wide review aimed at assuring the American people that these thuggish practices are not underway at the IRS or elsewhere in the administration against anyone, regardless of their political views."
McConnell's call for a government-wide review was seconded by House Speaker John Boehner, R-Ohio, who released a statement slamming the "admission by the Obama administration that the [IRS] targeted political opponents," saying it "echoes some of the most shameful abuses of government power in 20th-century American history." House Majority Leader Eric Cantor, R-Va., also announced on Friday that the House would investigate the matter.
And House Oversight and Government Reform Committee chairman Darrell Issa, R-Calif., along with Rep. Jim Jordan, R-Ohio, called the IRS practices "unconscionable" in a statement, promising to use his committee "to hold responsible officials accountable for this political retaliation."
White House press secretary Jay Carney said on Friday that the White House believes the reported actions on the part of the IRS are "inappropriate" and called for a "thorough" investigation, noting that the IRS inspector general has already initiated an internal review.
Thanks for reading CBS NEWS.
Create your free account or log in
for more features.