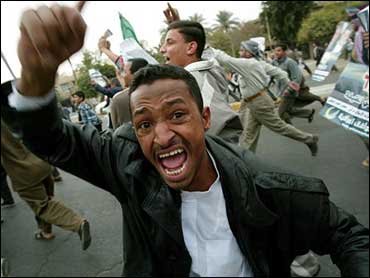 Iraqis Protest Election Results
Protesters gathered across the country Friday to denounce parliamentary elections that demonstrators called rigged in favor of the main religious Shiite coalition.
As many as 20,000 people demonstrated after noon prayers in southern Baghdad Friday in a protest organized by Sunni Arab groups and attended by representatives of secular Shia parties.
Many Iraqis outside the religious Shiite coalition allege that the elections were unfair to smaller Sunni Arab and secular Shiite groups.
"We refuse the cheating and forgery in the elections," read one banner among many decrying the elections.
Sheik Mahmoud al-Sumaidaei of the Association of Muslim Scholars, a major Sunni clerical group, told followers during Friday prayers at Baghdad's Umm al-Qura mosque that they were "living a conspiracy built on lies and forgery."
"You have to be ready during these hard times and combat forgeries and lies for the sake of Islam," he said.
Sunni Arab and secular Shiite factions had demanded Thursday that an international body review election fraud complaints, and threatened to boycott the new legislature. The United Nations rejected the idea.
Their demand came two days after preliminary returns indicated that the current governing group, the religious Shiite United Iraqi Alliance, was getting bigger-than-expected majorities in Baghdad, which has large numbers of Shiites and Sunnis.
On Friday, more than 2,000 people demonstrated in Mosul, where some accused Iran of having a hand in election fraud. About 1,000 people demonstrated in Tikrit, Saddam's hometown.

Thanks for reading CBS NEWS.
Create your free account or log in
for more features.