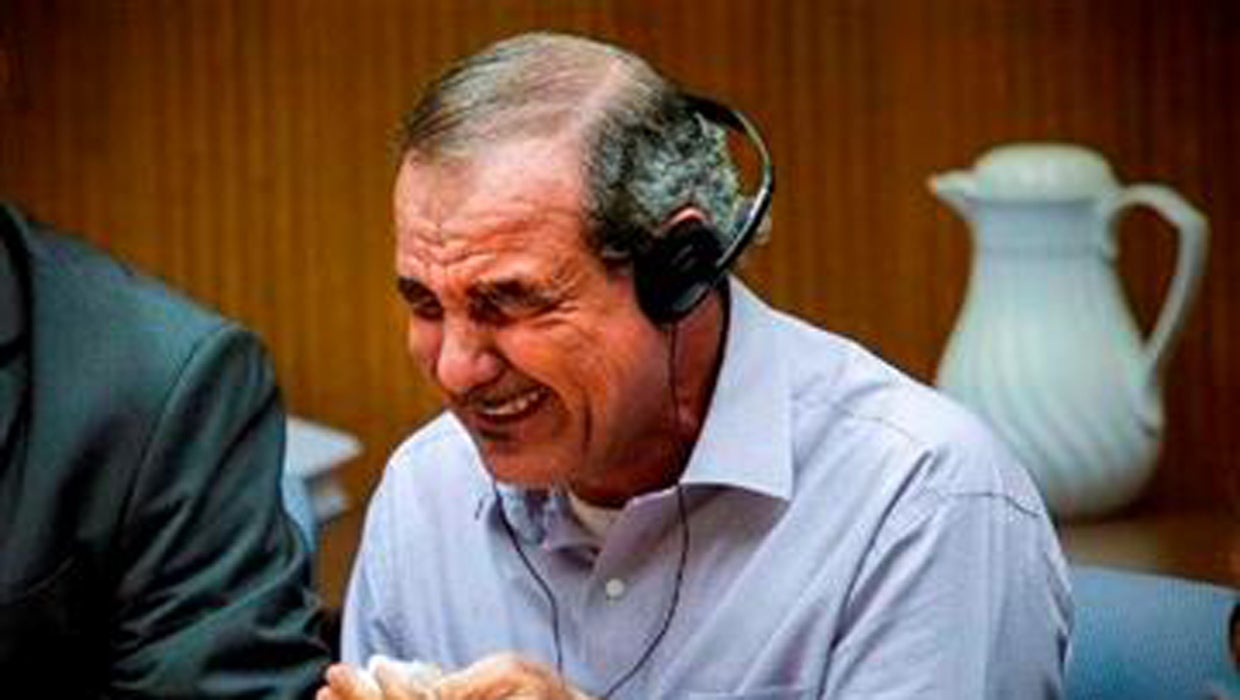 Iraqi immigrant gets 26 years-to-life for killing wife in Calif.
EL CAJON, California - A California judge sentenced an Iraqi immigrant Monday to 26 years-to-life in prison for his wife's fatal beating - an attack that initially drew international condemnation when authorities believed it was a hate crime.
Kassim Alhimidi, 50, entered the courtroom bound and surrounded by deputies because of his previous outbursts that repeatedly disrupted his emotional trial in San Diego County Superior Court.
On Monday, he yelled out in English, "I swear I am not guilty!" and then shouted in Arabic to his son before the judge ordered the defendant to be briefly removed from the courtroom.
When Alhimidi returned minutes later, he blew kisses to his 17-year-old son, Mohammed, and then sobbed as the teen told the court: "I just basically lost both my parents."
The couple's oldest daughter, Fatima, found Shaima Alawadi, 32, in a pool of blood on the kitchen floor of their home in 2012 in El Cajon, a San Diego suburb that is home to the second-largest Iraqi population in the United States.
Alawadi died at a hospital two days later from multiple fractures to her skull.
Investigators initially believed the killing was a hate crime because of a note found after the beating near the devout Muslim mother of five who wore a hijab. It read: "This is my country, go back to yours, you terrorist."
The victim and her Shiite Muslim family left Iraq in the early 1990s after a failed Shiite uprising, living in Saudi Arabian refugee camps before coming to the United States.
The slaying was condemned by Muslim community leaders in the United States and Iraq before laboratory tests determined the note was a photocopy of one found earlier outside the home, indicating it was planted.
Prosecutors said Alhimidi lied to police about the state of his marriage and hid the fact that his wife was seeking a divorce and planned to move to Texas. His wife's relative also overheard Alhimidi apologize to his wife as she lay dying in a hospital, according to the prosecution.
Alhimidi's daughter, Fatima, did not attend the sentencing but sent a statement that was read in court in which she told her father: "What I saw scarred me for life."
She added: "It disgusts me that you made this look like a hate crime."
The 18-year-old is now taking care of her two younger sisters in El Cajon, while the two sons are living in Texas, her brother, Mohammed, said after the hearing.
After being sentenced, Alhimidi yelled out that he would prefer to be sentenced to death and donate his organs.
Alhimidi's outbursts stopped the proceedings several times during his trial. He shook his head and wagged his finger as jurors delivered the guilty verdict in April.
His sons shouted in his defense, with one yelling obscenities before several deputies wrestled him out of the courtroom.
Mohammed, who tattooed a drawing of a woman in a hijab on his arm in honor of his mother, told reporters Monday that he struggled at the time to believe his father had killed his mother.
The son told the court he wakes up at night thinking of her and breaks down when he remembers "the man I looked up to all my life is the reason why she is gone."
Defense lawyers said there was no forensic evidence against Alhimidi and that he loved his wife and was not a violent man. They say he also returned from Iraq after burying his wife there when he could have stayed in his homeland to avoid prosecution.
Alhimidi will have to serve 26 years before he is eligible for a parole hearing, but he will get credit for time already served since his November 2012 arrest.
Thanks for reading CBS NEWS.
Create your free account or log in
for more features.