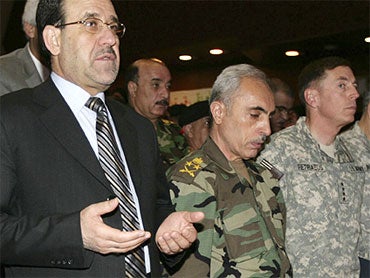 Iraq Army Chief: We Need U.S. Troops Till 2020
Updated at 5:48 a.m. Eastern.
President Obama is satisfied that the United States can finish its combat role in Iraq safely at the end of this month and meet the deadline for removing all U.S. troops from the country by the end of 2011, White House officials said Wednesday.
Iraq's most senior Army officer, however, does not share that assessment - putting him at odds not only with the White House, but with senior politicians in his own country.
Iraqi Army chief Lt. Gen. Babakir Zebari told The Telegraph this week that his troops won't be ready to protect the nation until 2020 - nine years after the Obama administration intends to bring all U.S. troops home.
Obama was briefed on the status of the withdrawal from Iraq by his national security team and the top U.S. commander in Iraq. White House spokesman Robert Gibbs said the president also was brought up to date on so far unsuccessful efforts by Iraq to form a new government five months after national elections.
Obama met with Secretary of State Hillary Rodham Clinton, Defense Secretary Robert Gates, national security adviser James Jones and, by videoconference, the U.S. commander in Iraq, Gen. Ray Odierno.
"The president heard directly from General Odierno, who said that we were on target to complete our drawdown by the end of August. Already we have removed over 80,000 troops from Iraq since President Obama took office," Gibbs said.
The remarks from Odierno and his bosses at the Pentagon and the White House directly contradict Lt. Gen. Zebari, who told The Telegraph quite bluntly, "the U.S. army must stay until the Iraqi army is fully ready in 2020."
"At this point, the withdrawal is going well, because they are still here," said Zebari. "The problem will start after 2011 - the politicians must find other ways to fill the void after 2011."
In a subsequent interview with an Arab satellite television network, a spokesman for the Iraqi Defense Ministry said Zebari's comments to The Telegraph had been misunderstood.
Staff Gen. Muhammed al-Askari told al-Etijah TV that Zebari meant Iraq's armed forces were not prepared to defend the country from an external attack - not that they were incapable of managing internal security challenges.
"The Chief of staff did not mean that the army is not capable of handling the security file, what he meant was that the army cannot handle military battles at the border with neighboring countries," al-Askari told al-Etijah.
Gibbs and other U.S. officials said an uptick in violence as August 31 draws nearer was expected. They blamed it on the start of the monthlong Islamic observance of Ramadan, and efforts by factions to further complicate efforts to form a coalition government and by some militants to create the appearance that they were running the United States out of the country.
Zebari, in his interview with the British newspaper, suggested the overwhelming unpopularity of U.S.-backed Iraqi president Nouri al-Maliki was a key factor in preventing the formation of a new government. Al-Maliki was the primary proponent in Iraq's government for the agreement with Washington that set the timetable for U.S. troops to withdrawal.
The Army chief's implication is that the bilateral agreement for the scheduled withdrawal was drawn up largely for political reasons - with less regard to the security situation on the ground. Both the Obama administration and it's partners in Baghdad have insisted the security situation would dictate the withdrawal plans.
Continuing attacks against Iraq's security forces come as the United States is moving to reduce its troop levels to 50,000 by the end of August.
"There continues to be terrorists in Iraq. There continues to be acts of violence," Deputy National Security Adviser Ben Rhodes told a group of reporters. "They have not affected the positive trends" happening in Iraq and the overall level of violence is lower than it has been in the past, Rhodes said.
Gibbs said Odierno told Obama the security situation has continued to improve, and Iraqi forces are fully prepared to take over.
Obama has vowed both to end the official U.S. combat mission on schedule and to move all remaining U.S. troops off Iraqi soil by the end of 2011, a timetable set in the pact with the Iraqi government.
The president also received an update from Vice President Joe Biden and Christopher Hill, the U.S. ambassador to Iraq, on Iraq's troubled efforts to form a new government.
Biden's national security adviser, Tony Blinken, said frustration is building among Iraqis over failure to form a governing coalition. "There is a sense of urgency to move forward and get a government formed," he said. "We really believe there is forward movement. But it's not up to us."
In a National Public Radio interview from Baghdad, Hill said the pace of political progress has quickened in recent weeks, and "things may be heading in the right direction" even though "more needs to be done."
White House officials sought to blunt suggestions that the end of 2011 deadline for removing all remaining troops might be impossible to meet.
"All systems in the U.S. government are getting down to ... `there will be no troops (in Iraq) after 2011,"' said Rhodes. He said an exception would be security forces to protect the U.S. Embassy in Baghdad.
In the meantime, he said, "50,000 troops are capable of accomplishing a great deal," even though the U.S. mission will change on Sept. 1 to one of support.
Thanks for reading CBS NEWS.
Create your free account or log in
for more features.