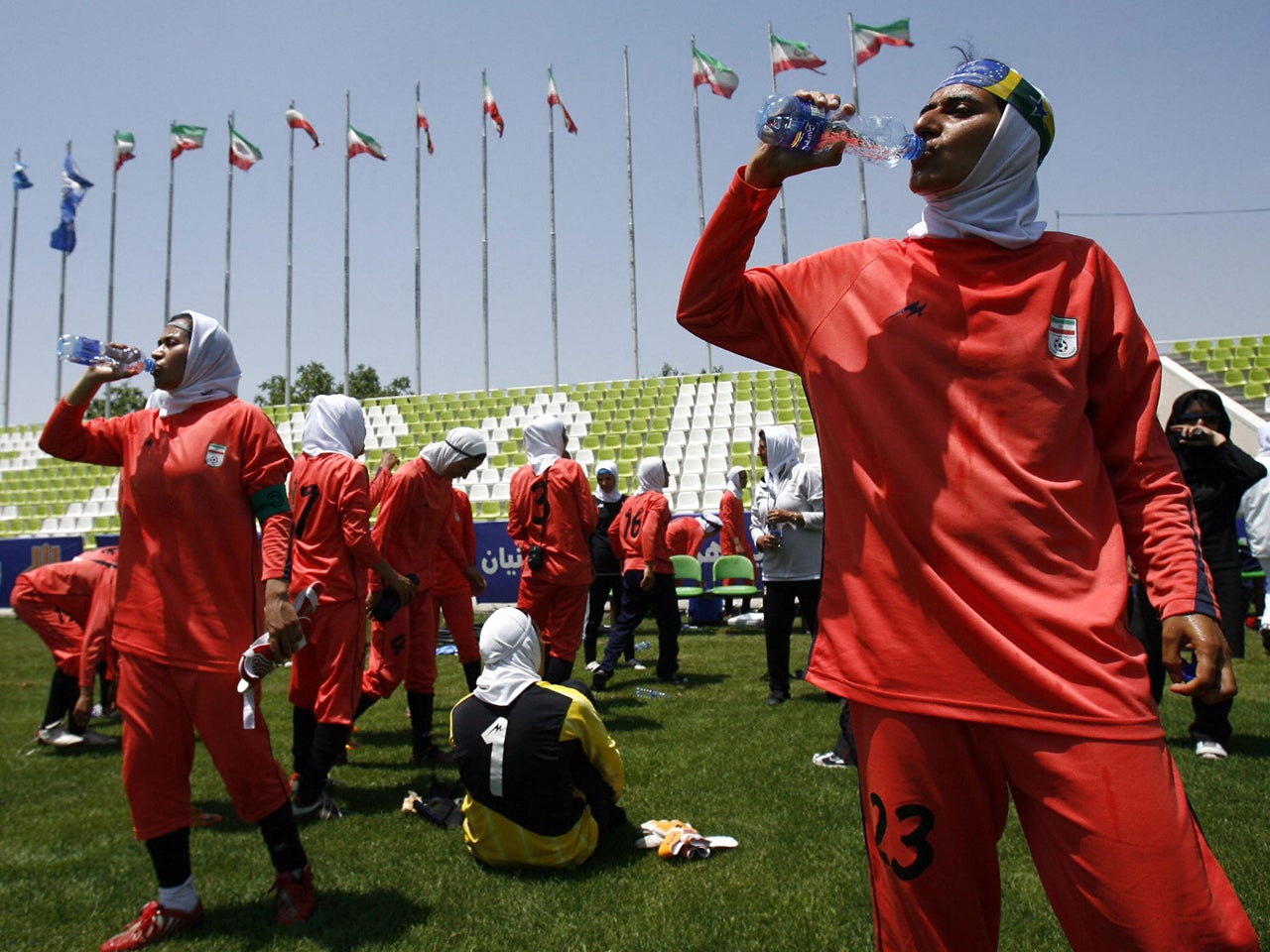 Iran women's soccer team thwarted by hijab ban
GENEVA - Iran's women's team was correctly prevented from playing a 2012 Olympics qualifier wearing Islamic head scarves, FIFA said Monday.
Iranian officials were "informed thoroughly" before Friday's match against Jordan that the hijab scarf is banned for safety reasons, football's governing body said.
"Despite initial assurances that the Iranian delegation understood this, the players came out wearing the hijab, and the head and neck totally covered, which was an infringement of the laws of the game," FIFA said in a statement.
FIFA banned the hijab in 2007 and this year extended the safety rule to include neck warmers, which were also judged a threat to cause a choking injury. Football's rules also prohibit religious statements in team uniforms.
Iran's football assocation has said it will complain about the FIFA delegate from Bahrain who ordered the match abandoned, and the decision to award Jordan a 3-0 victory.
"I will file a complaint to FIFA against the individual in charge of holding the match," Ali Kaffashian, the Iranian Football Federation president, said Saturday in comments reported by the Fars news agency.
Jordan team officials also objected to the hijab rule before the game, but prepared to play by declining to select women who objected on religious grounds.
"The Iranian team and three Jordanian players were also banned from playing because they wore the traditional head cover," Rana Husseini, head of Jordan's women's football committee, told The Associated Press.
"The problem is that the head cover assigned and approved by FIFA for women players to wear does not suit them as it reveals part of the neck and this is not allowed and it is not acceptable," she said.
FIFA addressed the problem at the 2010 Youth Olympics when Iran's girls protected their modesty by covering their hair with specially designed caps.
Husseini said Jordan's Prince Ali, who joined FIFA's executive committee last week, would seek talks to resolve the issue.
Iran also forfeited its match against Vietnam on Sunday as part of a round-robin group playing in Amman, Jordan, which also includes Thailand and Uzbekistan.
The winner enters a final group with Asia's five highest-ranked teams to decide which two countries advance to the London Games.
Thanks for reading CBS NEWS.
Create your free account or log in
for more features.