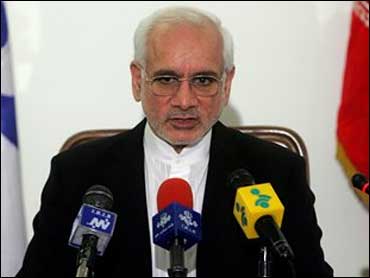 Iran Offers U.S. Nuke Compromise
Iran's Foreign Ministry on Sunday offered the United States a share in building a new nuclear power plant in an apparent effort to curb U.S. opposition to its controversial atomic program.
"America can take part in international bidding for the construction of Iran's nuclear power plant if they observe the basic standards and quality," Foreign Ministry spokesman Hamid Reza Asefi said in a news conference.
Asefi was apparently talking about a 360-megawatt light water nuclear power plant in southwestern Iran, which the head of the country's top atomic organization announced plans to build on Saturday.
Iran also wants to produce 2,000 megawatts of electricity by building nuclear power plants with foreign help in southern Iran.
It was unclear how the Americans would react to the Iranian proposal, but relations between both countries have been severed since Iran's 1979 Islamic revolution. Washington also imposes unilateral sanctions on Iran, preventing U.S. companies from doing business in Iran.
The United States has also ratcheted up pressure against Iran, accusing it of pursuing a nuclear weapons program and supporting anti-Israeli militants.
Iran, which denies wanting to build atomic bombs, has been involved in stalled talks with European negotiators over its contentious nuclear program aimed at making Tehran permanently freeze nuclear enrichment.
Enrichment can produce material for use in warheads or fuel for nuclear plants to generate electricity.
The United States backs the Iran-Europe talks, which broke off in August and will resume Dec. 21 in Vienna, Austria. Tehran has since restarted uranium conversion, a precursor to enrichment.
"The (Vienna) meeting will be a serious one," Asefi said. "Everything is dependent on the meeting and the talks. Everything will be decided there. We will make a decision based on its results in the future."
Asefi refused to speculate on the result of the talks, saying only that "if Europe works based on the nonproliferation treaty, safeguards and international measures, then there will be no room for concern."
He reiterated that the meeting's agenda would focus on Iran's right to enrich uranium and that the talks would be held on a senior level.
Germany, France and Britain have suggested shifting Iran's enrichment activities to Russia, where nuclear material would be enriched only to fuel levels and not to weapons grade.
But Iran said it would enrich uranium and produce nuclear fuel domestically despite international efforts to curb its atomic program.
On Friday Mohamed ElBaradei, head of the United Nations' International Atomic Energy Agency, said the international community was losing patience with Iran over its nuclear program.
"ElBaradei should not politicize issues," Asefi said. "He knows Iran has not diverted in its nuclear program. Some of words that he said were not correct at all. It would be better for him not to have many interviews."
Iran is standing its ground amid international pressure to cut back on its nuclear activities, particularly uranium enrichment, which can produce material for use in warheads or fuel for nuclear plants to generate electricity.
Thanks for reading CBS NEWS.
Create your free account or log in
for more features.