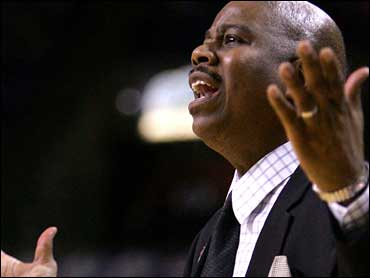 Iowa State Cans Hoops Coach
Iowa State fired basketball coach Wayne Morgan and his staff Friday in the wake of a possible recruiting scam.
Morgan's firing comes two days after CBS SportsLine.com reported that a number of college basketball programs may have steered more than $100,000 to a California business run by a junior college coach.
Jamie Pollard, ISU director of athletics, said during a news conference that he met the previous evening with ISU President Gregory Geoffrey and with Morgan.
"We informed him that we were making a change in the leadership of our men's basketball program, effective immediately," Pollard said.
The story on Wednesday alleged that D1 Scheduling, a company founded by Los Angeles Community College coach Mike Miller, might have been delivering LACC players to Division I schools, including Iowa State, that paid the company to arrange games.
"I think (any involved) coach would be putting his job in jeopardy," said Jim Haney, president of the National Association of Basketball Coaches told CBS SportsLine.com.
---

Read CBS SportsLine.com's original investigative story.

---
Pollard said the firing came after poor performance from the program, but that there were other reasons.

"The fact that we didn't make the NCAA tournament or then NIT contributed to this decision, but I want to emphasize it clearly is not the only reason for making this decision," he said.

The report said that D1 Scheduling turned a profit by taking a significant cut of the money paid by schools looking for opponents. Schools on the receiving end made far less than they would have if the games were made without a matchmaker.

According to the report, Iowa State, along with Iona, Louisiana Tech, Tennessee State, Howard and Norfolk State, have used D1 Scheduling to arrange matchups with each other. Those schools all have signed players from LACC.

CBS SportsLine.com reported that Iowa State appeared to be the centerpiece of the operation, and that under Morgan, ISU used D1 Scheduling to arrange guarantee games only when the other school also recruited LACC players.

Iowa State has one LACC player in its roster: reserve Anthony Davis. Morgan said earlier this week that he did not commit any violations when he recruited Davis to Iowa State. He said D1 Scheduling was contracted to help Iowa State improve its non-conference schedule — not recruit players.

"It has not been easy to get highly regarded teams to Ames for non-conference games," Morgan said in a statement released Wednesday night. "D-1 Scheduling enabled us to secure a good non-conference schedule at the median market price.

"Everything that I or Iowa State has done relative to scheduling has been straightforward, honest, and clearly within the bounds of what is normal in scheduling."

Morgan replaced Larry Eustachy in 2003, and went 55-39 in three seasons as Iowa State's head coach.

He spent one season as an assistant under Eustachy, who was forced to resign after the publication of newspaper photographs showing him drinking and partying with college students on Big 12 road trips.

The Cyclones entered this season ranked No. 25, but stumbled to a 16-14 record and failed to reach postseason play.

Iowa State reached the semifinals of the NIT in 2004, Morgan's first season, and lost in the first round of the NCAA tournament last season.

Morgan, 55, has a career record of 146-123 in nine seasons as a college head coach. Morgan spent six seasons as the head coach at Long Beach State and 12 seasons as an assistant under Jim Boeheim at Syracuse.

Pollard said the search for a new coach would begin immediately.
Thanks for reading CBS NEWS.
Create your free account or log in
for more features.