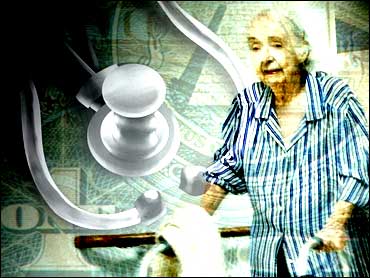 Investing In Long-Term Care
Americans are living longer than ever before. However, many will require help with day-to-day activities as they age - perhaps for several years.
Now, experts say, is the time for younger people to decide how they will pay for their long-term care down the road.
Marilee Driscoll, who heads the Long-Term Care Learning Institute, stopped by The Early Show on Wednesday to give some advice on long-term care (LTC) insurance for yourself and, possibly, for your aging parents.
Long-Term Care Insurance Coverage
Long-term care insurance covers everything that Medicare and health insurance don't cover, such as help dressing, bathing or eating. Driscoll says the insurance will pay for you to receive care in your home, in an assisted living center or in a nursing home. While you can buy policies that only cover one of these options, Driscoll urges everyone to buy a "comprehensive" policy that gives you the freedom to choose your care.
Half of Americans who are now 65 will need long-term care before they pass away. Eighty percent of people 85 and older need assistance. And, people in their 30s, 40s and 50s may be diagnosed with MS or Parkinson's disease or a number of other health problems that would necessitate long-term care. Driscoll says there is a realistic chance that you or your spouse will need this kind of care.
Long-Term Care Expenses
Driscoll warns that quality care in a nursing home or other facility, or in your home, will easily top $50,000 a year, and prices are only going to increase.
A large reason for people's hesitancy to invest in long-term care insurance is because the product is fairly new; it was first made available in the '80s. Also, the policies are confusing and expensive, which scare people away. Finally, many people just don't realize how difficult it will be to pay for the care they will need.
But Driscoll believes LTC insurance is truly the best way to pay for long-term care. She admits, however, that the insurance is not a perfect product. and not every senior should have long-term care insurance, she says.
If you are wealthy, you can probably pay for medical care bills. If you are poor, Medicaid will help you. But, according to Driscoll, the middle class should primarily be looking into the insurance.
The LTC insurance is very expensive, so you also need to be able to afford it. Premiums will increase as you age. Driscoll says if they become too expensive and you have to drop the coverage, you will have wasted your money. Like health insurance, you have to continue to pay your premiums in order to receive care.
According to Marilee, you should consider buying the insurance when:
You have covered your other insurance bases such as health, disability and life insurance

You have begun saving for retirement (LTC insurance is part of your retirement planning)

You are still healthy enough to qualify

You can afford it

Driscoll says there is no specific age when you should buy the insurance. Again, it depends on an individual's financial situation. A single man may have his insurance bases covered and be saving for retirement by age 35 while a couple may not finish paying for kids' college tuition and begin saving for retirement until close to 60.

Like life insurance, you have to be healthy in order to qualify for LTC insurance. The longer you wait, the greater risk you run of becoming ill. Also, the longer you wait, the more expensive the insurance will be.

If you think LTC insurance is for you, it's something you should have by no later than age 65, according to Driscoll. After age 65 the premiums will be hard to afford.

The older you are, the more this insurance will cost you. Here are some average annual premiums, broken down by age.
Age 40
3-year benefit $562
Lifetime benefit $1,019
Age 50
3-year benefit $733
Lifetime benefit $1,362
Age 60
3-year benefit $1,120
Lifetime benefit $2016
Age 70
3-year benefit $2,193
Lifetime benefit $3,782

Driscoll says there's no "best time" to apply for the insurance. If you buy it in your 40s, you'll pay less than someone who waits until their 60s, but you pay the premium for a longer period of time. Whenever you buy the insurance, it will wind up costing you about the same amount of money.

A three-year benefit will pay for your care for three years, while a lifetime benefit will pay for your care for as long as you need it. There are pluses and minuses to both - it is just one example of all of the choices available when choosing a LTC insurance policy. Marilee recommends choosing a reliable insurance agent to guide you through the ins and outs of different policies from different companies.

Many companies offer LTC insurance, you want to buy from a company that will still be around when you are ready to utilize your insurance. Ask your agent about a company's "financial rating."
Thanks for reading CBS NEWS.
Create your free account or log in
for more features.