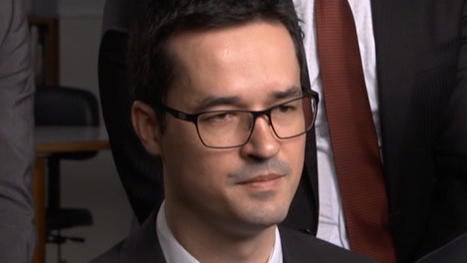 Investigation in Brazil "much bigger" than Watergate, says lead prosecutor
The political corruption investigation in Brazil known as Operation Car Wash is "much bigger" than the Watergate scandal in the U.S., the lead prosecutor tells correspondent Anderson Cooper for a story that will air on 60 Minutes this Sunday, May 21 at 8 p.m. ET/PT.
"We already have charged more than 200 people for hundreds of crimes," Deltan Dallagnol, the lead prosecutor of the Car Wash task force based in Curitiba, Brazil, tells Cooper.
Amid market turmoil and political uncertainty this past week, Brazil's president, Michel Temer, is now being investigated for allegedly approving payments to silence a potential witness in the Car Wash investigation. The country's popular former president, Luiz Inacio Lula da Silva, is on trial for corruption and money-laundering. Car Wash also played a role in the impeachment and removal from office of Brazil's first female leader, Dilma Rousseff, in August.
"We already have charged more than 200 people for hundreds of crimes."
Dilma is the former chairwoman of the state-controlled oil company, Petrobras, which is at the center of the investigation. In an interview, Cooper asks Rousseff, "Did you ever receive any bribes?" "No," she says.
"I do think for some people, though, it's hard to believe that, as the chairwoman – you wouldn't have known….something was going on," Cooper says.
"Let me tell you," Rousseff says, "I did not know."
Cooper also landed the first television interview with the judge who oversees the Car Wash investigation in Curitiba. Judge Sergio Moro has been hearing testimony this month in the case against former President Lula. In an interview conducted in September, Judge Moro explained his controversial decision to order the pre-trial detention of 20 corporate executives accused of being part of the bribery scheme.
"I understood that we were living in exceptional circumstances because the corruption was so widespread," Moro said. "And you need to do something big to stop it."
Moro rejected arguments made by former president Lula and his supporters that the charges against him are politically motivated. The judge compared one moment in the Car Wash investigation to a scene from the American movie, "The Untouchables," about Prohibition-era law enforcement agent Eliot Ness and his squad known for being incorruptible. "It's a great movie," Judge Moro says.
President Temer and former President Lula strongly deny the charges against them. More than 90 members of Congress and nearly a third of President Temer's cabinet are currently under investigation as part of Operation Car Wash. The trail of evidence has also led to 12 other countries, leading the U.S. Department of Justice to call this "the largest foreign bribery case in history."
Thanks for reading CBS NEWS.
Create your free account or log in
for more features.