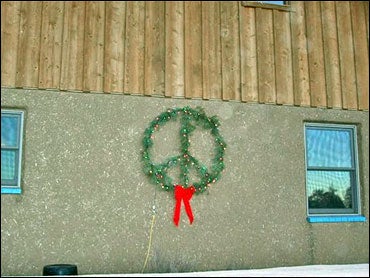 Intruder enters Ohio home, decorates for Christmas
(CBS/WOIO) VANDALIA, Ohio - It's beginning to look a lot like Christmas at one home in a Dayton, Ohio suburb - thanks to a man who police say broke in and started hanging up yuletide decorations.
They also say the burglar who was already in the holiday spirit was high on bath salts, reports CBS affiliate WOIO.
Terry Trent, 44, was arrested and charged with burglary last week in Vandalia, according to the station when an 11-year-old boy found the man sitting on the couch after he had done some Christmas decorating around the house.
Vandalia police said that Trent entered through one of the home's back doors and made himself comfortable, lighting candles on the coffee and kitchen tables as well as having the television's volume on very loudly. Trent had also hung a Christmas wreath on the back garage door.
When discovering that Trent was watching television and playing with the boy's things, the 11-year-old boy called his mother, who was next door at their neighbor's house, WOIO reported.
The mother told police that Trent attempted to be polite to the boy. He was arrested without incident, but police did find that he was carrying a pocket knife.
"He had said to him, 'I'm sorry. I didn't mean to scare you. I'll get my things and go,'" the boy's mother told WOIO.
One man who was working with Trent last week described him as a very caring person involved with the Boy Scouts and a local church program to help convicted felons currently in prison. But he wasn't acting well that day, the man said, describing Trent as "mentally unstable."
Police indicated that Trent, who was being held in Montgomery County Jail, has a history of drug charges.
Thanks for reading CBS NEWS.
Create your free account or log in
for more features.