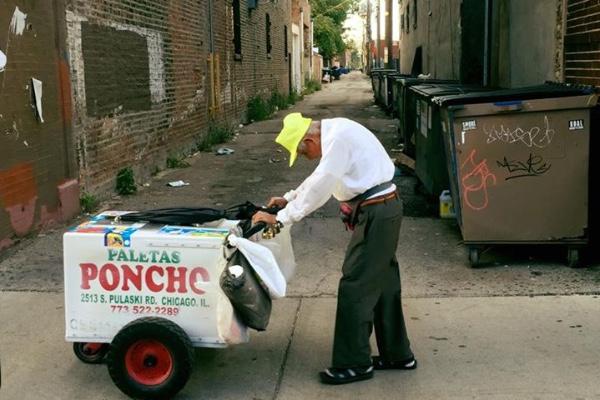 Internet raises thousands for 89-year-old Chicago "popsicle man"
CHICAGO — Timing is everything, especially for 89-year-old Fidencio Sanchez.
He knows that walking down the right street in Little Village and stopping at the right corner means he'll sell more "paletas," or fruit popsicles.
Timing is also the reason why he's now making headlines across the city and the country.
A man who happened to be at the right place and at the right time saw Sanchez do his everyday job, and he snapped a photo of it. He then felt compelled to begin a GoFundMe campaign to raise funds for the vendor, CBS Chicago reported.
"I saw this elderly man struggling to push is paleta cart (Popsicle cart). It broke my heart seeing this man that should be enjoying retirement still working at this age,"Joel Cervantes Macias, who started the campaign, said on the GoFundMe page. "I had to pull over and took (sic) this picture. I then bought 20 paletas and gave him a $50 and said may God bless him and drove away."
Macias said he then posted the photo to Facebook, and received a huge response. That's when he said someone suggested he start the campaign to help Sanchez and his family.
In a matter of days, random strangers donated more than $200,000. The original fundraising goal was $3,000.
"God sent it at the time we needed it the most," his granddaughter, Dulce Perez, told CBS Chicago.
Sanchez lost his one and only daughter in late July. She was his main means of support, and he is now also taking care of his grandchildren.
"After my mom's passing, they felt more burdened to not miss any days," said Perez.
Now, he has the opportunity to rest — thanks to the generosity of strangers.
"It's just amazing the power of many people can be so big. I'm just very thankful that people had the compassion," said Perez.
The fundraising effort is expected to end on Thursday.
If interested in donating, click here​.
Thanks for reading CBS NEWS.
Create your free account or log in
for more features.