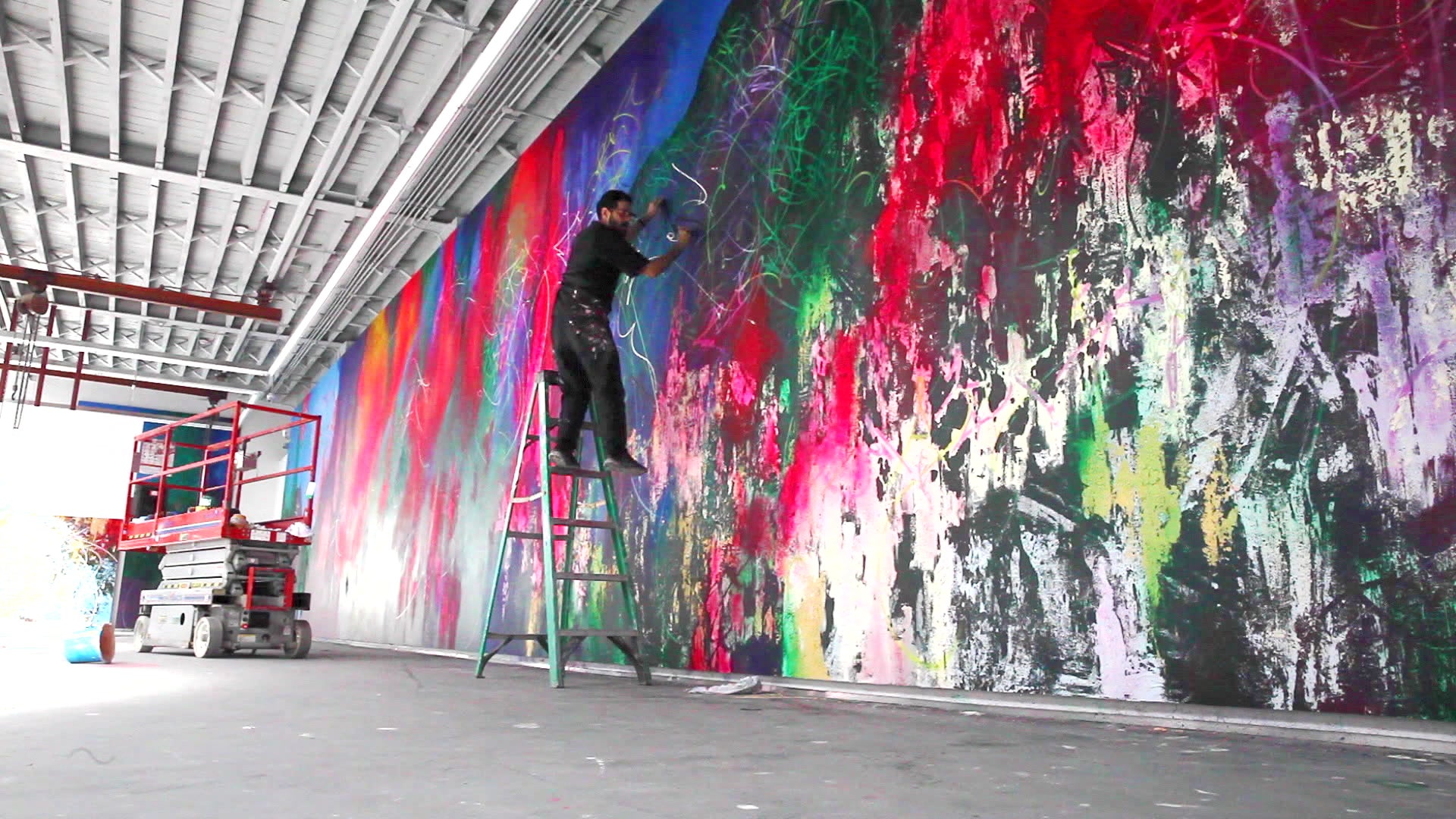 The inspirational art inside One World Trade Center
The artists commissioned to create works for One World Trade Center were given only one guideline by the developers: The work had to be unifying. There's no mention of the site's history, but all the artists understood they had to somehow live up to it, reports CBS News correspondent Anthony Mason.
Many of the 104 floors of the new World Trade Center are vacant. The tenants are still moving in, but the art is up on the walls.
In the sky lobby of the 64th floor, with its panoramic views of New York City, Gregory Goldberg has carefully positioned his series of seven paintings, and Brian Hunt has assembled his airship-inspired sculpture.
"I just wanted something weightless and gravity free," Hunt said.
The five artists chosen by consultant Asher Edelman are all American.
"The mission was to get people to turn their phones off and look up," Edelman said. "It had to be a wake-up call. But not about the building; about itself."
The showpiece is a massive mural in the south lobby. Titled "Union of the Senses," it's believed to be the largest painting in the city, 90 feet long by 14.5 feet tall, said artist Jose Parla.
It was at a meeting where he discussed painting the masterpiece.
"I said,' I can do it. Let's do it,"' Parla said.
He said as an artist, being commissioned to paint a picture for the iconic building is the biggest honor, but a monumental responsibility.
Parla said he knew exactly what he wanted to paint.
"I'd been thinking about it. I'd dreamt about it. It absorbed all 24 hours of every day before I even started," he said.
For 10 months straight, the 42-year-old painter worked on the project in his Brooklyn studio. Parla also has murals in the Barclays Center (arena) in Brooklyn and the Brooklyn Academy of Music, but his piece for One World Trace Center, a celebration of diversity, would be his biggest in both size and symbolism. Parla's graffiti-like calligraphy swirl's across its surface.
"I would be up on top of a ladder and as far as my arms would reach, I would do the writing. And when I got to the actual point, I would position my feet on the ladder comfortably, then jump off," he said.
Sometimes the momentum literally threw him out the door.
"This was the most physical piece I've ever done and I wanted to keep that energy," he said.
In the otherwise austere skyscraper, his mural is an explosion of color. The Duke and Duchess of Cambridge admired it on a visit, and Taylor Swift posted a photo of it to Instagram.
"I kept thinking of all my best work that I find are my favorite works, I thought to myself, 'You gotta go beyond that,"' Parla said. "'You gotta work hard . You gotta put all you have into this and make it your best, best painting."'
He said he feels like he's accomplished that.
When the observation deck opens this Spring, Parla's mural will be seen by some 20,000 people expected to pass through the lobby of the World Trade Center every day. That's more than visit New York's Metropolitan Museum of Art.
Thanks for reading CBS NEWS.
Create your free account or log in
for more features.