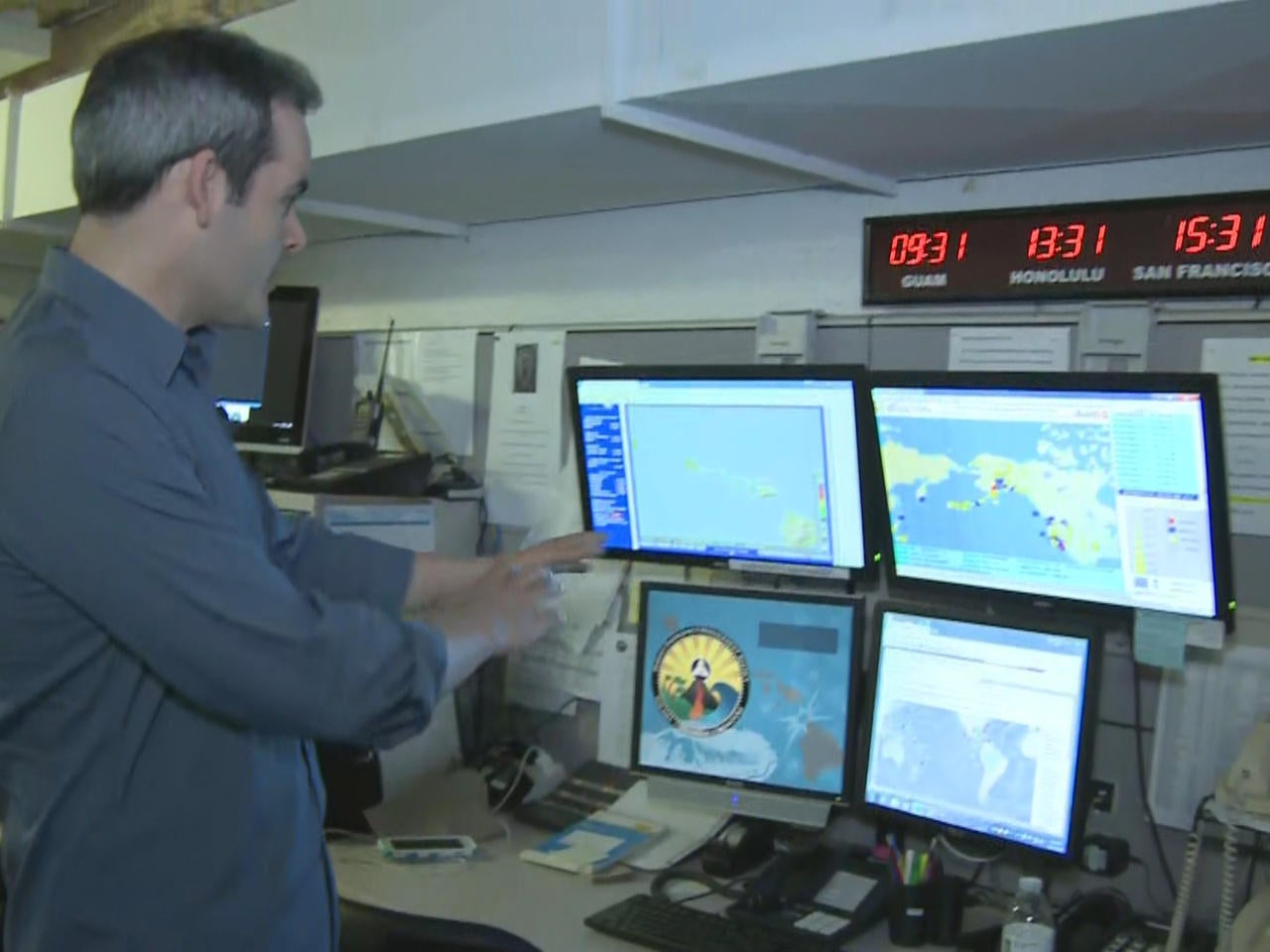 Inside Hawaii's emergency alert command center
At 8:07 Saturday morning, more than one million cellphones in Hawaii began buzzing with a warning about an imminent missile attack, saying, "Seek immediate shelter -- this is not a drill."
State officials canceled the alert at 8:13, six minutes later. But they didn't send a new cellphone message for another half hour, at 8:45. During that time, people flooded the streets in fear across the state, searching for cover under threat of a nuclear attack. Honolulu's 911 system received 5,500 calls.
Hawaii officials face widespread criticism over that false alarm. The head of the FCC, which is investigating, calls the error "absolutely unacceptable."
The false alert was accidentally sent out from Hawaii's Emergency Operations Center. It was human error, made during a routine test of the emergency warning system. Those tests have now been suspended while they do a top-to-bottom review.
"It's embarrassing, but again, it's a mistake," said Hawaii Emergency Management Administrator Vern Miyagi, who reported one of his employees clicked the wrong button twice.
He was supposed to select the option for a drill. Instead, he chose the real thing
An alert heard by people across the island chain said: "A missile may impact on land or sea within minutes. This is not a drill."
Begnaud asked, "With all due respect, are you sure this was an accident?"
"Yes," Miyagi said. "I know the individual. This was an accident. Not intentional at all."
"But why did he hit 'yes' twice?"
"That's being talked about and being investigated right now."
The man who's been working for the agency for about 10 years, who pushed the wrong button, realized within the first two to three minutes that he had made a mistake.
But it took nearly 38 minutes to get another text message alert out saying "false alarm."
"It is an epic failure of leadership -- 38 minutes of terror for the people of Hawaii before this message went out saying, 'Sorry, false alarm," said Hawaii Congresswoman Tulsi Gabbard, who was one of the first to address the error.
"I don't usually panic," said Noah Tom, who was far from his wife and children when the alert was first issued. "I thought I could do something, yet I felt totally helpless at the same time. So I'm sitting there just kind of bawling my eyes out in the car."
In the aftermath, people across Hawaii were confronted with the question: What would you do if this were the real thing?
"It's a wakeup call to say, 'Hey, wait a minute, I don't know what to do,'" Miyagi said. "Our opportunity right now is to reach out and get that information to the people."
Miyagi says cellphone users weren't told about the error sooner because his agency didn't have procedures for issuing corrections. That's no longer the case.
Another change: Two people will now be needed to send out alerts in the future.
Thanks for reading CBS NEWS.
Create your free account or log in
for more features.