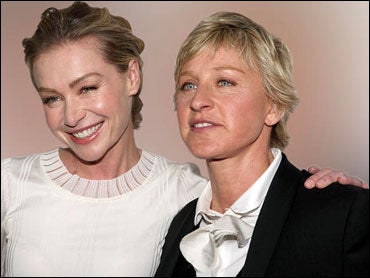 Inside Ellen And Portia's Wedding
When Ellen DeGeneres and Portia de Rossi tied the knot Saturday, only 19 guests looked on.
But the couple spoke to People magazine before the ceremony and after, and People Executive Editor Jess Cagle, who doubles as The Early Show's entertainment contributor, gave all the details to viewers Tuesday.
Cagle wasn't at the wedding. Only that very small group of family and friends was at the ceremony, which they decided to make cozy and intimate.
And Cagle says that represented quite an about-face.
"The remarkable thing is that, a few months ago, there was a buzz about how this wedding would look like the front row of the Oscars -- that it was going to be star-studded and a huge blowout. Several weeks ago, they decided that it was just getting out of hand. They decided to do a very small wedding. ... There were no stars there besides Ellen and Portia that we know of.
"It was at their house in Los Angeles, which is this gorgeous kind of modern house. All day long, while they were getting ready for the wedding, they were wearing slippers that said, 'I Do.'
---

To see photos in People from the wedding, click here.

---

"They were very much into the spirit of the wedding. At about 7:30 on Saturday night, they walked into the den of the house where the guests were gathered, and they were both wearing these clothes that were made for them by the designer Zach Posen. Ellen wore pants, as always, and this blouse that was very feminine looking. Portia wore this sort of rose-colored backless gown, and it was really beautiful.

"The house was all lit by candles (arranged by) a wedding planner named Mindy Weiss, who is a premier wedding planner in Los Angeles. Ellen and Portia sat down on floor pillows in the front of the room, and they exchanged handwritten vows. It was officiated over by Wayne Dyer, who writes inspirational books.

"After Portia said her vows, Ellen turned to the crowd and said 'Wait a minute, that's what I was going to say!' Then they went on with the vows, and Ellen started crying, and they promised to be with each other forever.

"The day after the wedding," Cagle continued, "Ellen told us that she felt like the luckiest girl in the world, and said that Portia is now officially off the market.

"The dinner for everyone was made by their personal chef, and it was a complete vegan dinner, because they are both vegans. They had a vegan red velvet wedding cake.

"In our story, we also talk about this kind of amazing love story that the two of them have had, that a lot of people don't know the details of.

"They first met when Portia was on 'Ally McBeal,' about seven years ago," and got together once and for all in 2004. At that time, "Ellen said that she knew this was her soul mate, and they have been together ever since.

"The big thing is, last May in California, the state's Supreme Court ruled that the ban on gay marriage was unconstitutional, and it was right after that, that Ellen proposed. She immediately bought Portia this amazing diamond ring.

"They have talked about having children a lot, and they go back and forth. Ellen is in that phase where she thinks it's hard to imagine being people of such privilege and not sharing what they have.

"We asked them, 'Where do you see yourselves on your 25th anniversary?' and they both said on a farm with a lot of animals."

Thanks for reading CBS NEWS.
Create your free account or log in
for more features.