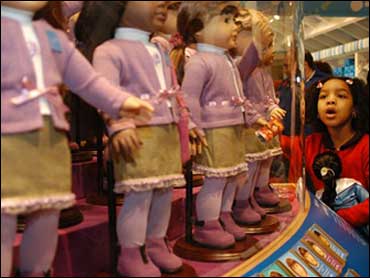 This column from the National Review Online was written by John J. Miller.
---
On Christmas morning, untold numbers of girls will rip open packages hoping to find an American Girl doll. The lucky ones will receive a prized possession of modern childhood, a little figurine to dress, comb, hug, and otherwise dote upon. Because these dolls are so loved, there aren't many companies with a more wholesome image than American Girl.

So why is this popular dollmaker now giving money to a group that supports abortion rights?

That's what a growing number of consumers want to know. Since 1986, they've bought more than 11 million American Girl dolls. They've also purchased more than 105 million "character books" that teach lessons about history, patriotism, and family values. Yet none of this has inoculated the company against a problem that began in September, when American Girl launched its "I CAN" program. According to a press release, this endeavor helps girls "tell the world they are capable of anything they set their minds to." They are encouraged to buy $1 plastic bracelets and sign pledge cards that declare, "I can be myself, follow my dreams, and always do my best. I can reach for the stars, lend a hand to others, and be a good friend. I can make a difference! I promise to try."

Nobody on this side of the He-Man Woman Haters Club has an issue with that kind of rhetoric, of course. A central feature of the "I CAN" campaign, however, is American Girl's financial support of Girls Inc., a non-profit group that endorses abortion rights. American Girl has pledged $50,000 to the group, in addition to 70 cents for every "I CAN" bracelet it sells.

On its website, Girls Inc. calls itself "a national nonprofit youth organization dedicated to inspiring all girls to be strong, smart, and bold." Its "major programs" include "math and science education, pregnancy and drug abuse prevention, media literacy, economic literacy, adolescent health, violence prevention, and sports participation."

Girls Inc. is based it New York, but it also has an office in Washington, D.C., where it lobbies for something called the Girls' Bill of Rights. This document has six planks. Here's the fourth: "Girls have the right to accept and appreciate their bodies." Although Girls Inc. says that "family is the primary source of information about sex," it also declares that "girls need and have a right to ... convenient access to safe, effective methods of contraception." Girls Inc. goes on to proclaim its support for "a woman's freedom of choice, a constitutional right established by the U.S. Supreme Court in 1973 in Roe vs. Wade."

Shortly after American Girl announced its financial partnership with Girls Inc., the American Family Association and the Pro-Life Action League expressed their dismay. They urged their members to contact American Girl by phone, fax, and e-mail. The Pro-Life Action League has threatened to launch a consumer boycott of American Girl if the company does not end its relationship with Girls Inc. by November 1.

In response, American Girl, which is owned by Mattel, issued a statement: "We are profoundly disappointed that certain groups have chosen to misconstrue American Girl's purely altruistic efforts and turn them into a broader political statement on issues that we, as a corporation, have no position." The company also said that its support of Girls Inc. was limited to "three distinct programs": "One builds girls' skills in science, math, and technology, another develops leadership skills, and a third encourages athletic skills and a collaborative spirit."

When I called Girls Inc. for a comment, spokeswoman Taiia Smart Young contradicted American Girl's contention that its collaboration with Girls Inc. was restricted to three areas. "If you work with Girls Inc., the assumption is you support everything we stand for," she said. Young also forwarded her own group's statement, which claimed that Girls Inc. "has become the target of false, inflammatory statements from people who are pursuing a narrow political agenda." When I asked Young for specific examples of false statements, she said that the media has quoted sources calling Girls Inc. an "advocacy group." She insisted that Girls Inc. is merely "an organization that serves girls."

Yet it seems as though Girls Inc. has been making some false statements of its own. "We have nothing to do with abortion," said president Joyce Roche, in the Philadelphia Inquirer. "Our program is about preventing the need for abortion." Roche ought have a chat with her group's webmaster, who can update her on the website's content. And, for what it's worth, a review of public records reveals that in 2003 she sent a $250 check to the Women's Campaign Fund, which describes itself as a political action committee "dedicated to electing pro-choice women."

Liberal editorial pages have of course jumped to the defense of American Girl and Girls Inc. The Boston Globe called the "I CAN" campaign "a fine corporate gesture." The Capitol Times of Madison, Wis., opined on the "warped worldview" of pro-lifers. Connie Schultz of the Cleveland Plain Dealer wrote a column below this headline: "Attacking dolls truly un-American." Sen. Barack Obama, Democrat of Illinois, also waded into the controversy. "This is a classic example of overreaction and a lack of proportion," he said last week.

But really it's not. Pro-life parents simply don't want to participate inadvertently in a fundraising drive for a group that supports abortion rights. Is that so complicated? If American Girl wants to have a philanthropic influence, surely there are organizations that try to improve math and science education for girls without wading into the mire of abortion politics.

My wife — a gung-ho fan of American Girl products — actually bought eight of the "I CAN" bracelets to give away at our daughter's recent birthday party. A few days after handing them out, she was mortified to learn about the group that would benefit from her purchase. She contacted American Girl to express her concern, but hasn't heard back. She really doesn't want to give up on a company whose products she loves, but now she's starting to wonder about a biting comment Elizabeth Foss made in the Arlington Catholic Herald: Maybe American Girl cares more about plastic babies than real ones.

With Christmas coming, millions of girls — real ones — will draw up wish lists. American Girl dolls and books are sure to be on the tops of many. But unless the company fixes its problem, a lot of parents who want to say "I CAN" will find themselves saying, "WE WON'T."
---
John J. Miller is national political reporter for National Review and the co-author, most recently, of "Our Oldest Enemy: A History of America's Disastrous Relationship with France."
By John J. Miller
Reprinted with permission from National Review Online
Thanks for reading CBS NEWS.
Create your free account or log in
for more features.