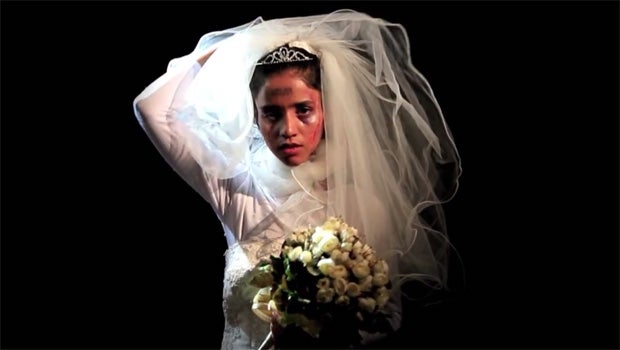 ​Inequality front-and-center at Human Rights Watch Film Festival
Documentaries and narrative features illuminating women's rights, gender equality and LGBTQ issues, environmental activism, and the violence of urban gangs and drug cartels, by filmmakers from around the world, are being showcased in the 2016 Human Rights Watch Film Festival.
The festival, which has toured several cities in the U.S. and Europe since January, is being presented in New York City beginning Friday, June 10 at Lincoln Center and the IFC Center. Several films are being screened in advance of theatrical runs or broadcast dates on PBS and HBO.
Can't make it to New York? Some festival titles will also be available online via Mubi.
The festival, celebrating its 27th year, runs through June 19, before continuing on to Sydney, Australia.
Read about the featured films, and view trailers via the links below.
The opening night film this Friday is "Hooligan Sparrow," Nanfu Wang's gripping story of Chinese activist Ye Haiyan, who advocates for the rights of sex workers and protests against local officials accused of raping young schoolgirls. The activist dubbed "Hooligan Sparrow" becomes an online star, a pariah to the government and police, and a target for hired thugs.
As Wang -- an ex-pat returning from the U.S. -- covers her story, she and her camera become targets, too, so she must resort to smuggling out her footage as the government tightens its grip on (and perhaps infiltrates) Hooligan Sparrow's activist group.
Wang is being presented with the festival's Nestor Almendros Award for courage in filmmaking. The film will have its TV premiere on PBS' "POV" in October.

A notable world premiere is "Growing Up Coy." "You deal with what life hands you," says Jeremy Mathis, whose six-year-old child, Coy, identifies as a girl even though she was born male. So how far should a parent go to make their child happy? The Mathis Family eventually pursues a civil rights case against their Colorado school district after Coy was banned from the girls' restroom, and are cast into a frenzy of international media and Internet trolls.
The film recounts their landmark 2013 court fight, and takes on added topicality today given recent "bathroom bills" passed in several states that, critics charge, are aimed at discriminating against transgender individuals. (Also screens in San Francisco's Frameline Film Festival on June 25.)

The festival's closing night feature will be the documentary "Sonita," Rokhsareh Ghaem Maghami's engrossing story of a young Afghan teenager, a refugee living in poverty in Iran, whose dream of becoming a rap singer is being tested -- both by government strictures against women singing solo, and by her family's demand that she return to Afghanistan to be sold into marriage for $9,000. (The money is needed, they say, so that Sonita's brother can pay for HIS bride.)
As a filmmaker, Maghami finds herself in the uncomfortable position of having to decide whether to dispassionately observe Sonita lose control of her life, or to interfere and give the teen an escape route to a much different fate.
Winner of the Grand Jury Prize and Audience Award for World Cinema Documentary at the 2016 Sundance Film Festival.

Among the festival's other offerings:
"Almost Sunrise," Michael Collins' documentary of two combat veterans who seek healing by embarking on a 2,700-mile cross-country trek on foot. The film will be broadcast next year on PBS' "POV."

"Chapter & Verse," a fiction story of a reformed gang leader returning to Harlem and his difficulty in assimilating back into a very different community than he experienced before his incarceration. Directed by former Black Panther Jamal Joseph.

"The Crossing" - A firsthand account of Syrian refugees' perilous trip from a war zone to Europe.

"Do Not Resist" - Craig Atkinson's film about the culture of U.S. police departments and the use of military-grade technologies in surveillance and crowd control won Best Documentary Feature at the Tribeca Film Festival.

"The High Sun" - Croatian filmmaker Dalibor Matanić directed three love stories set in neighboring Bakan villages divided by longstanding ethnic hatreds. Winner of the Jury Prize/Un Certain Regard at the 2015 Cannes Film Festival.

"Inside the Chinese Closet" - The plight of young LGBTQ individuals in China, pressured to get married, is examined in this documentary about an unusual matchmaking event: a "fake marriage fair," where gay men and women meet to find partners for marriages that will, on the surface at least, satisfy the demands of their families.

"Jackson" - Maisie Crow's documentary focuses on a women's health clinic in Jackson, Mississippi -- the last clinic in the state where abortion is available to impoverished women, and where the battle lines are drawn by anti-abortion activists on the sidewalk right outside the clinic's door.

"Ovarian Psycos" - "Whose streets? Our streets!" They cruise through the barrios of Los Angeles on bicycles, in packs. They're ferocious and demanding. They're a brigade of womxn on bikes.

"P.S. Jerusalem" - After the death of her father, filmmaker Danae Elon relocated to her childhood home in Jerusalem, where she, her partner and their children must contend with conflicts involving national identity in a volatile society.

"Solitary" - Kristi Jacobson visits a Supermax prison in Virginia, interviewing inmates held in solitary confinement, and corrections officers. To be broadcast on HBO.

"Starless Dreams" - Mehrdad Oskouei's documentary explores the experiences and dreams of a population of juvenile offenders at an all-female prison in Tehran.

"Suited" - Bindle & Keep is a Brooklyn tailoring company whose clients include members of the LGBTQ community seeking clothes that fit their self-image AND their bodies. Debuts on HBO June 20.

"Tempestad" - Tatiana Huezo's visual essay melds the stories of two women speaking of imprisonment and victimization at the hands of corrupt police and drug cartels in Mexico.

"The Uncondemned" - Lawyer and activists investigating the violence of the Rwanda genocide fight to have rape recognized as a war crime.

"When Two Worlds Collide" - Indigenous Peruvians stand up against powerful political and business interests to protect the Amazon Rainforest, in Heidi Brandenburg and Mathew Orzel's documentary about an environmental activist forced into exile to avoid prison. Winner of a World Cinema Documentary - Best First Feature at Sundance. Bows theatrically in NYC in August.
Thanks for reading CBS NEWS.
Create your free account or log in
for more features.