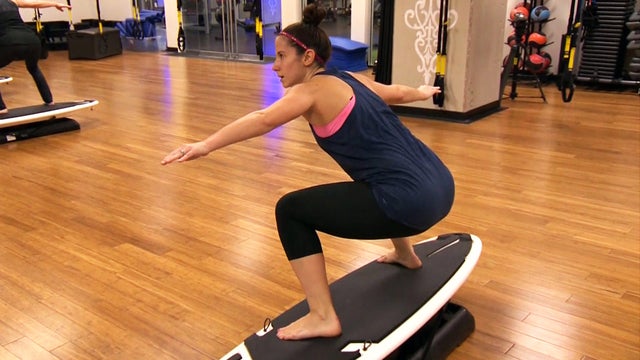 Indoor surfing class promises beach-ready bod
A new fitness craze is making waves.
Just in time to prepare for bikini season, people are hopping on surfboards for a great workout. However, the action isn't happening in the water -- it's on the gym floor.
The popular class, known as SurfSET, uses surfboards to get into great shape, with no gear or swimsuit required. And between the squats, lunges and push-ups, the class is bound to improve your endurance, or at least help you feel a little less gnarly by the time summer rolls around.
"All exercise is based from the core, everything we do comes from our center," class instructor Jennifer Frankel told CBS News' Craig Boswell. "It's a seriously intense workout, and they really need to bring their A game."
SurfSET's website promises to "turn your abs into a six-pack powerhouse through instability training that requires focus and control." Creators of the workout say a single class can burn as much as 800 calories.

The company offers four different class styles: Balance is yoga-inspired; Burn is high-intensity and high-tempo; Build is focused on strength and definition; and Blend is an interval-based core session that combines all of the elements.
To rev up the heart rate, cardio exercises are done on and off the board.
Mike Hartwick, founder and CEO of SurfSET, conceived of the idea when he realized how great he looked and felt after a summer of catching waves. He loathed to leave the ocean behind after the season came to an end.
"I would quickly bulk up and lose the lean and toned physique that surfing gave me, no other workout could compare," Hartwick explains on his website. "Then it hit me. I'll design a machine to mimic the workout that I got while surfing. It might not be as awesome as catching real waves, but it will keep me in peak physical condition, and I will still see all of the benefits to my body. SurfSET Fitness was born."
Throughout the class at CRUNCH Fitness in Reston, Va., Frankel guides participants through a theoretical day by the sea. "Take yourself now onto the beach," she instructs the class. "Everybody recover and breathe."
Class participants Kelly Testoni and Michelle Whitescarver were surprised by the intensity of the workout, and how much balance is required to stay on the specially-designed surfboard.
As class is winding down, Frankel reminds participants to enjoy the imaginary warmth of the sun on their backs -- even though it's still sweater-weather outside. "Doesn't it feel great?" she asks.
Then, finally, she guides them to the place most surfers want to finish off their set: "You see a tiki bar off in the distance," she says.
Thanks for reading CBS NEWS.
Create your free account or log in
for more features.