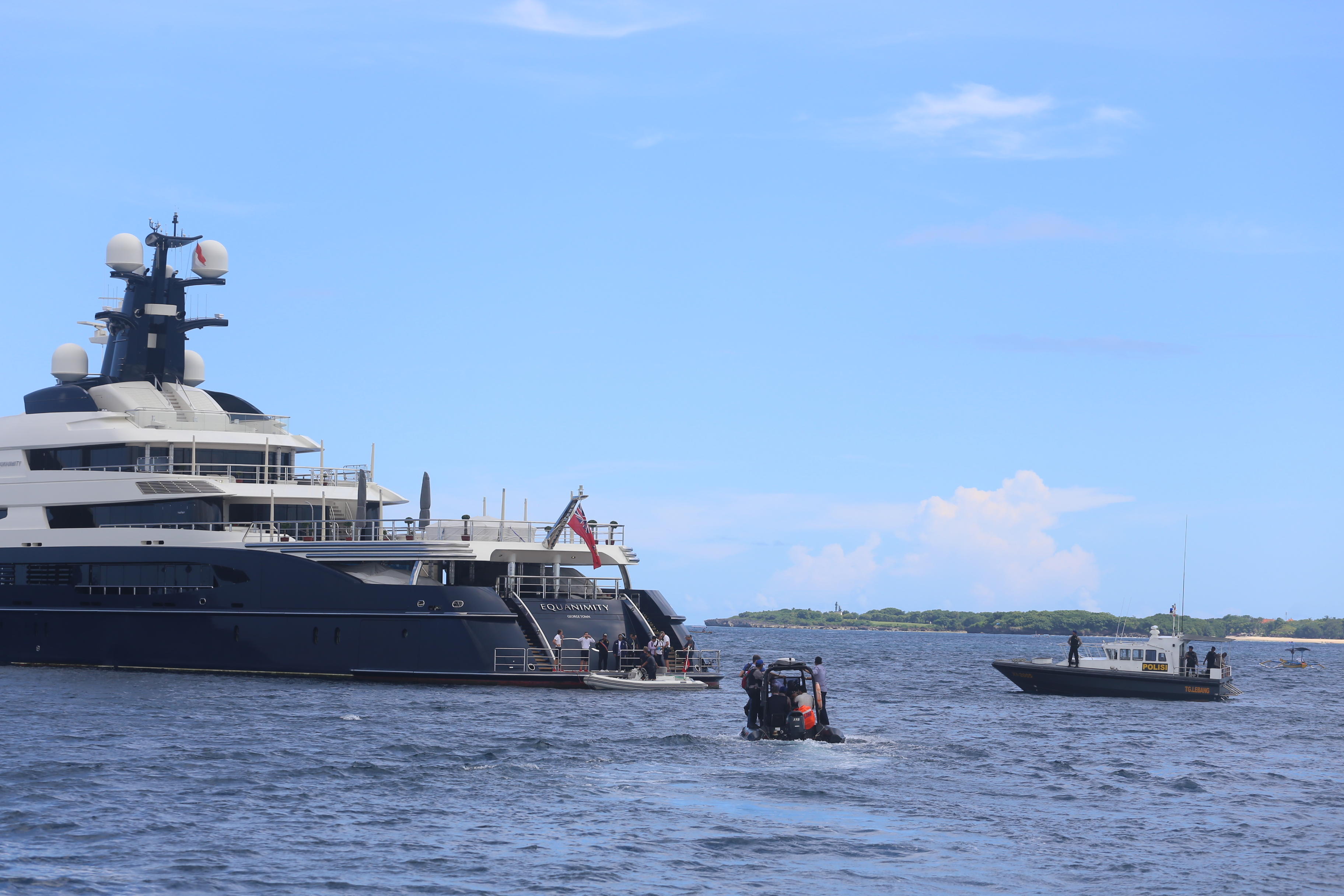 Luxury yacht wanted by U.S. in corruption probe seized in Bali
JAKARTA, Indonesia -- Indonesia has seized a luxury yacht on the tourist island of Bali that is wanted by U.S. authorities as part of a probe into alleged multibillion-dollar corruption at Malaysian state investment fund 1MBD. Metro TV on Wednesday showed local police and what it identified as FBI officers on board the sleek 300-foot vessel, Equanimity, moored off Bali.
In June, the U.S. Justice Department filed a civil case seeking recovery of $540 million in assets, including the yacht, that it says were stolen from 1MDB, a fund set up by Malaysian Prime Minister Najib Razak that was intended to promote economic development. Overall, the Justice Department says more than $4.5 billion was stolen from the fund.
Agung Setya, director of economic crimes at Indonesia's national police, told MetroTV that local authorities began working with U.S. authorities a week ago in relation to the vessel. He said it was located on Tuesday in waters off the island of Lombok, which neighbors Bali, and then shifted to Bali's Tanjung Benoa waters.
"We have legal confirmation that this asset is the result of a crime," he said. "Our law stipulates that anyone who hides an asset resulting from the proceeds of crime is committing a money laundering crime."
Setya said police had secured a court order to seize Equanimity and are questioning its 34 crew. He said the yacht is worth about $250 million.
The Justice Department alleges the yacht was bought by Jho Low, an associate of Najib who had no formal role at 1MBD but considerable influence over the organization, for his personal use. It was among the more than $400 million that the department accuses Low of stealing himself.
Najib was embroiled in the scandal when it emerged that nearly $1 billion had passed through his personal bank accounts. He and the fund deny any wrongdoing.
Yacht chartering sites say Equanimity has an Asian-themed interior, a swimming pool, movie theater, helicopter landing pad and other luxury amenities.
Thanks for reading CBS NEWS.
Create your free account or log in
for more features.