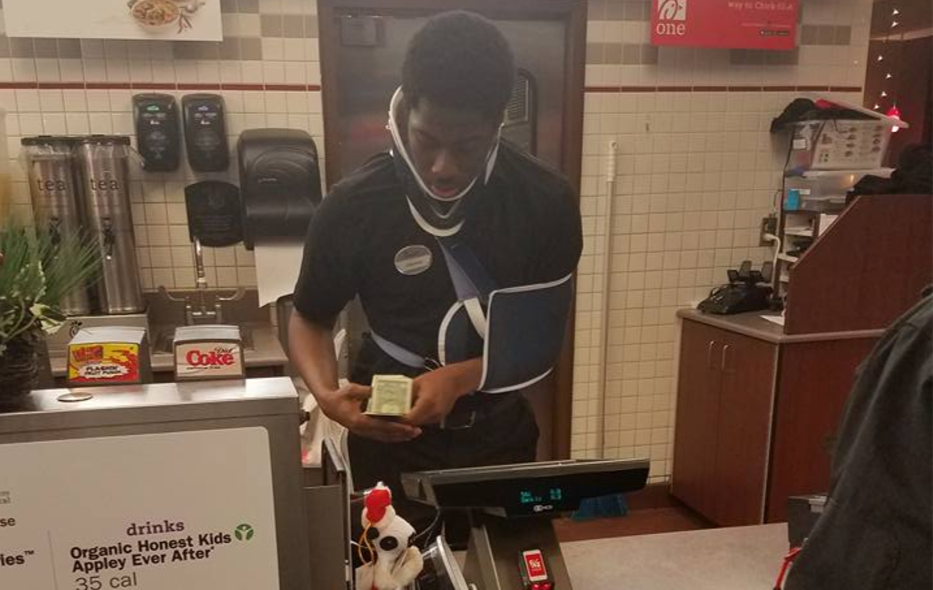 Why this inspiring teen went right back to work after car accident
When a hungry Cameron Nelson walked into a Chick-fil-A in Avon, Indiana, last week he looked toward the counter and couldn't help but stare — not at the menu, but at the young employee standing in front of it.
The teenager, Jakeem Tyler, was counting change on one hand. His other arm was wrapped in a sling and he was wearing a neck brace.
"We sneeze too hard and decide to call in, but he's workin' like nothing's wrong," Nelson thought to himself.
As soon as Nelson stepped up to the counter and placed his order, he asked Tyler, "What happened?"
Tyler explained he was recently involved in a car accident.
"He [said he] was working cause he needs the money and also wants to feed the homeless for Christmas," Nelson wrote in a Facebook post that has since gone viral with more than 5,000 shares.
Nelson was impressed.
He couldn't believe that this young man would continue working despite the pain and focus on giving to the needy.
To help Tyler fulfill his goal of donating to the homeless this holiday season, Nelson decided to start a GoFundMe campaign. He set a goal of $2,500. In less than a week, Nelson didn't just meet his goal, he exceeded it. So far, people have donated more than $8,000.
Tyler's parents told CBS Indianapolis that the teen has been planning to buy food and supplies for Homeless Hoosiers, a group that helps homeless people find shelters in the area.
"They spoke extremely highly of him... and say he has been dedicated to helping people and is an overall standup individual," Nelson told the station.
The restaurant agreed.
"Jakeem is a phenomenal young man and an outstanding team member. He is an inspiration both in terms of his work ethic and commitment to serving others. Although he was in a car accident recently, he returned to work after being cleared by his doctor and with the support of his family so he could not only serve alongside his team in the restaurant but also earn money to give back to others," the company said in a statement. "We are beyond proud of Jakeem and support his efforts to serve the homeless in our community."
It's safe to say, they aren't the only ones.
Thanks for reading CBS NEWS.
Create your free account or log in
for more features.