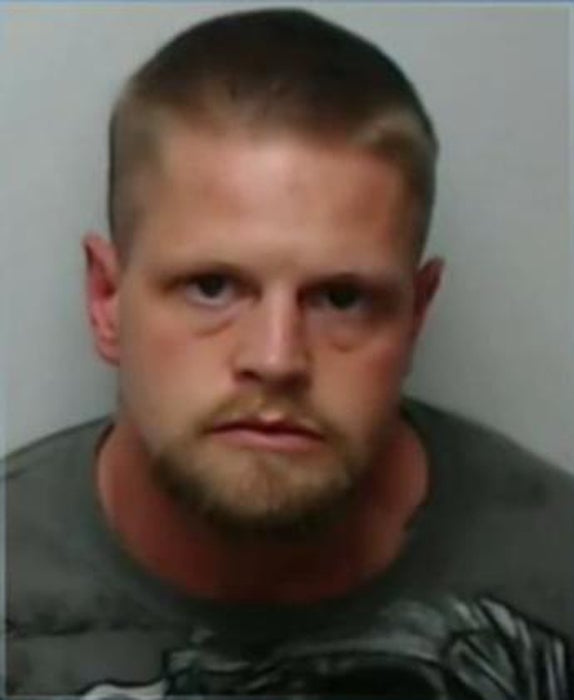 Ind. man charged with killing ex-girlfriend, eating organs
JEFFERSONVILLE, Ind.-- Police say Joseph Oberhansley brutally murdered his ex-girlfriend Thursday and then ate her organs.
On Monday, Oberhansley, 33, made his first court appearance, maintaining his innocence. But CBS affiliate WLKY reports that newly released court documents he confessed to police September 11, just hours after the body of Tammy Jo Blanton, 46, was found.
In a probable cause affidavit filed Monday, Oberhansley admitted to police that he broke into Blanton's home and stabbed her multiple times, killing her.
The affidavit said after Oberhansley killed Blanton, he removed parts of her skull and brain, heart and part of a lung. The document said Oberhansley told detectives he cooked and ate the organs.
In court on Monday, Oberhansley told the judge that police have the wrong guy because his name is Zeus Brown, a former NFL player for the Ravens and the Browns, and he doesn't know if he's a U.S. citizen.
Police and prosecutors said that's the first time he brought up that name.
"I don't buy it. I think there is a motive and a reason for what you saw in the courtroom today and I don't believe he really believes he's Zeus Brown," said Clark County Chief Deputy Prosecutor Jeremy Mull.
Clark County Prosecutor Steve Stewart said Oberhansley's attorney may file a motion to determine whether he's competent to stand trial.
"I think he may have just been playing games but it would only be a guess," Stewart said.
He called what happened Thursday, heinous.
"After being a prosecutor for so long you think you've seen everything. This is one of those cases where I've never seen this, where a defendant is alleged to have removed and eaten flesh of a murder victim," Stewart said.
Edna Hall was Blanton's neighbor. With the crime tape still up, she finds it hard to look at the house next door.
"I come out here and think, 'Oh my God, she's not going to walk out and say hi to me.' She's just gone," Hall said.
Hall last saw Oberhansley and Blanton Wednesday night. She said the pair were arguing and Oberhansley was putting clothes into his car around 9:30 p.m.
Court documents show that at 2:52 a.m. Thursday, Blanton called police to report Oberhansley was trying to get into her home.
When police arrived and told Oberhansley to leave, he did, according to the documents.
"Ms. Blanton talked to officers and said they had had a recent fight and she was breaking up with him. She had changed the locks and wanted him off the property," said Jeffersonville Police Detective Todd Hollis.
The probable cause affidavit stated that after Oberhansley initially left Blanton's home, he woke his mother around 3:30 a.m.
His mother told a detective Oberhansley was upset that Blanton had changed the locks and about his job and financial situation. She said she sat and spoke with him for several minutes before leaving him alone in his vehicle.
Blanton's coworker called police after she failed to show up for work at 9 a.m., the affidavit said. One coworker tried to call Blanton's cellphone, but a man claiming to be her brother answered. The coworker told police she did not believe the man was really Blanton's brother.
When police arrived at Blanton's home on Locust Street, they noticed signs of forced entry at the back door.
The man who answered the door identified himself as "Joe" but said he didn't have identification. Officers noticed a fresh injury on Oberhansley's right hand and he was slow and deceptive when answering questions, according to the affidavit.
Officers asked Oberhansley to put his hands on the wall for a pat down, but instead he moved away from the wall and began reaching for his back pocket, the document said.
At that point, officers took physical control of Oberhansley and found a knuckled-grip folding knife with the blade extended in his back pocket, according to the probable cause affidavit. Officers said the knife had blood and hair on it.
Court documents reveal Blanton's body was discovered in a bathtub, covered with a tarp. Her skull and chest had been cut open and bloody plates, pans, and utensils were in the kitchen.
The medical examiner said Blanton died of multiple blunt sharp force traumas to the head, neck and torso. The medical examiner also said the majority of her heart and a part of her lungs had been removed and a large section of brain was also missing.
Oberhansley is charged with murder, abuse of a corpse and breaking and entering. He has a long history of run-ins with the law.
In 1998, Oberhansley was convicted in Utah of killing his 17-year-old girlfriend and shooting his mother. He was released in 2012.
Earlier this summer, police arrested him on allegations he strangled someone and led police on a chase.
When his bond was lowered, it was Blanton who paid to get him out.
Thanks for reading CBS NEWS.
Create your free account or log in
for more features.