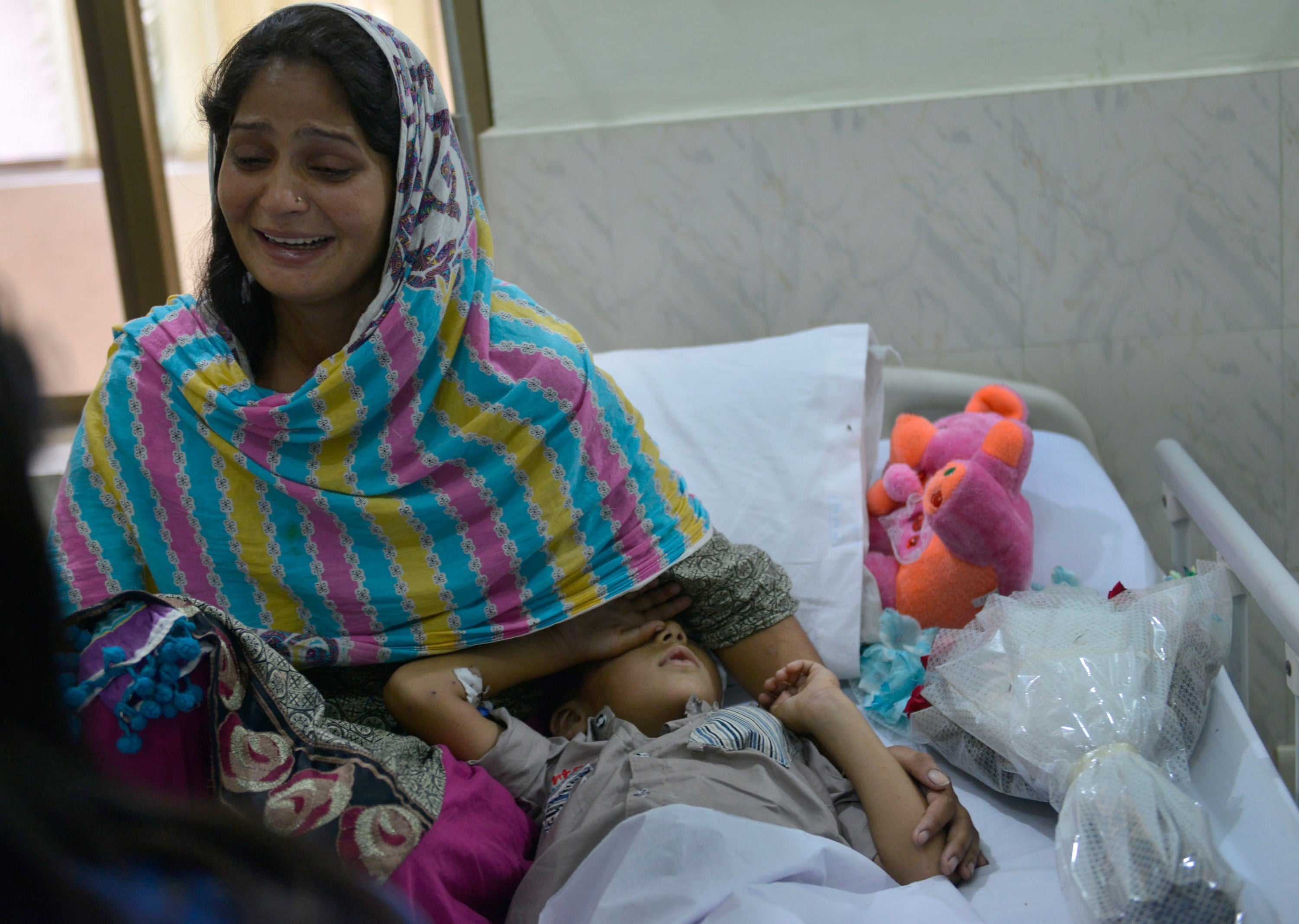 Worst fighting in years over disputed Kashmir
DHAMALA HAKIMWALA, Pakistan -- Iram Shazadi was making breakfast for her family when bullets started whizzing through her dusty Pakistani village just a quarter-mile from the Indian-controlled area of disputed Kashmir.
Then a mortar shell fired by Indian forces slammed into her home, killing her two young sons and her husband's mother in the worst spasm of violence in the tense Himalayan region in years. So far, 19 people - 11 on the Pakistani side, eight on the Indian - have died over the past week. Dozens have been injured, and tens of thousands have fled their homes.
"I lost my whole world," Shazadi said Wednesday while recovering from injuries at a military hospital. She sat crying next to her 6-year-old son, who narrowly escaped the blast.
Although minor skirmishes in the tense, rocky region are common, the fierce trading of mortar shells and gunfire that began Sunday night marks the most serious violation of a 2003 cease-fire accord brokered between India and Pakistan. Adding to the sense of shock was that the fighting erupted during the Muslim festival of Eid al-Adha, which families normally celebrate with roast goat and parties.
The clashes - which both India and Pakistan blame the other for starting - come even though both governments say they want to improve ties and even resolve the conflict. Indian Prime Minister Narendra Modi invited Pakistan's leader, Nawaz Sharif, to attend his inauguration in May, saying he wanted to engage the archrival more assertively.
But relations remain fragile, even hostile. India in August abruptly canceled talks with Pakistan after its ambassador met with Kashmiri separatist leaders. The mostly Muslim region, divided into zones controlled by India and Pakistan, and even a chunk by China, has seen fighting off and on for decades. Pakistan and India have fought two wars over the mountainous territory.
Modi, a strident Hindu nationalist, seems intent on showing he represents a new, more forceful India.
"Pakistan has taken too long to understand that there is a change in the government in India. They are getting to learn it in a hard way," said Jitendra Singh, a top official in Modi's office.
For Pakistan, the fighting draws international attention to itself and Kashmir, while also reassuring the many Kashmiris opposed to Indian rule that it continues to support their desire for either full independence or a merger with Pakistan. The Indian-controlled part of Kashmir is to hold elections before December, and Kashmir's status is a hot-button issue with voters.
"The needless macho-ism on the part of either India or Pakistan is not going to help the situation," said former Indian security official Rana Banerji. Pakistan may feel that "it can create enough trouble to bring India to the table. It suits Pakistan to raise the issue of trouble in Kashmir at international fora - to signal that Kashmir remains a flashpoint between the two nuclear-powered countries."
Pakistani analysts suggested India was trying to punish Pakistan for highlighting the dispute and initiating contacts with Kashmiri leaders.
"They will not hesitate to punish us if we tried to resolve the issue of Kashmir through international help or if we tried to establish contacts with the Kashmir leadership," said defense analyst Talat Masood in Islamabad.
Officials on both sides said they were unnerved by the fact that this week's violence was mainly occurring along the more heavily populated 125-mile border between Pakistan's Punjab province and the Indian-controlled portion of Kashmir.
That lower-altitude frontier, guarded by paramilitary border forces, is lined on both sides by agricultural fields and ancient villages that have been there long before Pakistan and India gained independence in 1947 and began wrangling over Kashmir.
Pakistan's Sharif planned a National Security Committee meeting for Friday, while India held a high-level security meeting behind closed doors on Wednesday.
India frequently accuses Pakistan of sparking skirmishes to create a distraction or to provide cover fire for separatist militants trying to infiltrate into Indian-controlled Kashmir - an accusation top army officials repeated Thursday. Pakistan denies providing cover, arms or training for militants, saying it gives only moral and diplomatic support to separatist groups who have been fighting since 1989 for Kashmir's independence or its merger with Pakistan.
"Prime Minister Modi and his government are trapped in their own rhetoric that they are going to be tough and uncompromising with Pakistan," said Prof. Noor Mohammed Baba, a political science professor at Kashmir University, in Srinigar, the main city in Indian-controlled Kashmir. "Pakistan obviously will also not compromise and surrender."
India's Defense Minister Arun Jaitley accused Pakistan of starting the onslaught as a way to grab international attention, and ruled out any chance of holding talks with Pakistan until the fighting stops.
"Pakistan has to stop this unprovoked firing and shelling if it wants peace," he said. "It's an effort to precipitate tension both at the domestic and international level."
Panicked villagers on both sides said they were fed up with the seemingly endless cycle of violence.
Newly married Pakistani villager Baila Mustafa lay wounded alongside her injured husband in the hospital.
"Please allow us to live with peace," she said.
Thanks for reading CBS NEWS.
Create your free account or log in
for more features.