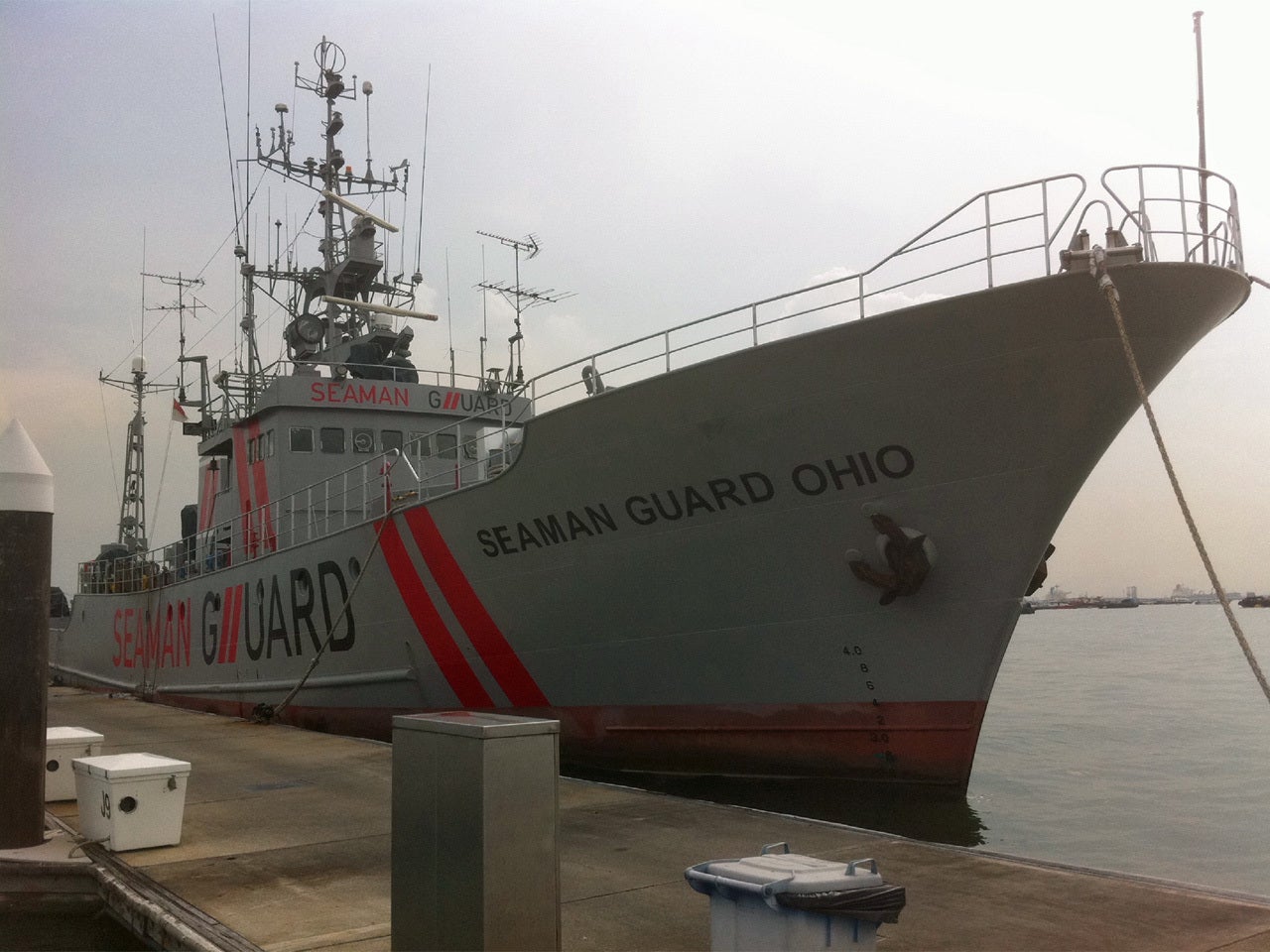 India arrests 35 from U.S. security firm AdvanFort's well-armed anti-piracy "mother ship"
NEW DELHI Police in southern Indian state of Tamil Nadu arrested 35 people from an American-owned ship on Friday, a week after they were detained for entering Indian national waters without permission and carrying a huge cache of "illegal" arms and ammunition.
The MV Seaman Guard Ohio, owned by Washington D.C.-based maritime security contractor AdvanFort, was intercepted by the Indian Coast Guard on Saturday, close to southern port of Tuticorin.
Officials said the vessel entered Indian waters without authorization and was carrying a significant number of semi-automatic weapons, some 35 guns and more than 5,000 rounds of ammunition, according to Indian newspaper The Hindu.
Its crew includes eight Indians, six British nationals, and some Estonians and Ukrainians. There have been no reports of Americans being among the detained individuals, who were reportedly 10 crew members and 25 security contractors.
AdvanFort describes its contractors as "former US, UK and NATO special forces operators who are expertly skilled and equipped to deter piracy measures and allow for safe passage in international waters."
Indian officials have said the vessel was 12 miles inside national waters when it was stopped.
AdvanFort issued a statement on Monday expressing gratitude to the Indian Coast Guard and the police in Tamil Nadu for "allowing our vessel, SEAMAN GUARD OHIO, to enter the port both to take on fuel and to escape the effects of Typhoon Phailin."
The contractors and ship's crew were expected to appear in court Friday and be remanded into judicial custody and moved to Puzhal Central Prison in the city of Chennai.
Britain has sought consular access to the British nationals and asked for a clarification of the charges against them.
The ship had reportedly been in Indian waters for three days before it was detected. According to police, the crew broke several Indian laws, including not maintaining an accurate log of the arms on the vessel.
In the statement released Monday, AdvanFort said the weapons and ammunition were registered and licensed to the company.
"As these men routinely provide armed counter-piracy protection, they also had aboard their uniforms, protective equipment, medical kits, rifles and ammunition - all of which is properly registered and licensed to AdvanFort. As is routine in such matters, Indian authorities are auditing the vessel's records during the port stay while supplies, provisions and fuel are being transferred to OHIO," the company said.
The crew was also charged with refueling with 1,500 liters of diesel which they allegedly purchased illegally from a local fishing boat.
India has been particularly sensitive about armed security patrols in its waters since a February 2012 incident that say two Indian fishermen fatally shot by Italian Marines serving as the security detail on a cargo ship off the Kerala coast. The two Italians, who allegedly mistook the fishermen for pirates, are currently being prosecuted in India.
Many commercial vessels which sail through the Indian Ocean now have private security forces aboard to fend off attacks from pirates. Piracy, especially from Somalia, has resulted in millions of dollars in ransoms being paid out during the last decade.
AdvanFort's Monday statement confirmed that the Ohio is a "Support Vessel that provides an accommodations platform for AdvanFort's counter-piracy guards between transits on client commercial vessels."
India's deputy national security adviser, Nehchal Sandhu, said earlier this week that Indian "law will take its course" to determine the fate of the 35 men from the security contractor's "mother ship."
By CBS News' Sanjay Jha in New Delhi, and CBSNews.com foreign editor Tucker Reals in London.
Thanks for reading CBS NEWS.
Create your free account or log in
for more features.