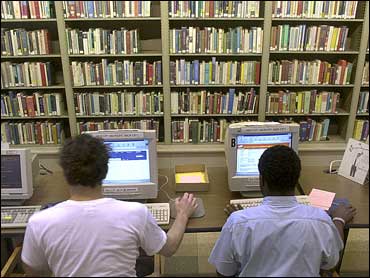 In Recession, Libraries Are Booming
In a town used to lining up for celebrities, these days the long lines in Los Angeles are forming outside an unlikely place: the public library. CBS News correspondent Sandra Hughes reports.
In tough economic times it's becoming the hot spot for just about everyone.
It's standing room only during children's programs. Many of the people who attend are regulars, like Melanie Jarvid and her son, Aaron.
"Now with how the economy is, we've been coming more often and checking out books more often," Jarvid said.
In 2008, 18 million people visited Los Angeles public libraries. That's two million more than the previous year.
Many are recently unemployed and coming for help: every computer terminal is being used and librarians have become job counselors.
Meydani Perucho makes frequent trips to the L.A. public library, but says it's the only one.
"This is actually the first and only library I've been to," Perucho said.
For Zach Pond, who graduated last April with an MBA - but no job - the library is his office and job center.
"It's quiet it's a place to work," said Pond. "You feel like you are moving forward"
Is it a place to be productive? "Absolutely, absolutely," Pond said.
Nationwide more people applied for library cards last year than anytime since they started keeping records in 1990. Just as library funding is being drastically reduced.
Cities just don't have the money to spare with shrinking budgets and more urgent needs.
Peter Persic, the Los Angeles public library spokesmen, warns that, "At a time when people need libraries most, some aren't able to meet that demand and in fact are even being cut back or closed."
In Philadelphia, protestors fought a plan to close 11 libraries. Still, hours will be reduced.
Today, two of three braches in Troy, N.Y., will close. And Muncie, Ind., has plans to close three of its five branches.
All of this is happening as more people are re-discovering the value of the public library.
Maggie Johnson is the head librarian at palms library. Johnson said getting an item at the library is, "free unless you don't return it on time, and then you have to pay the fine."
But everyone will pay the price if budget cuts mean libraries aren't there when people need them most.

Thanks for reading CBS NEWS.
Create your free account or log in
for more features.