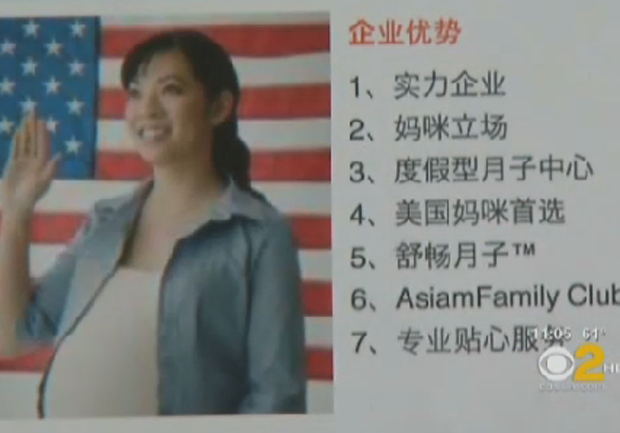 Immigrant birthing hotels in L.A. face crackdown
LOS ANGELES Los Angeles County is planning a crackdown on makeshift maternity wards where mothers from other countries stay while giving birth so their children will be U.S. citizens.
The county has received 60 complaints about such facilities in the past month, according to a report by the Planning Department submitted to the Board of Supervisors, the Los Angeles Times reported Sunday.
That compared to just 15 complaints in the previous five years. The surge might be due to publicity over the closure of a house in Chino Hills that authorities contended had been used to house as many as 30 Chinese women.
It isn't illegal for foreign citizens to give birth in the U.S., but authorities say the maternity tourism hotels frequently are remodeled single-family homes in areas that aren't zoned for hotels or boarding houses.
County Supervisor Don Knabe wants to develop a county law that would specifically outlaw such facilities.
"They're a moneymaking machine. They're totally unsafe," Knabe said. "It's so obvious that they jeopardize not only the health of the baby, but the mother as well."
The Planning Commission report said efforts were being made to crack down on the hotels for zoning, building and health code violations.
Pregnant women, many from Asia, can pay thousands of dollars to stay in the facilities, authorities said.
Officials who went to the Chino Hills home in November said the single-family home had been divided into 17 bedrooms and 17 bathrooms. Neighbors complained of a sewage spill from an overloaded septic tank.
The house was shut down after the city sued the owners.
Elsewhere, joint inspections have been staged by the planning, public works and child welfare departments, and cases have been referred to the state tax board, the report said.
Inspections can be difficult because people answering the door sometimes claim they are unable to speak English and won't allow inspectors to enter. The Planning Department will try to include Chinese-language translators on its inspection teams, the report said.
In addition, child welfare investigators will look for signs of child abuse and neglect, such as newborns crowded into makeshift nurseries, said Neil Zanville, a spokesman for the county Department of Children and Family Services.
"We'd not only ask about sleeping arrangements, we'd ask, has this baby been seen by a doctor? Has it had its shots?" Zanville said.
Last month, CBS Los Angeles reported on the house in Chino Hills that drew protests by residents:
Thanks for reading CBS NEWS.
Create your free account or log in
for more features.