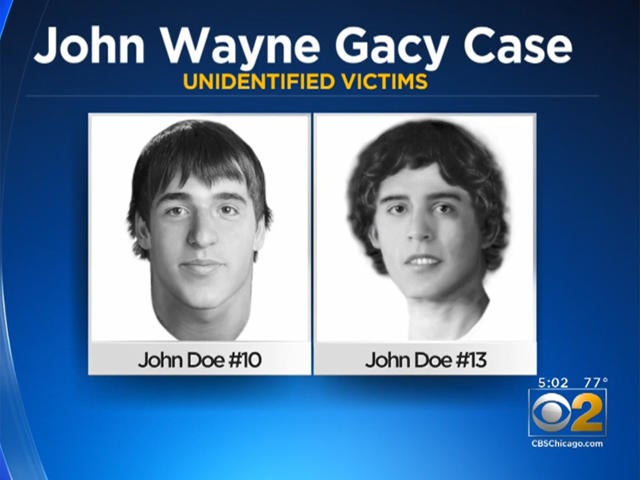 Images of 2 unidentified John Wayne Gacy victims released
CHICAGO -- Authorities have released highly detailed facial reconstructions of two unidentified victims of infamous serial killer John Wayne Gacy, CBS Chicago reports. The images, provided by the National Center for Missing & Exploited Children and the Cook County Sheriff's office, are part of the ongoing effort to identify Gacy's remaining unknown victims.
They were created by a forensic artist, showing what the victims may have looked like.
It's been determined that one victim, John Doe #10, was a white male between 17 and 21 years old, 5-foot-7 to 5-foot 11, according to the NCMEC. Before his death, he had suffered an injury to his left clavicle, which had healed well over time. He also had a few dental fillings.
The other victim, John Doe #13, is believed to have been a white male between 18 and 21 years old who was 5-foot-9 to 6-foot-2. The NCEMC said he had wavy dark brown hair, and one of his upper teeth was displaced behind another tooth.
Investigators hope the images of the two victims will help finally solve these decades-old cases. Anyone who has information about any of the unidentified victims should call the National Center for Missing & Exploited Children at 1-800-THE-LOST.
"Hopefully, based on that reconstruction, or that approximation, we'll get some more leads," Cook County Sheriff's Det. Sgt. Jason Moran said.
Gacy was convicted of killing 33 young men between 1972 and 1978, after authorities discovered more than two dozen bodies buried in the crawl space of his home in Norwood Park.
Authorities said Gacy often picked up hitchhikers or found his victims at bus stops. Eight of his victims went unidentified at the time he was arrested.
In 2011, the Cook County Sheriff's Office launched a new effort to use modern forensics to identify Gacy's unknown victims. Since then, two have been identified – 19-year-old William George Bundy and 16-year-old James Byron Haakenson.
Cook County Sheriff's Detective Jason Moran has devoted much of his time over the past seven years to closing the remaining cold cases connected to Gacy.
"I think the victims themselves and the victim's family deserve a name," he told CBS Chicago last year.
In a new interview with the NCEMC, as part of a video titled "Gacy – Unsolved," Moran said their plan has been simple: using DNA to match Gacy's victims with families of missing loved ones. Such technology wasn't available at the time Gacy's crimes were first revealed.
"Within the first day, we probably had 60-65 leads," Moran said. "The first three days, we had over 100."
Investigators said they won't stop searching until all six unknown Gacy victims are identified.
"The life of the person that was just murdered is no more or less important than a murder victim from 30 years ago. Not in my mind," Moran said.
Thanks for reading CBS NEWS.
Create your free account or log in
for more features.