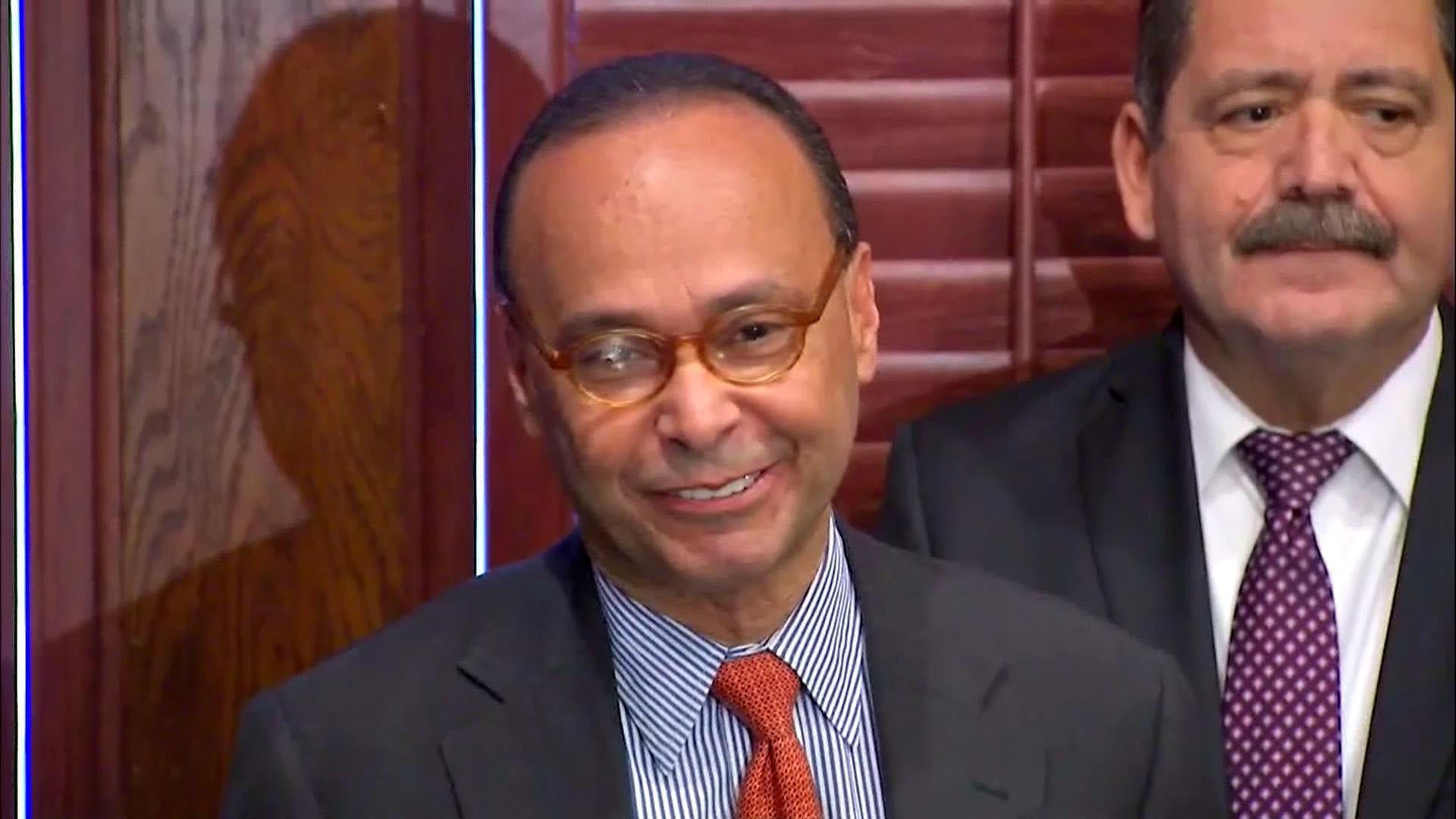 Illinois Rep. Luis Gutierrez will not seek re-election after 13 terms in House
Longtime U.S. Rep. Luis Gutierrez of Illinois, a Democratic party leader on efforts to overhaul the nation's immigration laws, announced on Tuesday that he will not seek re-election next year after 13 terms in the House.
"Life to me is like a novel, there's only a certain number of chapters," said a tearful Gutierrez at a press conference in Chicago announcing his departure from the House on Tuesday.
Gutierrez said he would now be throwing his support behind Cook County Commissioner Jesus "Chuy" Garcia to run for his seat to "give new life to the agenda in Washington, D.C." someone who Gutierrez described as being a "champion here in Chicago but on a national level too."
"I'd be a candidate for re-election in the 4th congressional district if Jesus Garcia had not agreed to run," said Gutierrez.
He added, "But I don't have to be a candidate, there's somebody that's going to bring a new energy, a new touch that I can be proud of, I can be satisfied with and that I can trust."
Gutierrez also hinted at the next presidential election, saying he planned to travel around the country working on a "framework" for immigrants rights "as we work to 2020."
While he said he would "absolutely" not "rule out any future office", he emphasized that he was not necessarily retiring, saying he wanted to spend more time with family and on immigration policies after stepping down. He did note, however, he would rule out a run for mayor of Chicago as well as the Illinois governor's seat.
"I want to take my energies and my ability to somewhere where I know I want to place them," he added.
The Democrat got emotional when talking about his work toward the rebuilding of Puerto Rico in the aftermath of Hurricane Maria.
"I love Puerto Rico and she's in a lot of pain and there's a lot of people that have turned their backs on her and she needs to be rebuilt," said Gutierrez.
He added, "I'm going to work really hard until she's completely rebuilt to 21st century standards."
In recent months, Gutierrez, who maintains close ties in Puerto Rico, has pushed for federal aid to help rebuild after Hurricane Maria and brought relief supplies to the storm-ravaged territory.
He was also critical of Democratic leadership, slamming Sen. Chuck Schumer and Rep. Nancy Pelosi for taking meetings and "deals" with President Donald Trump and not delivering on comprehensive immigration reform that would help protect so-called "Dreamers."
"They let fear permeate through all the immigrant community in order to make a deal," said Gutierrez.
Word of retirement came as a surprise, especially since Gutierrez, 63, filed candidate petitions for the Illinois primary with the State Board of Elections a day earlier. The late announcement gives potential successors to his predominantly Hispanic Chicago-area district less than a week to gather signatures to get on the March 20 ballot.
Gutierrez, first elected in 1992, is a leading member of the Congressional Hispanic Caucus and has become one of the most visible figures in the push for immigration reform. He's been arrested for civil disobedience outside the White House and federal immigration offices numerous times, has backed legislation to help young people brought to the country illegally and has called for more English language proficiency programs and citizenship workshops. In immigrant circles and in his district, Gutierrez remains very popular and has easily won re-election over the years. His office has run robust constituent services, with immigrants nationwide seeking his help on their cases.
The congressman has clashed repeatedly with President Donald Trump, accusing him of committing "deep, permanent damage to the United States." Gutierrez is among a small handful of House Democrats who have signed onto a largely symbolic effort to impeach Trump.
But Gutierrez was also critical of former President Barack Obama, whom he supported, for not halting deportations or doing enough on immigration reform.
In a 2013 memoir covering Gutierrez's experiences about his early life in Chicago politics as an organizer and alderman, he described how he has always identified with the immigrant experience.
Though born and raised in Chicago with parents from Puerto Rico, he's talked about how his family faced similar challenges as immigrants, saying they struggled with English and were treated like foreigners.
"It's almost as though my life was a training for the ultimate battle of winning comprehensive immigration reform," he told The Associated Press in 2013.
He has previously flirted with a run for Chicago mayor, circulating petitions ahead of the 2011 election before deciding to sit out the race. The next city election is in 2019. Mayor Rahm Emanuel, a former White House chief of staff under Obama, has said he's planning on a bid for a third term.
With just days until major party candidate petitions are due for the Illinois primary, candidates began jockeying ahead of Gutierrez's announcement. Democrats trying to replace him need over 800 signatures; the requirement for Republicans in the Democratic stronghold is far less.
Chicago Alderman Carlos Ramirez-Rosa is also considering a run for Gutierrez's seat.
Thanks for reading CBS NEWS.
Create your free account or log in
for more features.