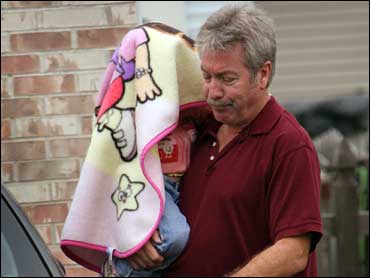 Ill. Cop Disputes 3rd Wife Death Claim
An attorney for a former police officer suspected in the disappearance of his current wife disputed Sunday a renowned pathologist's recent conclusion that one of the man's previous wives had been killed, not accidentally drowned.
The circumstances of how Drew Peterson's third wife died in 2004 has become part of the investigation into the former police sergeant's missing wife, Stacy Peterson, a 23-year-old mother of two who has been missing since Oct. 28. Police have named her 53-year-old husband as a suspect in her disappearance, and authorities have called the case a possible homicide.
The body of Drew Peterson's third wife, Kathleen Savio, was exhumed from a suburban Chicago cemetery last week at the request of a prosecutor, who has said after examining evidence he believes her death was a homicide staged to look like an accident. An official autopsy was conducted but the results will not be available for days.
At the request of Savio's family, Michael Baden, a former New York City chief medical examiner, conducted another autopsy on the woman's remains on Friday, and said he believed the 40-year-old's death was not an accident, as a previous autopsy indicated. He concluded she died after a struggle, and her body was placed in the bathtub where she was found.
Drew Peterson's attorney questioned the legitimacy of Baden's work.
"The results of Dr. Baden's autopsy on Ms. Savio do not surprise us, not because we believe they are accurate, but only because Dr. Baden had indicated over a week before he had performed the autopsy that he believed Kathleen's death was not an accident," lawyer Joel Brodsky said in a statement Sunday.
"It's a lot of closure for us, but the ultimate closure would be whoever did it, to bring that person to justice," Savio's brother Nick Savio told CBS News.
Drew Peterson, who resigned last week from the Bolingbrook police force, has not been named a suspect in the death of Savio, from whom he was divorced. He has denied any involvement in either case and said he believes his wife left him for another man and is alive.
His attorney also questioned a financial arrangement between the forensic investigator and Fox News, which paid to fly Baden to Chicago, where he conducted the autopsy for Savio's family.
Baden, who is often associated with high-profile cases including as a defense witness in music producer Phil Spector's murder trial this summer, said he performed Savio's autopsy for free.
"All we wish to say is that Kathleen's death should not be a source of entertainment," Brodsky said.
Savio's sister Sue Doman told The Early Show that she never believed her sister's death was an accident.
"She told me that she was afraid, she told me that he would kill her, that it would look like an accident but it wasn't," Doman said. "So make sure you take care of my kids."
In an interview Sunday with The Associated Press, Baden said his initial conclusion that Savio was slain was based on his review of her case. "They should have called it a homicide in the first place," he said.
He also defended his conclusion from the autopsy, saying it was not influenced by his previous opinion or his position as a paid commentator on Fox News.
"I had a pre-existing opinion before I did the exhumation. I did. But that's why exhumations are done, to make sure the pre-existing opinions are correct," he said. "The findings are independent."
Baden is a regular contributor to "On The Record with Greta Van Susteren," Fox News spokeswoman Diana Rocco said. Fox News paid for his trip to Chicago in order for Baden to appear as a guest on the show that evening, she said.
His other former wives have cast contrasting portraits of him, saying he could be charming and supportive, then controlling and abusive.
Speaking publicly for the first time, Peterson's first wife, Carol Brown, told the Chicago Tribune for a story published Saturday night that he never threatened or abused her during their six-year marriage. But she said he could be controlling, and while she was pregnant she found out he had been cheating on her.
"I thought he always had respect for me, but I guess when you stray in a relationship, you don't have respect for the person that you were doing that to," she said.
Thanks for reading CBS NEWS.
Create your free account or log in
for more features.