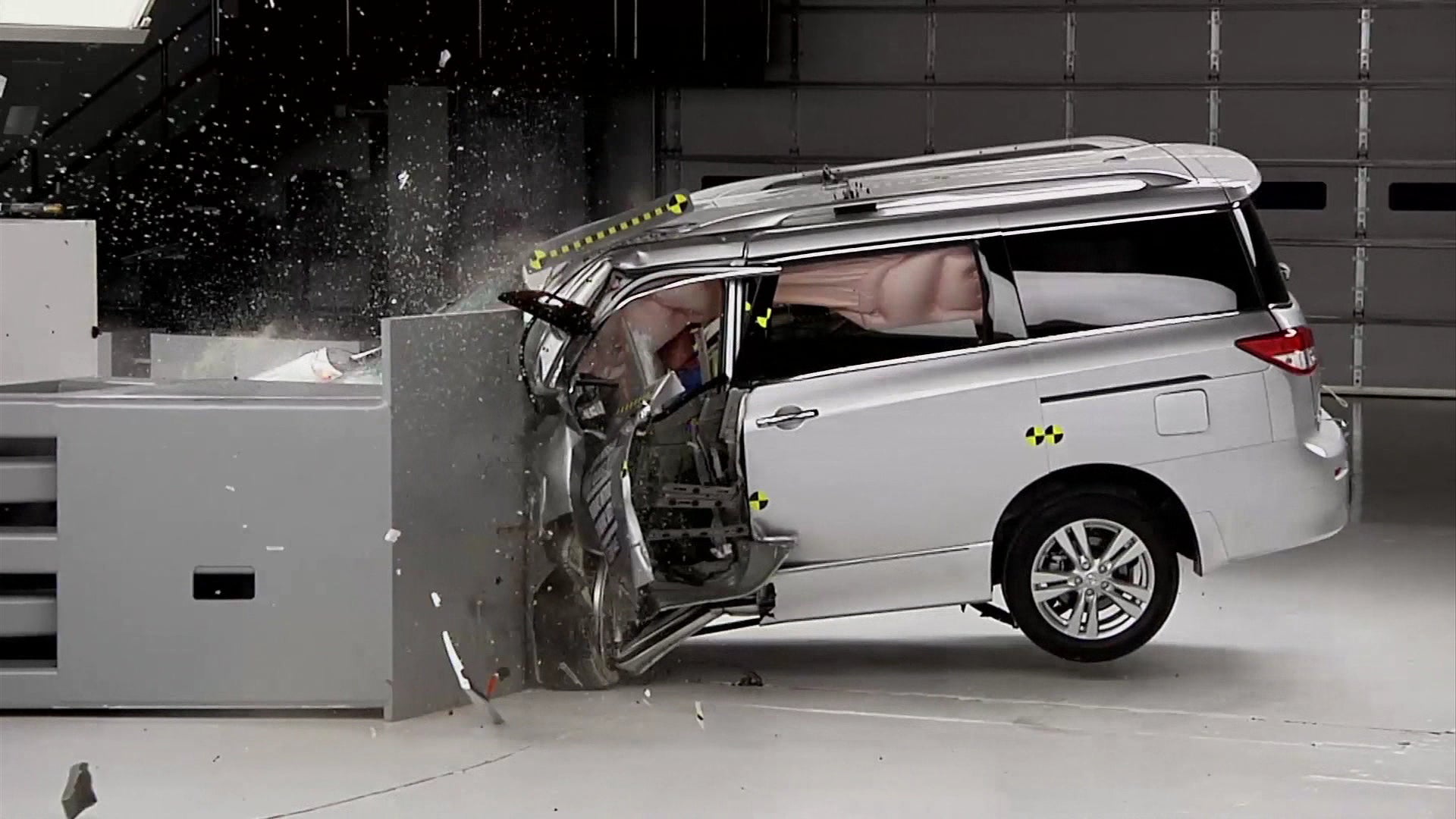 Worrying crash tests results for popular minivans
The Insurance Institute for Highway Safety has released its report on front-end minivan collisions, and three popular models have received poor reviews, reports CBS News correspondent Wyatt Andrews.
These tests try to measure what happens to a driver in a front-end collision, and the popular Chrysler Town and Country Minivan is one car that failed the test.
When the experts ran the Town and Country into a barrier, drivers side only, at 40 mph, the air bag deployed, but the front of the car collapsed. In this situation, the driver would be thrown off the bag and suffer a blow to the head. And this was not the worst collision.
When the Nissan Quest hit the barrier, the engine compartment was pushed two feet backward pinning the test dummy so completely, technicians had to dismantle the front seat to recover it.
"The Nissan Quest is one of the worst vehicles we've tested in this particular test," Executive Vice President of the Insurance Institute Dave Zuby said.
If the test dummy was a real driver, the results would not have been appealing.
"The forces that we measured on the dummy's left leg suggest that a person would be lucky to recover from the leg injuries and be able to walk normally again," Zuby said.
The tests being run are relatively new. They are called "small overlap crash tests," developed by the insurance industry because more drivers than ever are being killed by off center collisions.
"People are still dying and being seriously injured in front crashes and we think cars can be designed to be even safer," Zuby said.
So far in these test crashes Chrysler's Town and County, Dodge Grand Caravan and the Nissan Quest rated poor. The Toyota sienna was labeled acceptable and the Honda Odyssey rated good.
Chrysler, in a statement, said in every other safety test, its "minivans meet or exceed all government-mandated safety requirements." Nissan said the 2014 Quest drew a "good" rating in other tests -- but that it would review these results "as we seek opportunities for improvements."
The insurance industry is asking all automakers to design new front side driver protections in all cars, not just in minivans.
For the complete IIHS results, click hereFor the complete IIHS results, click here.
Thanks for reading CBS NEWS.
Create your free account or log in
for more features.