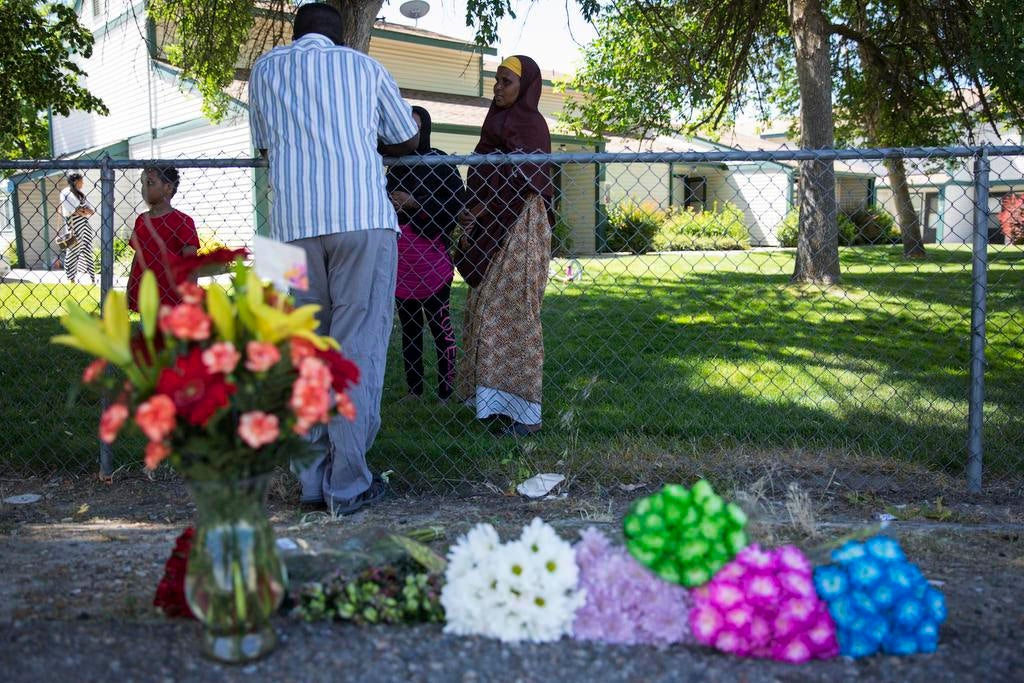 Vigil for Idaho stabbing victims after birthday girl, 3, dies from wounds
A 3-year-old girl has died from wounds she suffered when a man went on a stabbing rampage at her birthday party in Boise, Idaho, authorities said Monday. Five other children were injured in the attack, along with three adults who rushed to their defense Saturday evening.
One victim has been released from the hospital while seven others remain hospitalized with serious or critical injuries, the Boise Police Department said in a news release. They said they would not be releasing the name of the child killed until "additional notifications have been made."
Timmy Kinner, 30, of Los Angeles, was charged with first-degree murder at a Monday afternoon court appearance. He was arrested near the scene Saturday and is being held without bond at Ada County Jail.
The attack Saturday evening took place at an apartment complex that is home to refugee families. Kinner is not a refugee, police said, but he temporarily lived at the complex until he was asked to leave on Friday. They said he returned Saturday when the young girl was having her party a few doors down from where he had stayed.
If convicted, Kinner could be eligible for execution under Idaho law. Ada County Prosecutor Jan Bennetts said her office has not yet decided whether to seek the death penalty, saying those "high-level decisions" are made only after all the facts are in.
Monday evening, roughly 1,500 people turned out at a vigil honoring members of refugee families targeted in the stabbing.
People wept, sang and shouted their support for the refugee community, and many brought bouquets of white flowers intended to symbolize peace. By the end of the rally, hundreds of bouquets filled dozens of baskets on the steps of Boise's City Hall.
But community leaders told the crowd that what the survivors really need is money to cover rapidly growing medical bills and space at home to try to overcome the constant sense of unease they've experienced since the attack. Boise Mayor Dave Bieter and others urged community members to do what they can to help.
Signs were dotted throughout the crowd, some reading "love wins" and "we are all immigrants."
Younis Kamel, a 16-year-old who moved to Boise from Iraq, and his 23-year-old sister Zuzu Kamel held up a more poignant sign:
"I will never forget seeing my friend getting stabbed in front of me," the sign read. Younis Kamel was at the apartment complex the night of the attack.
Another woman held a sign reading "Justice for Teeba," with a photo of a young child in a hospital bed, a breathing tube obscuring part of his face with half a dozen other tubes and medical devices connected to his body.
Boise Police Chief William Bones said at a news conference Sunday, "Our victims are some of the newest members of our community. They're victims of their past homes who have fled violence from Syria, Iraq and Ethiopia. This was an attack against those who are most vulnerable -- our children."
Bones said investigators haven't yet found evidence that would indicate the attack was a hate crime but said they would be looking into that possibility due to the "nature of the location and the victims."
Boise Mayor David Bieter said he was heartbroken to learn of the young girl's death.
"The thought of a happy occasion like a child's birthday party being turned into the darkest of sorrows in such a vicious way is almost unfathomable," Bieter said in a statement. "I know every Boisean joins me in sending our deepest condolences to her family and loved ones, as well as continued thoughts and prayers to the other eight victims recovering from their injuries."
Thanks for reading CBS NEWS.
Create your free account or log in
for more features.