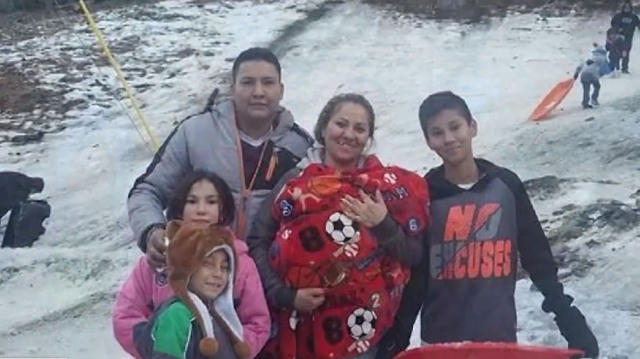 ICE detains man driving wife to hospital to deliver baby, says he is wanted for murder in Mexico
SAN BERNARDINO — A California woman says her husband was arrested by Immigration and Customs Enforcement (ICE) agents while he drove her to the hospital to deliver their baby this week. ICE said in a statement Friday that Joel Arrona-Lara was arrested for being in the country illegally, and the federal agency said Saturday that he was wanted for murder charges in Mexico.
Arrona-Lara was driving his wife, Maria del Carmen Venegas, to the hospital for a scheduled Cesarean section Wednesday when they stopped to get gas. She said two ICE agents approached them and asked for identification, CBS Los Angeles reports.
Venegas showed the agents her ID, but said her husband did not have his with him. When the couple offered to get his ID at their home nearby, Arrona-Lara was taken into custody. Venegas said she was left at the gas station by herself and she was forced to drive herself to the hospital.
"I feel very bad right now," Venegas told CBS Los Angeles in Spanish at the hospital as she held her baby boy. "My husband needs to be here. He had to wait for his son for so long, and someone just took him away."
Venegas, a mother of five, said he has never been stopped by police nor has Arrona-Lara ever been in trouble with the law.
In a statement Friday, ICE said Arrona is a Mexican citizen who has been living in the U.S. illegally. But on Saturday, ICE told CBS Los Angeles Arrona-Lara was picked up because he is wanted by law enforcement authorities in Mexico on an outstanding homicide warrant.
An attorney representing Arrona-Lara on behalf of the nonprofit San Bernardino Community Service Center said those charges are unconfirmed. Emilio Amaya Garcia told CBS Los Angeles he has been in contact with the Mexican consulate who said it currently has no information about ICE's claim.
Garcia said Arrona-Lara's detention paperwork shows he is in custody for being in the country without documentation.
In Friday's statement, ICE said the agency "continues to focus its enforcement resources on individuals who pose a threat to national security, public safety and border security. ICE conducts targeted immigration enforcement in compliance with federal law and agency policy."
It added, "However, ICE will no longer exempt classes or categories of removable aliens from potential enforcement. All of those in violation of the immigration laws may be subject to immigration arrest, detention and, if found removable by final order, removal from the United States."
Thanks for reading CBS NEWS.
Create your free account or log in
for more features.