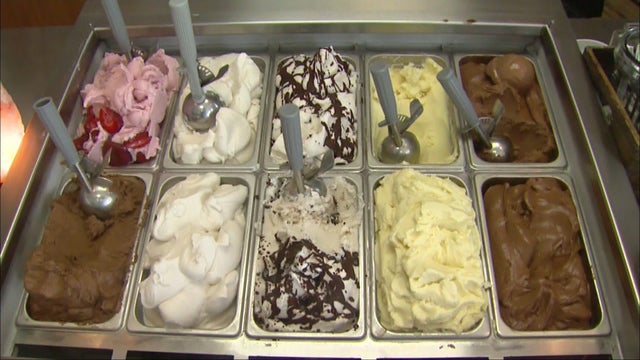 "Ice cream diet" cleanse claims weight loss: Is it healthy?
A California ice cream shop claims you can lose weight with a "cleanse" that consists of eating five pints of a frozen non-dairy ice cream-like treat for four straight days. The cleanse offered by Kippy's! Ice Cream Shop in Venice, Calif., also includes daily yoga exercises, and costs $240 for the four-day plan, CBS Los Angeles reported.

Owner Kippy Miller says the frozen treat is "plant-based, raw coconut cream. So it is no dairy, no sugar and no soy."

The five pints work out to about 1,200 calories per day, with 70 grams of fat and more than 120 grams of total sugars, according to the station. Twelve people completed the yoga-ice cream cleanse and lost weight, Miller said.

Kippys' website notes all the ice creams are made from coconut water, coconut cream, fresh fruit and raw local honey.

Gizmodo's Brent Rose completed the 20-pint cleanse with his girlfriend, writing a diary of their experience on the website. He said he and his girlfriend lost between 5-6 pounds, but the weight came back after a long weekend.

Would experts recommend it?

Weight gain comes down to calorie intake, so reducing calorie intake could conceivably lead to weight loss. But with any low-calorie diet, the weight might come back once you return to a typical routine.

"While I was reading more up on, it's very high in saturated fat and sugar and that concerned me," nutritionist Jason Song told CBS Los Angeles.


While the sugar may not be processed, honey and fruit contain natural sugars. The World Health Organization recently said sugar from all sources should only take up 5 percent of your daily calorie intake.

Dr. Christopher Ochner, an assistant professor of pediatrics, adolescent medicine and psychiatry at the Icahn School of Medicine at Mount Sinai in New York, said in an email to CBS News that a cleanse like this might lead to two pounds of weight loss, which would almost certainly come back the following week.

"As far as risks, individuals would be ingesting a boat load of processed saturated fat and sugar every day; pretty much the two worst things you can put in your body," he said.

He added that there is "absolutely zero" scientific evidence that cleanses can improve health, and they are recognized in the medical community "as a complete and utter gimmick to make a buck."

"It truly pains me to see people taking advantage of the desperation experienced by so many obese individuals wanting to lose weight," said Ochner. "Not only is something like this unhealthy, ineffective and expensive but it perpetuates the false belief that a better body can be achieved without effort, which discourages people from doing what is actually necessary in order to lose weight and improve their health."



Thanks for reading CBS NEWS.
Create your free account or log in
for more features.