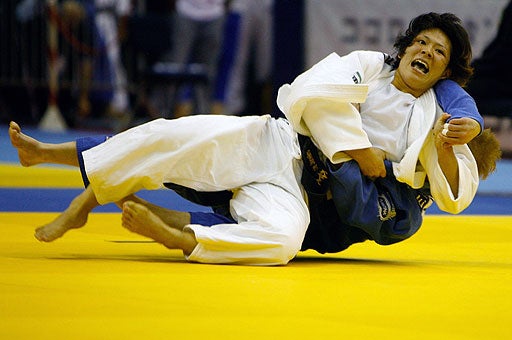 <i>48 Hours</i>: Tracking Terror
Last December, Erin Moriarty was blindfolded and taken to a secret location somewhere in the Washington DC area.
She was taken to the headquarters of the Investigative Project, where workers say they are tracking Islamic terrorists in this country. They say their lives would be in danger if their identities were known.
The group's leader is former journalist Steve Emerson, who runs this group of self-appointed terrorist hunters. He himself maintains a high profile, appearing on TV as a terrorism analyst.
What Emerson knows about terrorism and terrorists in this country, he says, comes from government sources and videotapes, some made surreptitiously at Muslim meetings and mosques throughout the country.
"I think I know more than the government does," he says. In one videotape, made in New York five months before the World Trade Center attacks-protestors yell "Bin Laden, Bin Laden we support Bin Laden."
While none of Emerson's tapes exposes the planning of any actual terrorist activity, he claims this kind of speech encourages it.
"How many times have I had members of the media come to me with just ridiculous statements saying 'So-and-so condemns terrorism how can you say that he supports Islamic extremism?' And I point out 'This is what he says behind closed doors.'"
Emerson points to the case of Abdurahaman Alamoudi. A well-known Muslim leader, he was among those invited last November to a Ramadan dinner held at the State Department. There he said he did not support Hamas, the terrorist group responsible for last December's bombing that killed 25 Israeli teens. But at an anti-Israel rally in October 2000, he said "We are all supporters of Hamas." He also expressed appeared to express support for Hezbollah, the group responsible for the bombing of the 1983 Marine Barracks in Beirut that killed 241 Americans.
"I'm not accusing him of being a terrorist," Emerson says. But Emerson does believe that Dr. Alamoudi and other Muslim leaders should be held responsible for inflammatory speech.
"They shouldn't be embraced and being feted at the State Department," he says. "They shouldn't be invited into the halls of Congress. They shouldn't be given free passes on the part of the media and newspapers are given platforms and to define themselves as civil rights groups, because they're not."
The members of these groups respond that there is a big difference between speech and terrorism. "Absolutely, speech is protected and I'd be the first to say your speech is protected," says Emerson. "But what I say is also you should not be immune from scrutiny of your speech."
"First of all," says Alamoudi of what he said "I regret it. Not because I said it. Because I did not qualify it. I should have said I support Hamas. I support Hezbollah. I support whoever I want to support. But I don't support terrorism."
Alamoudi says politicians no longer want to be seen with him. His campaign ontributions to the Clintons and to President Bush were returned, all because Emerson distributed tapes of his speech.
Says Alamoudi: "I said it out of – I don't know," he says. "I regret it. Now will you hold that to me until I go to my grave? God forgives for God's sake. Why can't you forgive me, Mr. Emerson, for one thing?"
Emerson is unapologetic. But he has made mistakes in the past. In an interview after the Oklahoma City bombing, Steve Emerson confidently pointed his finger at the wrong culprits at Muslim terrorists. As everyone now knows the bombing was the work of an American Methodist, Tim McVeigh.
"I've been chastened by that experience," he says. "Absolutely, I mean I learned my lesson."
Emerson has fought other battles as well, most notably with university professor Sami Al Arian. Twelve years ago, Al Arian gave a speech at a conference held in Cleveland, Ohio. He said: "Let us damn America."
"That's a stupid comment," says Al Arian, who is American. "But really what was meant here in the American policy. It's a figure of speech when you're speaking about the policy in general."
Al Arian claims he was also misunderstood when he went on to say: "Let us damn Israel, let us damn their allies until death. Why do we stop?"
Did he mean death to Israel and death to the Israeli people? "Absolutely not. Absolutely not," he says. "Death to Israel means death to the system. It's like saying death to occupation."
Why didn't he say that? "Because when Arab and Muslim people they hear me, they understand what I mean. I've probably said this once or twice. It's not like every part of every speech I say."
"I have no sympathy for him," says Emerson. "It's language. You know he should be held accountable for it. Now if he wants to disassociate himself from it and say I'm sorry I shouldn't have said it. I was wrong. That's one thing. But he didn't say that. He tried to rationalize what he really meant."
But Emerson goes beyond accusing Al Arian of just hate speech. He says that the group that Al Arian founded, the Islamic Committee for Palestine, is a front for a terrorist organization.
Al Arian denies he was involved in a terrorist group—and points to immigration court decision from October 2000 in which a judge, ruling on a different matter, wrote that Al Arian's group, "the ICP was not a front for the Palestinian Islamic Jihad. The ICP did not support or receive money from the PIJ or any terrorist organization."
"He brings these outlandish accusations about people that he was never able to prove," says Al Arians. Emerson says the judge was wrong.
Al Arian was suspended from his job as a professor from the University of South Florida. Then last December 19th, after appearing on a national TV talk show to defend himself, he was fired by the university.
Al Arian and others charge that Emerson is anti-Muslim, and is working on behalf of interest groups. "A lot f them are pro-Israel," Al Arian says. Emerson denies he's targeting Islamic leaders for political reasons. Emerson's work gets support from other Muslims, like journalist Tashib Sayyed.
Sayyed says that has no problem with what Emerson is doing. "I'm more devoted to expose Islamists," he says. "Because today whatever Muslims are stereotyped into I personally believe is because of Islamists... Not because of Steve Emerson. Steve Emerson is only one person. He is not a Roman Empire. Steve Emerson gives us a chance to look into ourselves."
Sayyed says phrases like "Damn America and death to Israel" incite people. "I am a Muslim and I belong to the same society. And I understand what symbols mean in my country and n my society. 'Death' means death."
After toiling in near obscurity for so long, Emerson is suddenly in demand. He regularly briefs government officials and his new book "American Jihad" will be released this week.
He believes his focus on inflammatory speech has made Muslim clerics more careful. But he also admits that his real mission, to prevent further terrorist attacks is probably an impossible one.
Target Terror: Main Page
© MMI, CBS Worldwide Inc. All Rights Reserved
Thanks for reading CBS NEWS.
Create your free account or log in
for more features.