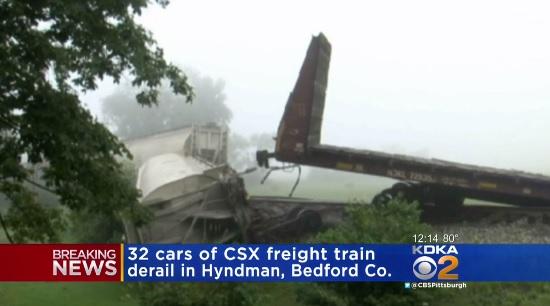 Pennsylvania town evacuated after train carrying hazardous materials derails
HYNDMAN, Pa. -- All residents of a small Pennsylvania town were evacuated hours after a freight train carrying hazardous materials partly derailed, setting some cars ablaze.
Officials tell CBS Pittsburgh that at least 32 cars on a CSX freight train derailed early Wednesday morning in Hyndman, Pennsylvania, about 100 miles southeast of Pittsburgh.
CBS affiliate WTAJ-TV reports one of the cars crashed into a home, starting a fire in the garage.
Federal investigators with the National Transportation Safety Board arrived on the scene late Wednesday afternoon but can't assess the situation because train cars are still burning.
Officials say the safest thing to do is just to let the cars burn themselves out. There's no estimate on how long that will take. There are two other cars in danger of catching fire.
CSX spokesman Rob Doolittle says at least one car containing liquefied petroleum gas and one containing molten sulfur have leaked and are on fire.
Bedford County 911 coordinator Harry Corley said officials ordered everyone within a 1-mile radius of the derailment to leave. He says that encompasses the entire town of Hyndman.
There are no reports of injuries.
The train, which was traveling from Chicago to Selkirk, New York, had five locomotives and 178 rail cars in total. The majority of them were carrying mixed freight including paper and wood pulp. The company says 50 of them were empty.
CSX released a statement about the accident, saying "our top priority is to work cooperatively with first responders and other officials to protect the safety of the community."
Pennsylvania Gov. Tom Wolf says health officials are conducting air and ground studies to determine possible health effects.
"These first responders deserve all of our thanks for their swift work to respond to this ongoing incident," Wolf said onTwitter.
A number of roads are closed and some flight restrictions are in place.
Thanks for reading CBS NEWS.
Create your free account or log in
for more features.