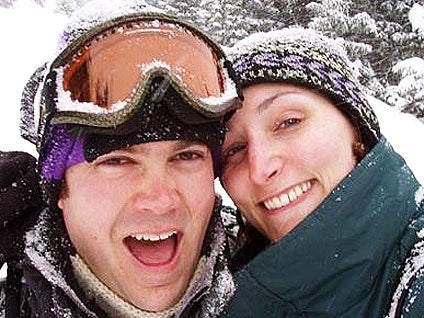 Husband Sacrifices Life for Pregnant Wife In Crash, Occupants of Oncoming Car On Drugs, Say Cops
NEW YORK (CBS) Police reportedly found drugs in a vehicle that collided with a Vancouver, B.C. couple, killing the husband who sacrificed his life to save his pregnant wife.

Erin Wood and her husband Brian were driving through Washington State to visit family Friday when the driver of an oncoming Chevy Blazer tried to take off her sweater as the passenger in the front seat took the wheel, causing the car to swerve directly in the direct path of Wood and her husband, according to the MSNBC.

In a split-second decision, Brian pressed hard on the brakes and veered the car to the right so the Blazer would hit him first at impact, saving the life of his wife and unborn child, said MSNBC.

A tearful Erin recanted the life-altering decision made by her husband on Monday's "TODAY Show" from her hometown.

"It's pretty obvious if you look at the car that it would have been a head-on crash, we both would have been killed, right along with our baby," she said.

Authorities have reason to believe the occupants in the oncoming Blazer were under the influence of drugs. Police found heroin, cocaine, syringes and marijuana in the Blazer driven by Jordyn Weichert, reports the cable channel.

Washington State Trooper Mark Francis told NBC News that Weichert, and front-seat passenger Samantha Bowling, crossed the middle of the road and "jerked the wheel, overreacted and overcompensated. [They] steered back to the left and lost control, and that's when they came head-on into the husband and wife."

Brian Wood, 33, was killed instantly from the collision, and two male passengers in the oncoming car were ejected from the back seat and killed, states MSNBC. A .25-caliber pistol was also found on one of the men who was thrown from the Blazer.

Weichert faces three counts of vehicular homicide and one count of vehicular assault, while charges against Bowling are pending, reports MSNBC.

Though deeply saddened by the loss of her husband, the 31-year-old mother-to-be is determined to find strength in the life of her unborn child due Nov. 5. "It gives me some comfort just to focus on [the baby] and to focus on the joy that we'll have once this baby is born," she said on the "TODAY Show."



Thanks for reading CBS NEWS.
Create your free account or log in
for more features.