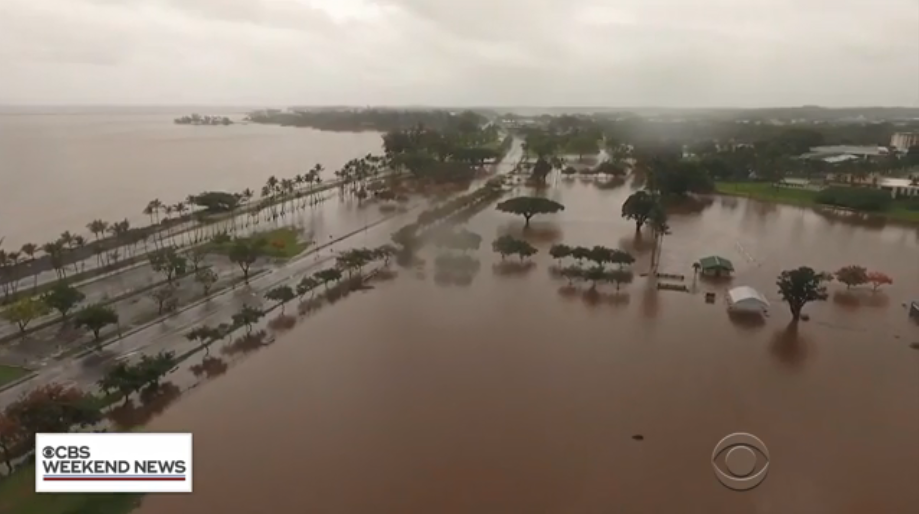 Tropical Storm Lane spares Hawaii, but dumps at least 4 feet of rain
HILO, Hawaii -- Hawaii dodged a direct hit by Hurricane Lane, which was downgraded to Tropical Storm Lane over the weekend. However, the Big Island was hit by more than 4 feet of rain. Roads were washed out, homes were damaged and dozens needed to be rescued.
Debris heading downstream jammed up a creek sending flood waters rushing into Margaret Collins' home.
"I could see the water coming in between the crack and underneath," she told CBS News.
Part of her foundation is now gone.
She reflected on the situation and was asked what could have happened.
"No, no, not until I started talking about realizing that if these doors had not stayed, that I would have been dead," Collins said.
Collins had to be rescued Friday morning along with her neighbors Jillane and Brian Bosscher.
"It was terrifying, coming out ... you don't underestimate the power of water," Jillane said. "To come out in waist deep in and your hanging on to this rope for dear life and your feet are still coming out from underneath you ... so it was very scary."
Torrential rain has been relentless for nearly five days, dousing the Big Island with more than 51 inches.
Downpours flooded out entire neighborhoods and created dangerous road hazards.
So far, 39 people have been rescued.
As the storm moves out, homeowners are slowly moving back in. They are determined to rebuild no matter the loss.
"I am so fortunate that in Hawaii, if you don't have family here, you make a family. Hanai, aloha," Collins said.
The Wailuku River is taking flood water out to the Pacific Ocean. But with rain expected to linger for the next few days, crews are working around the clock to make sure debris doesn't back up.
A GoFundMe page has been setup to help Collins rebuild her home. If you'd like to help, click here.
Thanks for reading CBS NEWS.
Create your free account or log in
for more features.