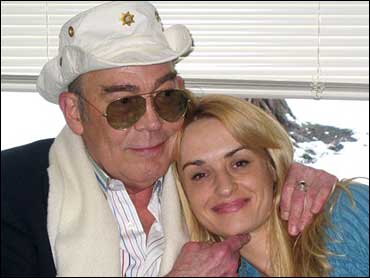 Hunter Thompson's Final Moments
Anita Thompson still slips into the present tense when she talks about her marriage to the legendary writer Hunter S. Thompson, and how her life plunged into a nightmare when he committed suicide last weekend, turning a gun on himself like his idol, Ernest Hemmingway.
"He says he has a perfect life now, he loves me very much, he's writing well," she said in an interview with The Associated Press on Friday.
Thompson, best known for wildly original books like "Fear and Loathing in Las Vegas," began saying that suicide wasn't a dishonorable thing a few months before he shot himself in the head, his wife said.
"He feels at the peak of his life right now, has a very successful career, has a network of perfect friends," she said. "If he quit now, he would feel he was a champion."
Anita Thompson said that although she had not thought he would take his life so soon, she had argued furiously against suicide.
"I threatened him, 'I'm out of here,' I wouldn't mourn, I would hate him," she said. "That's my biggest regret. I'm so sorry, Hunter. Yeah, that's my biggest regret."
Days after losing her husband, Anita Thompson talks calmly, if sometimes tearfully, about the moment he swept her off her feet, the brilliance she saw in his writing, her plans to keep alive his legacy and the love letters he wrote her that help ease the pangs of grief and regret.
When a mutual friend introduced them about five years ago, "I got butterflies," she said. Soon they were spending hours together, compiling his letters into a book.
"It was wonderful, just so wonderful. I fell in love with him right away." Despite his cultivated image as a drug-driven wild man who invented "gonzo journalism," she saw something else: "This man is not a crazy gonzo freak, this man is a serious man of letters, a Southern gentleman."
Hunter Thompson, 67, and his 32-year-old wife lived together at Thompson's home in the hamlet of Woody Creek near Aspen for three years and married April 24, 2003.
On Sunday, they talked on the phone when she was at a health club and he was at home. He asked her to come help him on his writing. He set the phone on the tabletop, still on, and she heard clicks that sounded like he had started typing.
She tells the Associated Press it was a gesture of love, because he could usually warm any chill between them that way: "All he'd have to do was start writing, and I would start melting at the knees."
Now she thinks the clicking noise was her husband loading and cocking the .45-caliber handgun he used to take his life. She said she didn't hear a gunshot before she hung up.
However, she earlier told the Aspen Daily News a slightly different version of the story.
"I was on the phone with him, he set the receiver down and he did it. I heard the clicking of the gun," she said. Thompson said she heard a loud, muffled noise, but didn't know what had happened. "I was waiting for him to get back on the phone," she told the newspaper.
In the first hours after his death, when she rushed back to Woody Creek, she felt horror and then anger, she told the Associated Press. "When I saw his body, that took a lot of the anger away," she said.
Now she is working with friends and family on celebrations of Thompson's life and moving ahead with previously launched plans for the Hunter S. Thompson Foundation, dedicated to helping people in the prison system "who don't belong there."
She is also rereading the stacks of love letters he sent her. The last one came in early March, when she had fled to her parents' home in Fort Collins. "He did something rude, which is really common for Hunter, and I needed an apology letter," she said.
She read the last line, a paraphrase of "Carmelita," a song by one of his favorite artists, Warren Zevon:
"I feel calm, sleepy, Carmelita. Hold me, Carmelita. LOCVE" — then he respelled the word, without bothering to remove the misspelling — "LOVE soon come HST."
He signed the letter and drew a tiny heart.
"Hunter, thank you very much for leaving me all these letters," Anita Thompson said. "I'm so lucky that way."
Thanks for reading CBS NEWS.
Create your free account or log in
for more features.